Siam Square Bangkok
Last Updated: January 09,2019
Overview:
Siam Square is quite popular for the creation of trending styles as well as the reintroduction of styles from the past. A lot of individual expressions converge in this area. In addition to promoting the cool stuff, it remains Bangkok's most expensive area to rent a land.
Generally an open-air shopping complex, the familiar street vendors are slowly being replaced by new malls. With so many lanes to visit and explore, you are sure to find varying personalities from hipster fashion to tailored suits. A lot of unique trends start from Siam. The area attracts lots of university students since it runs from Rama 1 Road to the Chulalongkorn University Campus.
Location of Siam Square
Located in the Pathum Wan District, Siam Square shares borders with Rama I, Phaya Thai roads, and Henry Dunant. On the opposite side of Siam square, on the side across the Rama I Road, you will find the Siam Discovery Center and the Siam Paragon. To gain access to these locations, there is a pedestrian bridge and a Bangkok Skytrain from the Siam station. Using the pedestrian bridge from the Bonanza Mall will also grant access to the MBK Center which is across the Phaya Thai Road.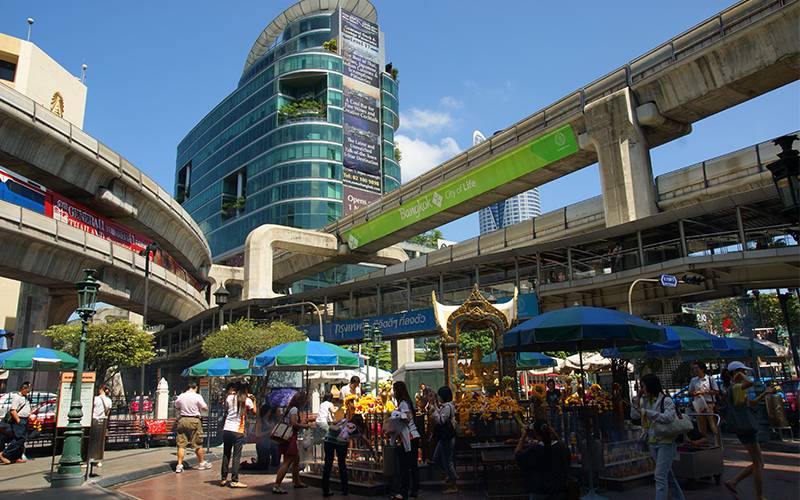 Attractions around Siam Square
Erawan Shrine
This is a Hindu shrine in honor of Phra Phrom. Brahma is the creation god in Hindu and Phra Phrom is the Thai interpretation.
Bangkok Art and Culture Centre
This location is complete with an art library, a café, bookshops, and restaurants. This is the main attraction for both tourists and locals within the artistic community.
Siam Ocean World
With marine animals numbering more than 30,000 on display, this aquarium is considered the largest in the Southeast Asia region. Animals on display include both exotic and rare species from various parts of the world.
This is a combination of six traditional Thai-style houses by Jim Thompson. The house is a result of efforts to revive the Thai silk industry post World War II. 
Getting something to eat and drink
A visit to the Siam Square hip district is your best bet in this case. There are lots of chain stores available in most of the shopping malls. The prices are also quite reasonable with most of them at a mid-range. There is also a consideration for visitors on a budget. There is usually at least one food court in every shopping mall. For a taste of Italian food in various Italian restaurants, then visit Soi Ton Son. This area is popular as Bangkok's Little Italy and it is a side-street off Phloen Chit Road. The prices are also very reasonable.
Department stores and malls usually have an upper-floor food court. The food is usually cheap here. There are food courts which use coupon systems where you get a refund for any coupon which is not used.
In addition to the local Black Canyon Coffee which is available in the large BTS stations and malls, you can also find Starbucks branches in these locations.
The closing time of most shops is around 10:00 pm making it a poor choice for exploring nightlife activities. Silom and Sukhumvit are popular destinations for such visits.
During Beer garden season, which is winter in Thailand, the front of CentralWorld is usually filled with beer gardens. They offer Thai pop, hot food, and cold beer.