Guides on Chiang Mai Night Market: Stalls, Food, Location & Bargaining Tips
Last Updated: March 01,2020
Overview of Chiang Mai Night Markets

The night markets in Chiang Mai is the typical site to live evenings, because from about 6pm the streets thereabouts are crowded with visitors who come to take a look the innumerable stands that expose their wares every night. There are many offers over whatever you are looking for, traditional products or imitation branded items. It is a good place to take dinner, even drinks, you only have to choose within a vast selection of Thai and Western Restaurants close to the Bazaar.
For an overview of where to spend your night in Thailand, you can see this guide:
Complete Guide on Thailand Night Life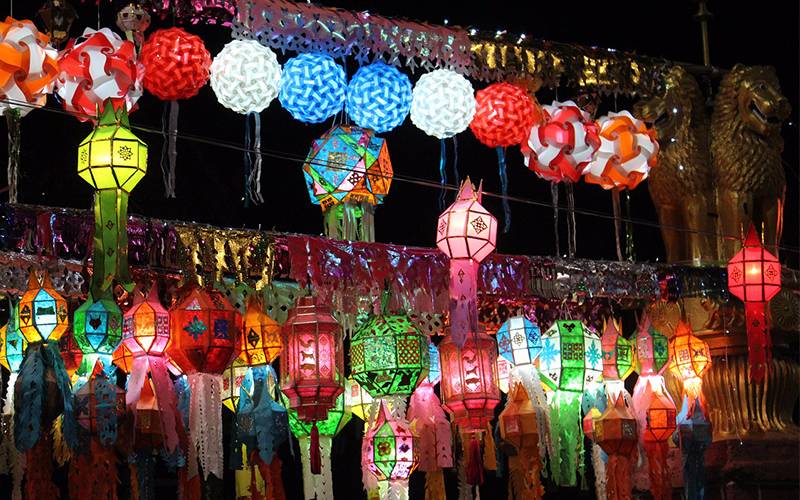 When to Visit
Late afternoon you can see heaps of workers organising the removable stalls side by side on the sidewalks, on both flanks of the main road. They start at sunset time, about 6 pm, then sales go on with non stopping til 10.30 pm aproximadamente with a few sellers who stay open even later.
Layout and Location
Chiang Mai night market is an appreciable night market that takes just a few hours to be full of people. It is located on the east side of the old walled city, over Chiang Klan Road between Thapae and Sridonchai Roads, and it reaches the tiny alleys and secondary streets.
Surprisingly, during the day Chang Klan Road is a conventional street covered with several shops, accommodations and eateries. By dusk, almost magically you've got a main market that is almost a kilometre and a half in length. The best way to start is going down over one side of the street and, at the end, cross over and turn back along to the next side. As you are strolling around, verify the small side streets to see more offers because there are plenty of alternatives.
What to Buy
The Night Bazaar has innumerables stands along the pathways and the street. Here you can buy whatever you are looking for, but quality varies from seller to seller.
The selection is merely astonishing and the offers include music items, fashion goods, Thai silk, handmade crafts, handbags, watches, housewares, furniture, ornaments, spices, souvenirs, art, jewellery, antiques and a hundred others.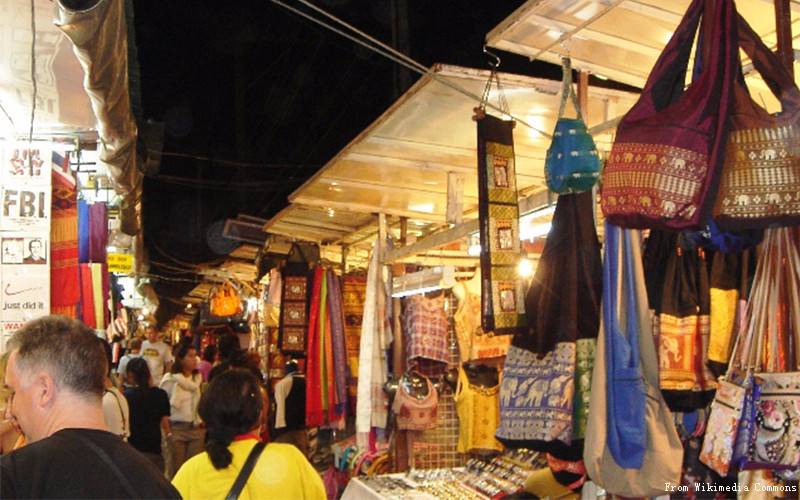 About clothes, they could be made with hand-tailored Thai silk or be the latest 'designer' fashions, even the ubiquitous Red Bull and "Same Same But Different" t-shirts. About discs, a good advice for visitors is make sure to test them before when buying music or movies. The quality of the copies is often too low, especially for the newly released. Most traders of CD and DVD have a player so you can try out before your purchase.
Mostly, the same things are on sale in differents stalls, but be aware: looking for hard enough, there are unique stuff for you. Some sellers have a small shop/room with further goods, so you can ask if you don't find what you want to buy.
If you wish to get a better quality - and price - on handicrafts and clothes, visit Viang Ping Night Bazaar. It is a two level market with several specialist shops, but the Chiang Mai Night Bazaar is the most representative in the city.
Wandering in Night Bazaar is a unique experience even for those who don't wish to do any purchase, but it is almost impossible avoid temptation to acquire something. The place looks jolly with bright and colourful lights, music, bargaining voices and the pleasant and distinctive smell of hot food.
Each small space becomes a place for someone to establish a stall, there's no easy way out.
Bargaining and Prices
Prices in the night bazaar aren't fixed so if you're a serious bargain hunter, make sure to do a bit of haggling to get the best deal. Traders believe that the first customer must buy something, if not it's bad luck.
The end of the journey is also a prime time to haggling as everyone agrees to give the best and attractive price, to release until the last product.
Bargaining in Thailand is like a national sport, it is part of the DNA. It doesn't matter if the prices look so cheap, you always have to try to get the maximum discount, usually 20% or 30% off.
In spite of haggling is part of the fun this market-life, don't leave behind that these sellers earn very little and that a few bahts mean much more to them than it does to you. Also don't forget to smile, be friendly and grateful.
Food, Drink and Services
At snacking time, you can choose and take a rest in the many restaurants and bars around there. Parallel the main street there are a luscious set of Thai seafood and noodle eateries. If you're looking for western and comfortable place, you can try Subway, McDonald's and Starbucks on the main street. Loi Khro Road, towards the river, it is a great place too and it has a lot of international restaurants and pubs. Also in the area different services are available such as tour guides, internet cafes and techno-shops.
To see more completed guide on bars & clubs in Chiang Mai, you can click these:
Top 10 Chiang Rai Nightlife Places - Party in Bars, Pubs & Clubs
Top 10 Chiang Mai Nightlife Places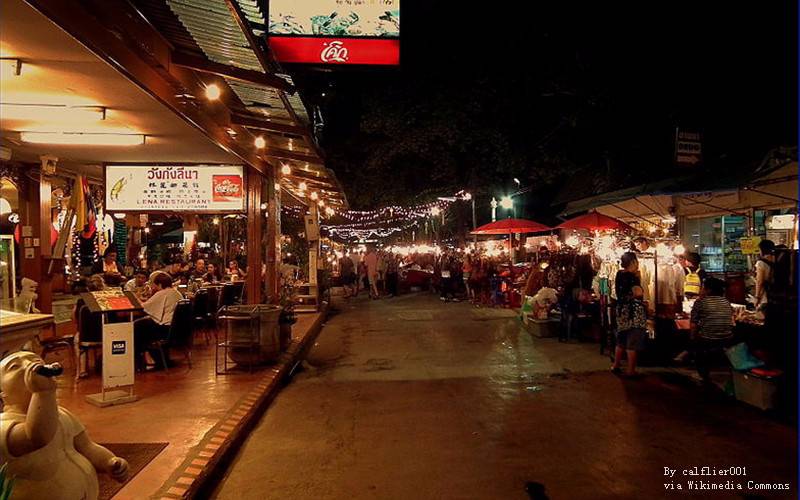 Tips
Always use Thai Bath when purchasing. In case you need more cash, you can find enough ATMs and banks along the Night Bazaar, or you can opt for Money Exchanges situated close to the 7 Eleven and between McDonalds and Anusarn Market (on both sides of the lane).