Chiang Mai Night Bazaar
LOCATION: thailand,chiang-mai
WEB: none
PHONE: none
OPEN TIME: none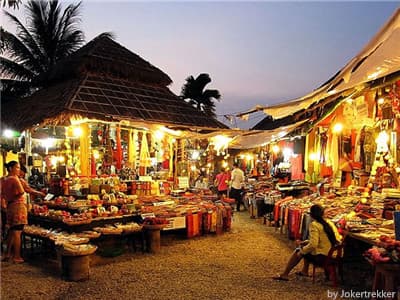 Chiang Mai Night Bazaar or just Night Bazaar (Thai: ไนท์บาซาร์, Nai Basa) is directly east of the city moat, between it and the Ping River, on Chang Khlan Road, between Tha Phae and Sridonchai Roads. It is known for its handicrafts and portrait paintings. There are also jewelry, toys, clothing, and high tech items such as CDs and DVDs. The market is one of the most popular tourist attractions in Chiang Mai. At first, the market was owned by Chinese merchants, but it grew in size as more commercial buildings were built, and it was no longer owned by a single group of people. Instead, there are many owners, and most of them are Thai. 
See more attractions
More attractions that you might interested in.
Chiang Mai Travel Guide
Explore Chiang Mai holidays and discover the best things to do, top local restaurants, supreme shopping places and when and where to visit, etc.
Tailor-made Thailand Tours
Receive a free quote within 24 hours - Already more than 183,063 satisfied customers!
Create My Trip Now !