Completed Guides on Sunday Walking Street, Chiang Mai
Last Updated: March 04,2020
Overview
There is a market located on Wualai Rd., on Saturdays, in the antique silver-making district of Chiang Mai, although the more famed one is the removable Sunday Walking Street Market in the Old Town. It is installed on Rachadamnoen Road every evening on Sundays. During this time, this is a pedestrian street and stands are on the each side of the way.
The Sunday Market provide art and craft of the Northern Thai people. Most of the stand sellers make their own articles of magnificent quality. The items on sale are made from an array of materials as paper, silk, fabric, metal, wood, ceramic, glass, etc.
Many of the exhibited products are exclusive to Chiang Mai and its vicinity and they belong to the nationwide show OTOP (One Tambon One Product) which stimulate each district to produce its own local specialities.
Even if you don't want to buy anything, it's a marvellous place to visit and enjoy a cheap cuisine or just wandering and watch. There are numerous places to get a foot massage if you are feeling weary. Relax and delight in big and comfortable seats with warm air and a gentle massage, this is highly recommended. Sometimes there is street theatre, and other times thera are displays of traditional singing or dancing.
Location
The Walking Street is extended 1 km in the old walled city in Chiang Mai, from the Tha Phae Gate to Ratchadamnoen Road.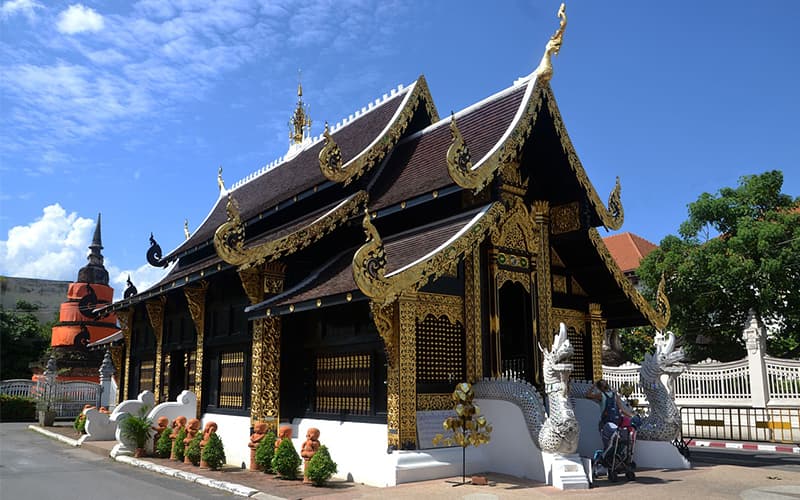 When to visit
The market is open every Sunday from 4 pm till midnight. Chiang Rai Sunday Walking Street opens to pedestrians from 4 pm to 11 pm, but it is better to go from 5.30 pm onwards to allow time for all the stands to open.
What to do on Sunday Walking Street
Shopping
The goods on offer are more often homemade products. These things displayed are great as gifts or lovely and useful ornaments for your own home. There are also many traders selling footwear, clothes, jewellery and souvenirs.

Delicious food
Temples on each flank of the street become food courts where you can taste from rice to fried crickets, worms and other insects, and there are several refreshment stands set up along the way. You can enjoy fresh juices and special pancakes on a stick, these last have a jelly draw of the chosen cartoon character.
Stroll around and have a massage
The Sunday Market comes alive after sunset, when all the colourful lights turn on and the street entertainers begin to perform.
It is a long way to walk on weekend market and your feet will get tired. Fortunately, there are many areas where you can take a seat with a relaxing -and cheap- foot massage. A half hour massage costs about 80 BHT here, while a full hour is 250 BHT in Bangkok.
Temples
Do not miss two marvellous temples during your visit to the Sunday market. Situated on the main street is Wat Phan Tao and down the side street is the spectacular Wat Chedi Luang. Arrive before sunset to watch them in good light.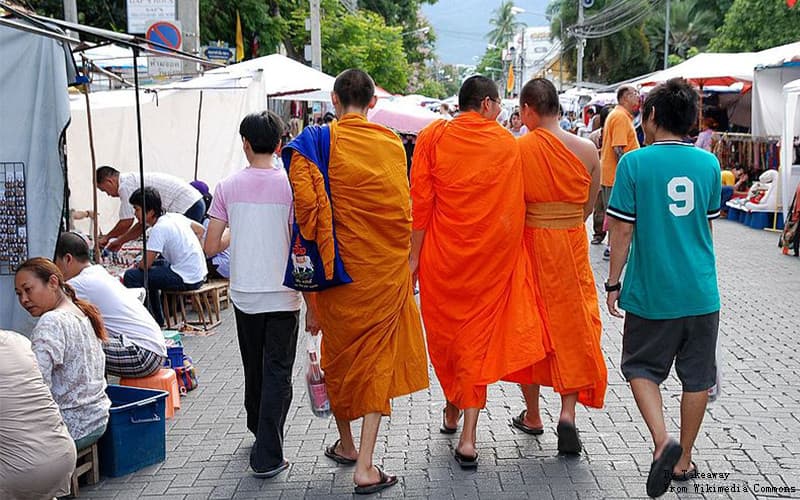 Book a short tour
On the way to the market, there are several good eateries for you to enjoy. Choose from a variety of guided tours, from a half-day journey to a several days package. A great activity to do is the mountain hill tribe tour or the hiking to the falls, also the sightseeing to the snakes farm, monkey school, Elephant Park or the famous Tiger Kingdom.
Budget
To get to the market from San Patong, a yellow minivan will cost 20 BHt, while a red minivan costs 40 BHT. Food can cost anywhere from 10 BHT for snacks to over 100 BHT. But normally, a good 30-40 BHT meal is sufficient to keeps you going.
Tips
If you want to visit the temples, arrive before sunset, as they are more outstanding in the daylight. Otherwise, you can get there a little later because the market is most flourishing after the sun goes down.

The prices in the market are not deliberately increased for foreigners as in some shopping experiences in Thailand, so keep that in mind if you wish to bargain. The traders here are friendlier than the Night Bazaar and they offer cheaper prices and better quality goods. Friendly haggling is often accepted, better if buying many items at once from the same stall.

Carrying water is a good idea, because the long walk around the market can get rather thirsty, but it's ok you don't. You can buy a bottle of water for 1 BHT, and don't worry about drinking lots of it, there are plenty of clean bathrooms around, though at 5BHT per visit.

If you like to watch local artisans at work, this is a great place for you. Find people painting and creating items, all on display. If you want to take photos, you should require permission from the shop owners first. They normally don't refuse, but it's polite to ask first, especially if you only want to take a photo and not buy anything from the stall.