Surin Beach
Last Updated: July 15,2019
Surin Beach is located on the west coast of Phuket, about 42 km from Phuket Town. Because of the turbulent sea surface and the steep peaks on the shore, it is not suitable to play in water, but it is a good place to enjoy the sunset of the Andaman Sea. Not far from the beach, it is Kamala Beach, which is separated by the Zinn Strait. Like Kamala Beach, Surin Beach is a quiet and fascinating place. This beach is beautifully landscaped but has the deadly undercurrent that is not suitable for swimming.

You can take a small open-top coach from the R Rongong Road in Phuket Town to Surin Beach. Compared to several other famous beaches in Phuket, there are very few people in Surin Beach, and basically many of them are foreigners. The tour group will not come here to have a visit. There are many of the most classic resorts in Phuket near the beach, but the prices are very expensive. Therefore, most people go to Surin Beach when the time is relatively abundant.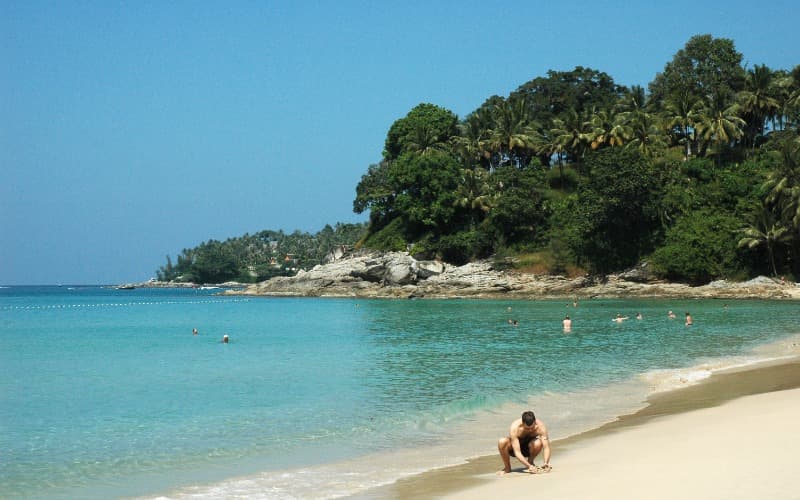 Surin Beach is located in a bay where the sand is the finest in Phuket, with few people and nice view, making it very perfect for running in the morning or strolling to watch the sunset. At 14:00 o'clock in the afternoon, the sun is very good. The public opening area of the entire Surin Beach is not very long, and some are surrounded by private hotels.
Featuring the wide golden sands, the turquoise waters of the beach, the blues sea, and the two lush, boulder-strewn sea otters, Surin Beach can easily attract visitors' attention.
There is an 18-hole golf course and picnic lawn next to Surin Beach. From the Thai-style Aman Puli Hotel you can overlook the end of the beach. In addition, there is a Huimin Village near the Surin Beach. If you have enough time, you can go there to have a visit, where you may find more surprise for your trip in Thailand.
You might like to book: Thailand Beach Tours