Lanta Klong Nin Beach
Last Updated: July 15,2019
Lanta Klong Nin Beach is the best beach in Thailand that doesn't need to go out of the island. It has less tourists, small waves and fine sand, and the water is very shallow. When going out for 30 meters in the sea, you still can play conveniently. Most hotels and bars are built along the coastline, so here definitely is the best holiday destination.

Lanta Klong Nin Beach is in the middle of Koh Lanta, and the coastline is facing the west , so it is not convenient to watch the sunrise. But it is a great place to watch the sunset. The famous cliff restaurant is also to watch the sunset. In fact, there are not too many differences. The sunset in Lanta Klong Nin Beach is still very beautiful, and it is recommended to watch it.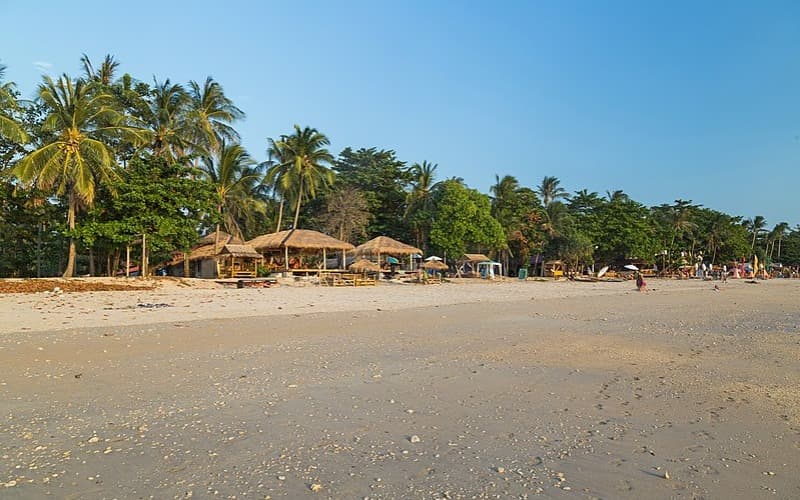 The waters of Lanta Klong Nin Beach show the beautiful blue color of tropical seas in the morning and at noon, and it is more difficult to photograph in the afternoon and dusk because of the light. The sand is not the finest, and it is incomparable to the Maldives. Because it is a private beach at the hotel, someone cleans it up, so it is relatively clean. The beach extends into the sea, which is not flat enough. It means that when the tide is high, the place near the beach is deeper and can even dive there. The transparency of the sea water is not good, it is a little turbid, but some fish and sea urchins and sea stars are faintly visible. There are many reefs on the beach, which is much less than the beaches of Holiday Resorts in Phi Phi Island.
There are not many people in Lanta Klong Nin Beach, and there are many cheap seafood available nearby. Beachside entertainment and leisure facilities are complete. In the evening, the beach is very lively, and the bars on the beach have a light show, which will have a very different feeling. In general, Lanta Klong Nin Beach is not as best as the Maldives, but it is certainly much better than the beaches in many places. It is recommended to have a leisure time and enjoy yourself there comfortably.
You might like to book: Thailand Beach Tours