Ko Lao La Ding
Last Updated: July 15,2019
Ko Lao La Ding has been open for not a long time, and rich in the bird's nest, it was once only regarded as the picking worker's residence, but now it has become a "island of paradise". Landing on this island is like going back in time, and it is like a dream. It is very suitable for snorkeling here, and you can watch the underwater fish and beautiful corals, and experience the colorful scenery. You can also take a leisurely sunbath and enjoy the swimming in the Ko Lao La Ding to slowly kill the time.

Ko Lao La Ding should be a reef that can't be called as the island. The beach is also peacefully nestled in the embrace of the cliff. There are less people on the island. Ashore is the virgin forest, and in the shaded trees on the island, you can hear the ululation of apes from time to time with, as if it were to show the Jurassic Park at any time.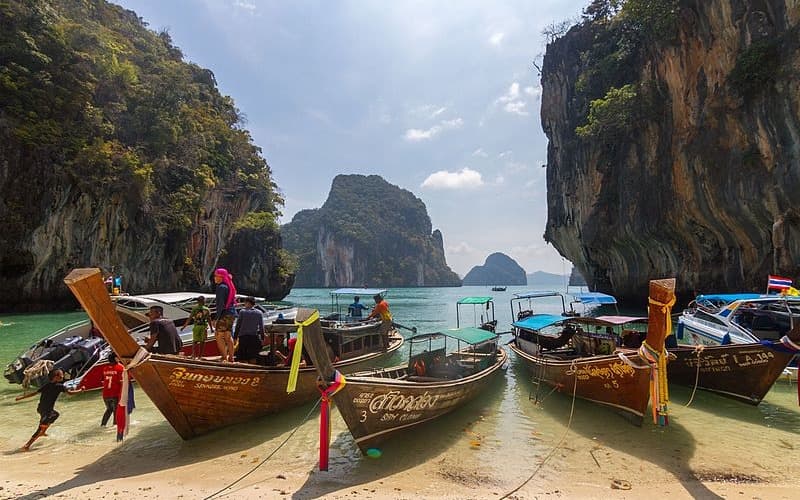 Ko Lao La Ding is generally a transit, and it is very small island, but it is super beautiful, and it has not been fully developed. You can have lunch on this island and you can still play on a swing there. There is a rock on the other side of the island, which is relatively slippery, so be careful. The small Ko Lao La Ding is beautiful, and very comfortable. When you are lying flat on a simple wooden chair, blowing the sea breeze, watching the sunlight from the gap between the leaves of the trees, you really don't want to leave.
On the way to HONG, you have to pass and stay at the Ko Lao La Ding. It is beautiful with blue water and gentle sea breeze, and it is not hot at all. Snorkeling here is a great experience, where you will feel the whole island is like being contracted by you. But it is still advisable to go early and avoid groups of travelers. If you come here at nine o'clock in the local area, there are very few people, so you can enjoy the whole Ko Lao La Ding. An hour has passed and people will grow more and more. Even so, Ko Lao La Ding is really a great place to enjoy the morning.
You might like to book: Thailand Beach Tours