Patong Freedom Beach
Last Updated: July 11,2019
Freedom Beach is little far away from the center of Patong, so there are relatively few people and it is much quieter. If it is late in the evening, there is almost no one there. What is better than Patong Beach is there is no noisy street and no small traders who keep selling items to you. It is a good place to experience the quiet beach and the sun.

Good scenery is never easy to reach in Phuket. Walking through the gravel road and passing through the green jungle to Freedom Beach, you will find it the secret of the minority that is worth a visit. The entrance fee of 100 THB per person is also acceptable for many tourists there. In this beach bay you can see that small crabs are eating shells. This is a must-see attraction and it will make your trip in Phuket memorable.
It takes 25 minutes to get to the Freedom Beach from Patong Beach. It is best to take a boat trip because it is steep and it costs a total of 650THB per person by boat. In any case, the Patong Freedom Beach is very quiet and the sea is very clear and bright. Since there are no shops and bars for food and drinks, it is very quiet. It is recommended that you bring some food and drinks and it is recommended to travel here as there is less tourist, great environment, clean water and white beach, which is much better than that of Patong Beach. Although Patong Freedom Beach is not very large, it is pure and natural, and it is very quiet and comfortable, which is very suitable for relaxing here.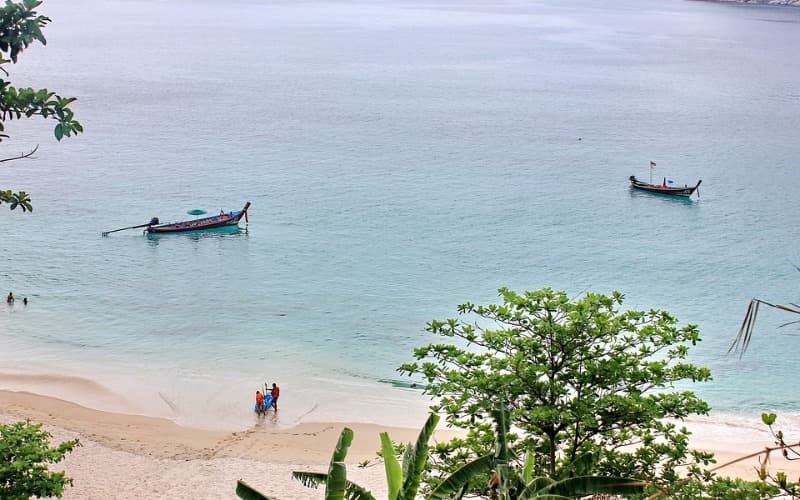 Patong Freedom Beach is a great beach with awesome surroundings. There is also a rainforest that can be walked on foot and there is a very private garden. The waters in front of the beach can only be passed by boating, which likes a very beautiful dream. The sunset in the Patong Freedom Beach is embraced by the bay and is ideal for shooting sunsets with time-lapse photography.
You might like to book: Thailand Beach Tours