Pai Plong Beach
Last Updated: July 10,2019
In Krabi, it seems that people here mainly to see the sea. It seems there are beaches everywhere and each one has its own style and each one is wonderful. The Pai Plong Beach features original beauty and reveals its simplicity in the wild. At first glance, it doesn't seem to give people a sense of surprise, but as long as you calm down and appreciate it carefully, you can still find its attractive features. For example, there are not many people here, and the sea here is clear and transparent. It is easy to find some creatures floating on the beach, such as jellyfish, seaweed, etc. You can also find some beautiful shells.

Pai Plong Beach is not far from the lively Ao Nang Beach, but it is very quiet. The beach is gentle, the water is blue. When you step on the beach barefoot, you will feel it relaxed. If there is sunshine, photography here should be a great thing.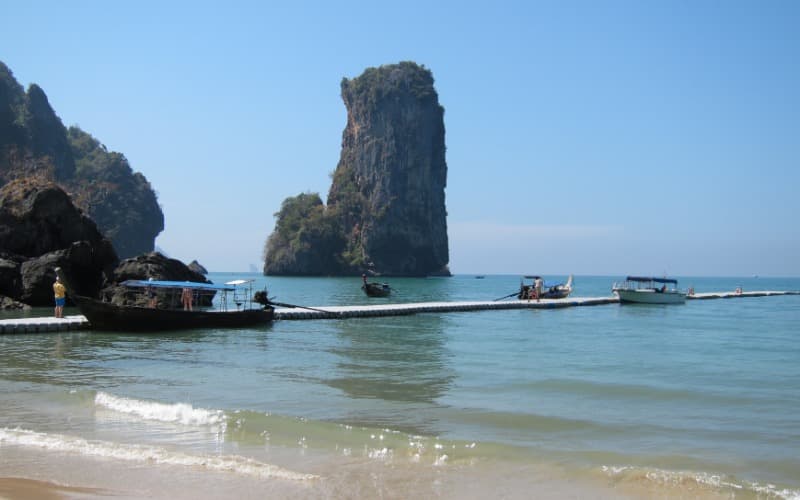 Pai Plong Beach is a quiet and charming place with beautiful scenery and is one of the best places to watch Krabi sunset. On the narrow roads along the shore of the beach, you can easily stroll through a variety of classical bars, lodges and shops.
Pai Plong Beach is also a very original beach. There are large tidal flats at low tide, small crabs are crawling all over the beach, there are live anemones and conch, shells, and you can catch jellyfish and squid. It is very suitable for taking children to play here.
Pai Plong Beach is not as famous as Ao Nang Beach, but its sea and beach are much better than Ao Nang Beach. Sand is white and water is clear, it is very suitable for swimming and playing water. In addition, the sunset glow of Pai Plong Beach is so beautiful, and it is full of colorful clouds that reflects the sky, like a beautiful painting.
You might like to book: Thailand Beach Tours