PhraNang Cave Beach
Last Updated: July 11,2019
Located at the southern tip of the island of Railay on the Andaman coast, PhraNang Cave Beach is one of the top 10 most beautiful beaches in Thailand. Surrounded by limestone cliffs, it has emerald clear waters and beautiful white sand beach. The sand of the beach is very dense, which like flour. In addition to the famous goddess cave, there are rocks hanging upside down by the sea, and it is a good place for rock climbing. It is necessary to take a boat to arrive here. There are many people on the island and it is very lively.
PhraNang Cave Beach is one of the famous beaches even in the world. It has fine water and fine sand, and there are many foreigners playing on the beach. There are many caves, some natural caves on the rock surface allow visitors to enter, some tourists enter into the caves to adventure, but it is only for photography. And there will be rock climbing there, you can climb along the Pulin Cave. There are also special coaches to teach you climbing, and there are also a lot of people enjoying snorkeling in the sea. You can also row there. It is a beach that is fully equipped for eating, drinking and having fun.
Among so many beaches across Krabi Island, PhraNang Cave Beach is the most intimate. You need to cross the peninsula from West Railay and arrive at it after you walk to the end of the East Railay Beach. It is a closest outlying island of Krabi. When you are listening to the sea, watching the sunset, swimming there, you will feel it very comfortable. Many Europeans and Americans are concentrated here. It is fee to aboard the island and the privacy of the island is very good.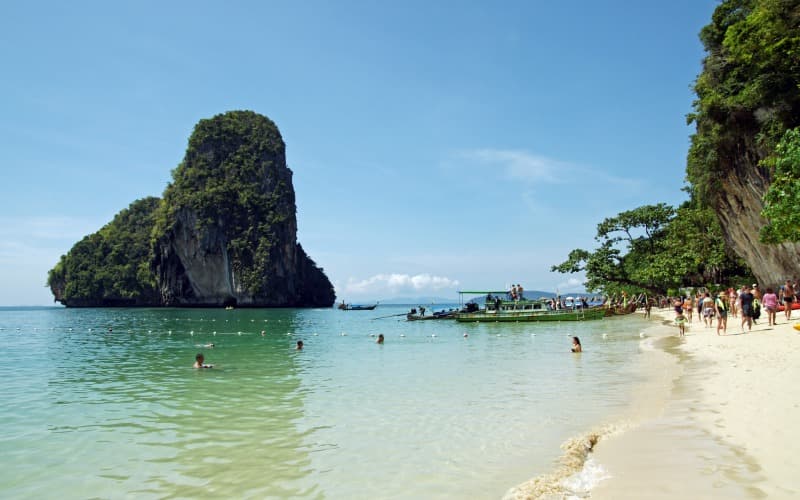 PhraNang Cave Beach is a great free place to go, which is very secluded. The shadow of the tree there is very beautiful. The beach features soft and smooth white sand, and it is very comfortable to step on. At low tide you can cross the sea and the beach to the nearby islands and beaches. When you visit Prince's Cave, you can stop at PhraNang Cave Beach to visit more about the PhraNang Cave Beach.
You might like to book: Thailand Beach Tours