Mai Khao Beach
Last Updated: July 12,2019
Located 40 km from the city, Mai Khao Beach is in the northern part of the west coast of Phuket. The beach is about 9 km long and is the longest beach in Phuket. Compared to other beaches in Phuket, this beach is characterized by palms here and there and the beautiful scenery. Here you can watch turtles laying eggs. From November to March of each year, when the water is rising, a group of turtles come here to dig holes and lay eggs. New life will be born here. Watching turtles laying eggs is one of the features of the Mai Khao Beach. And April 13th of each year is the most meaningful day, when the young turtles will have their birthdays, and there are so many tourists who participate in the release activities on that day.

Mai Khao Beach is also a paradise for surfers. It is attracting tens of thousands of surfers every year to chase the waves in the pale blue sea, and the thrill of facing wind to move forward is undescribed. In addition, on Mai Khao Beach, everyone will hold a huge bonfire party at night, which will make you forget to leave.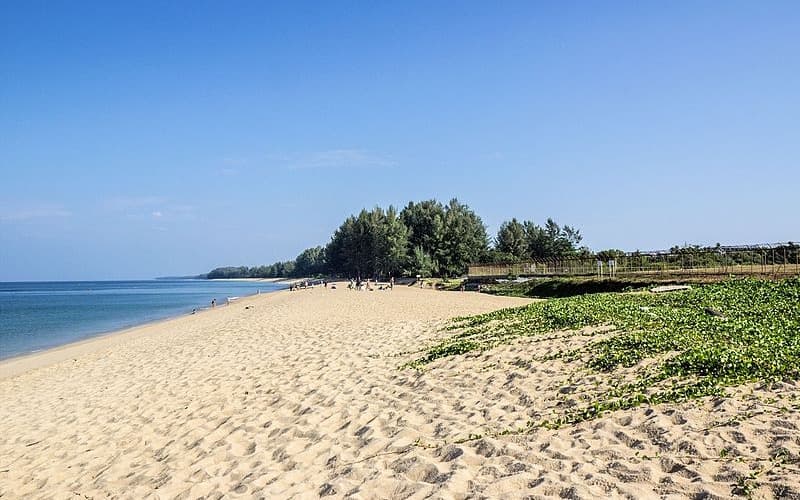 Mai Khao Beach is at the most remote location of Phuket island and it is also a long beach in Phuket, stretching for dozens of kilometers in total. It is also a good place to watch the sunset, but also a place with few people, making it more suitable for vacation. If you choose to stay overnight there, many hotels in the vicinity are super good, and it is especially high cost-performance in the off-season. When you don't want to live in the downtown area, Mai Khao is definitely a good choice.
Mai Khao Beach is a relatively small beach but indeed it is the only one of the top ten beaches in Phuket which is on the north. The beaches here are also very captivating. When you are passing through the hotel's open-air swimming pool and lawn, you can directly reach the beach. The beach here is soft and golden in color, and it is even more dazzling in the evening sun. Therefore, if you want to enjoy the sunset, Mai Khao Beach is also your ideal destination.
You might like to book: Thailand Beach Tours