Bang Tao Beach
Last Updated: July 12,2019
Bang Tao Beach is located in the central area of Phuket's west coast, which is 10 km north of the beach and the island's premier luxury resort. As a well-known island, Phuket has countless beaches on the island, and Bang Tao Beach is one of them.

Compared to other beaches, Bang Tao Beach is characterized by tranquility. It has no water sports business on the beach, and it is not so lively, therefore, this beach has less tourist crowds, making it suitable for tourists who like being quiet.
Bang Tao Beach is a wide beach, and there are many windbreaks on the shore. Although there is no lively beach activity, in the non-rainy season, the nearby sea area is also suitable for swimming. However, there are fewer sea creatures to see when you are snorkeling. If you like snorkeling so much, you can consider the beach where snorkeling is more convenient in Phuket.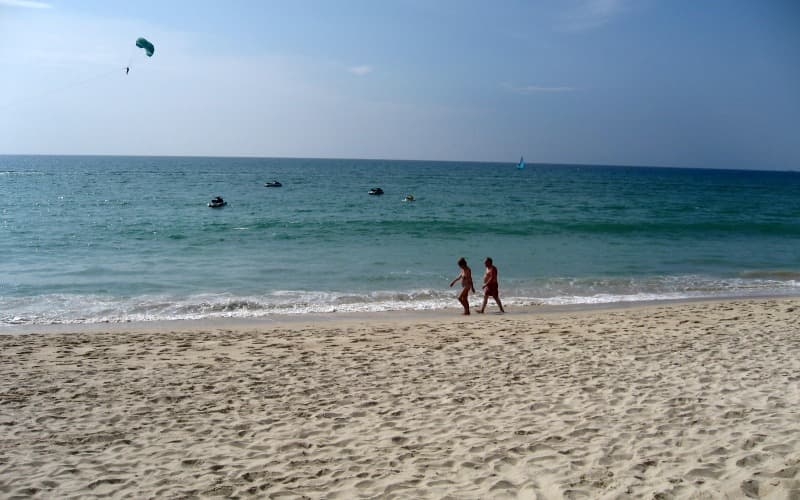 Bang Tao Beach has a lot of high-class resort hotels, where you can not only enjoy high-end quality service, but also can enjoy diving, massage, golf and many other services with the room number and signature of the hotel. Because the beach features hotel management, it is very clean. Every morning, there are staff cleaning the fallen leaves or other rubbish on the beach, so you can walk barefoot on the beach comfortably and fully enjoy the sea. You will feel very quiet and enjoyable, as this is a great place to relax.
The advantages of Bang Tao Beach are that the beach is long and quiet, and it is suitable for people who like to spend a holiday in the hotel and there are loungers on the beach that are free to use. The disadvantages are that there are few sea activities, there are not many restaurants, and it is far from Patong Beach. Overall, because of the small number of people visiting there, the Bang Tao Beach experience is much better. This is a quiet and beautiful place, which is perfect for a quiet and peaceful vacation. You will fall in love with Bang Tao Beach after you have a visit the beach.
You might like to book: Thailand Beach Tours