Ao Thalane
Last Updated: July 12,2019
Ao Thalane is a beautiful area known for its mangroves, mountain views and caves. There are many limestone caves and visitors can go canoeing to mangroves, crocodile caves and lagoons, and have a chance to see the natural habitat of birds, monkeys and other animals at close range.
You can take part in kayaking in Ao Thalane, Krabi. The travel agency can arrange for the car to come to your hotel in Ao Nang. Ao Thalane is about a half hour drive away from Ao Nang. Ao Thalane's mangroves are beautiful, and the roots grow in the sea. The coach is also responsible for the tourists and leads the team all the way so as you can avoid the boat turning over in the woods. Overall, the scenery along the Ao Thalane is still very beautiful.
Ao Thalane is more interesting. You can row your own boat and see the monkeys come back to grab your water. However, people with poor physical strength still are advised not to row your own boats, because it takes 2 and a half hours to row. You will feel very tired after finishing your trip in Ao Thalane.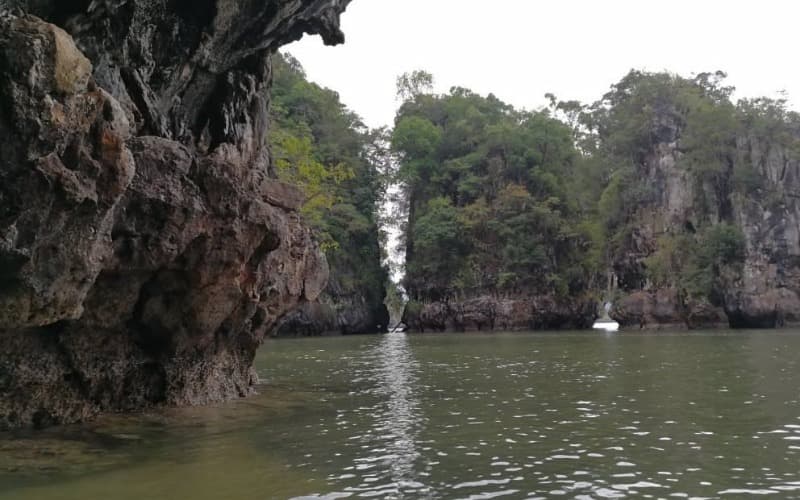 Kayaking through the mangroves in Ao Thalane is very great. If you take a challenging road, you can't make good boat trip, but it's very interesting. The scenery along the way is stunning, but you must wear long-sleeved trousers to avoid sunburn.
Ao Thalane is a relatively casual attraction. You can take 1-day trip there. There will be tour guide with you're the whole tour. The price is not expensive. You can see a wide mangrove forest. The cave here is not spectacular, but it can also be not so horrible to go for a kayak ride. As long as it's not exaggeratedly playing there, it's quite exciting. The quality of the sea in Ao Thalane is also good. There are not many tourists in Ao Thalane, you can spend a quiet day here happily.
You might like to book: Thailand Beach Tours