Nai Harn Beach
Last Updated: July 11,2019
Located on the southern coast of Phuket, Nai Harn Beach is a deep-water bay which is surrounded by mountains with steep cliffs at both ends. There are mountains on both sides of the beach, and you can enjoy panoramic views of the beach from the mountains. Here, the sand is fine and the waves is flat, and is suitable for all kinds of water activities. The King's Cup Boat Race is held here, and there are always many athletes in the boat race every season. Nai Harn Beach is also the base of the Phuket Yacht Club. But remember that during the monsoon season from May to October, it is not suitable for swimming here.
Surfing at Nai Harn Beach is really great. The beach is very quiet and beautiful. It is not crowded at all, so you can enjoy the beauty here freely. There are lifeguards next to the beach. If the waves are too big, they will warn everyone to keep away from the sea. There are drinks on the beach, and occasionally there are some hawkers selling snacks or coconut oil, you can buy some if you need. The food at the restaurants near the beach taste good, and you can have lunch there to try local cuisine. It's great to spending 2 to 4 hours playing in the Nai Harn Beach.
Nai Harn Beach is a well-known beach bay in Phuket. The beach is much cleaner than the other beaches in Phuket and the water is very clear. Nai Harn Beach is not long, but the scenery is pleasant. It is suitable to bring your child together to play on the beach. There are also some farmhouses for rent nearby, which are suitable for camping and various water activities.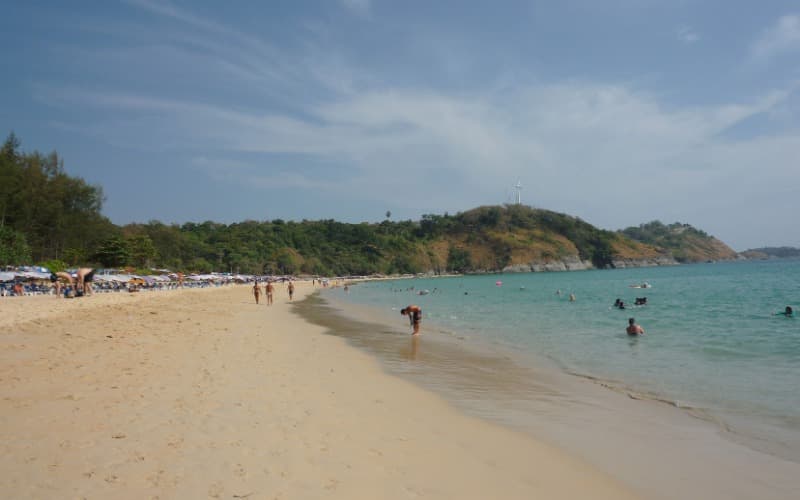 When traveling to Nai Harn Beach, don't miss the Phromthep Cape. The sunset here is called the most beautiful sunset. Under the setting sun, when the sea breeze gently blow you face while you are watching the tides in the golden sunset, you will feel a peaceful state of mind.
You might like to book: Thailand Beach Tours