Songkran Festival 2023/2024 in Bangkok
Last Updated: March 17,2023
April is the hottest month in Thailand, but the Thai citizens know exactly how to cool off…by hosting a three-day long street party where friendly water fights are the focus of the day! This party, called Songkran Festival, is the traditional Thai New Year, and it is celebrated by the entire country! Originally, water was sprinkled on family and friends to cleanse them of their sins and to make room for the new years' blessings. However, this tradition has evolved from "sprinkling" friends and family into one big water fight, celebrated every April by locals and tourists alike! Everyone takes part in the Songkran Festival; now is the time to plan your visit to this fun-loving country and to be a part of all the excitement!
---
Where to celebrate Songkran Festival in Bangkok?
Following are some places in Bangkok that you can visit to enjoy the celebrations of Songkran:
Songkran celebrations in Silom street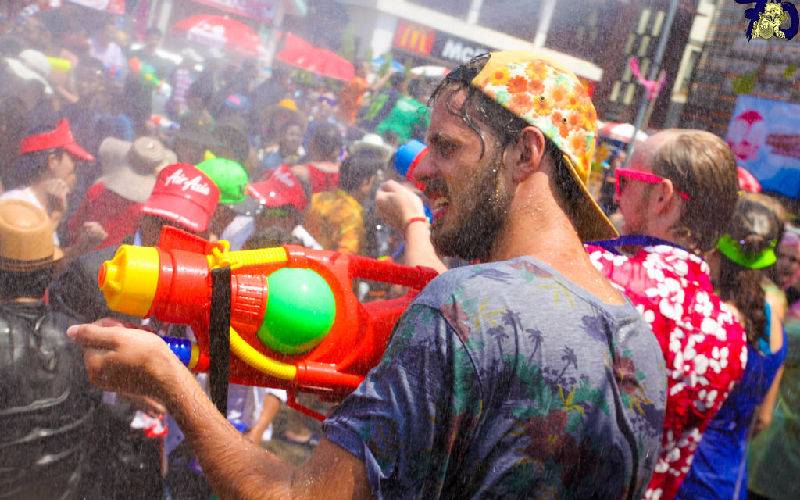 If you are looking for the largest crowd of partiers during Songkran Festival in Bangkok, the best place to look is on Silom Street! Commonly known as Patpong, you fill find two major streets, each five kilometers long, where water fights are the main activity! Thousands of young people will be spraying everyone in sight with water and wishing people a Happy New Year. If you would rather stay dry and skip the water fun, you can watch the activities from the skywalk; a place where you can still be part of the excitement…but without getting wet! Considered the entertainment district of Bangkok, Patpong is known for its rowdy bars and restaurants, so when you are ready to get back into the thick of things, you will not be disappointed! If you choose, you can walk down the busy streets and listen to music coming from every doorway or eat curious, Thai delicacies sold from roadside stalls. And, of course, you can always look for another water fight!
Songkran celebrations on Khao San Road
Khao San Road, rivaling Silom Street in its Songkran festivities, is definitely not lacking in entertainment! It is here that both locals and tourists scramble to throw water at family, friends, and other partygoers. Water guns, water cannons, and buckets of water are fair game for those involved in the party; this high-spirited fun always produces a watery, carnival atmosphere over the entire street! With police checkpoints everywhere, the fun is kept lively and safe, and the street is welcoming and wet…a party you have to experience for yourself!
Songkran celebrations in Phra Pradaeng District
If you want to extend your Songkran celebration, then the Phra Pradaeng District is the place for you! Festivities here are celebrated one week later than in central Bangkok, so here you can continue the fun-loving water fights for several more days! You will also find more traditional Thai ceremonies of the festival in this area of Thailand. The rich culture of the Thai-Raman communities is on display for all to admire! This includes a magnificent parade where each village creates a centipede flag - a proud sign of their unity. Folk plays, street processions, and Songkran water activities are part of this public holiday; definitely an experience for everyone!
Songkran celebrations in Sanam Luang
Sanam Luang, a public square opposite the Grand Palace (Wat Pho) in the historic center of Bangkok, has its own version of Songkran Festival! This is where you will find holy celebrations taking place on day one of the festival. The Buddha image, brought from the National Museum by the villagers, is respectfully paraded around the town and shared with people in the streets. The image is then placed on display for three days so anyone who missed the parade is still able to pay their respects to Buddha. Instead of splashing people with water, the villagers of Sanam Luang sprinkle water on the Buddha image, which is a sign of cleansing and the beginning a bright, fresh new year!
---
Activities to Enjoy During Songkran Festival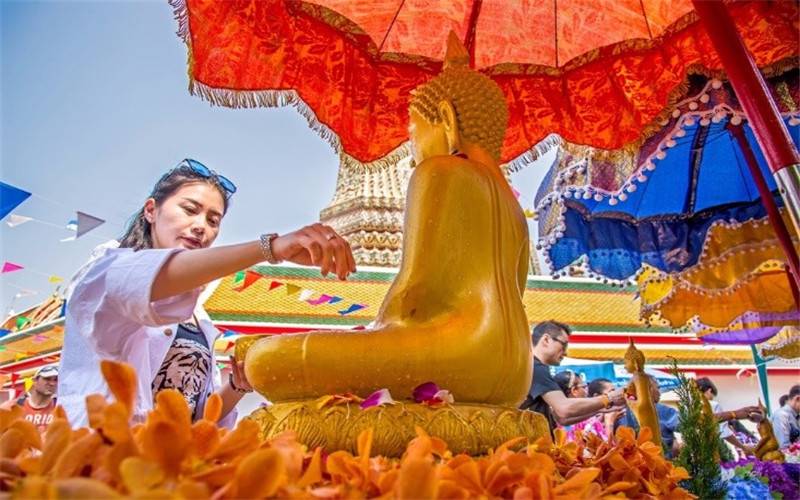 Buddha statues are washed with flower-scented water to carry away the sins and bad During the Songkran Festival, you will enjoy wandering almost every street of Bangkok to witness all the fun activities that seem to materialize before your very eyes! A combination of cultural and traditional events…mixed with lively, high-spirited water fights…will keep you entertained for days. The following are only a few of the festivities in which you can take part:
•Join the Craziest Water Fights
•Visit Holy Temples
•Take Part in the Party At RCA
•Attend the S20 Music Festival
•Enjoy Sacred Songkran Parades
1. Water Fight
In Thailand, water is thought to be the best way to wash away all of your misfortune and to begin a new part of your life. This simple tradition has transformed into immense water fights on almost every street of Bangkok! This means more fun, music, and dancing for both tourists and locals!
2. Holy Temples
The traditional side of these celebrations are also a major part of our culture. At many local temples, you will see people showing their respect to Buddha images by washing the statues and honoring the monks of the villages. This is a sacred time in our culture where we pay respect to Buddha, our ancestors, and our elderly parents. You will immediately feel the honor of witnessing a tradition such as this!
3. Party at RCA
Royal City Avenue, RCA as it is known to locals, is the center of Bangkok's night life! This district boasts bars, nightclubs, and entertainment for every taste, and you can view live concerts and hear popular music play until all hours of the morning. RCA is THE place to be if you enjoy the clubbing scene!
4: Attend S20 Songkran music festival – the greatest music & water revelry around the world
Biggest music festival that you can during the celebrations of Songkran festival is S20 music festival in Bangkok. You can enjoy the music from the biggest DJs of the world there. This is surely going to be an amazing music festival for you.
---
Colorful Songkran Parades
Scared parades paying homage to Buddha and to our ancestors can be spotted in several areas of Bangkok during the Songkran Festival. These parades include locals wearing traditional outfits, colorful home-made floats, and crazy costumes. Join the throngs of people in the streets and dance beside a painted elephant or a flag of a centipede! The most colorful parade event is at Phra Pradaeng in Samut Prakan where the dancing lasts late into the weekend.

Tips to Survive Songkran Festival
•Bring a sense of humor…and a water gun!
•Make your reservations early!
•Carry your valuables in a water-proof container.
•Dress appropriately; remember, white clothing becomes see-through when it is wet!
•Drink responsibly and be respectful of the local people.
Read more about How to Survive Songkran Festival.
The Best Way to Experience the Songkran Festival is to Contact Us for a Personalized Tour!
Let us be your travel guide to Thailand while we arrange an unforgettable vacation to experience the Songkran Festival! We guarantee to eliminate all the hassles that travel can involve as we design your memorable trip to our beautiful country!
Don't wait…call us today!
Our three most popular Thailand tours include the following:
2020 Songkran Carnival: 5 days Bangkok - Pattaya
•Water battle by Tuk Tuk and get into the heart of the experience!
•Water party in Silom Road. Can you spot the firetrucks at every intersection with their powerful water hoses?
•Continue to Pattaya with its week-long Songkran celebration and its colorful nightlife.
•Celebrate like a local: build a sand pagoda and watch the bathing rites of the Buddha image.
•Visit elephant sanctuary - wear Karen clothing and bathe these cute creatures!
Bangkok & Island Escape - 7 days Bangkok - Ayutthaya - Phuket
Best of Thailand Culture & Nature Tour - 14 days Bangkok - Ayutthaya - Chiang Rai - Chiang Mai - Phuket
If this still cannot meet your requirements, contact us to customize a super tour for you!
You also might like…
What is Songkran Festival: It is Thai New Year
Songkran Festival 2019-2020 in Chiang Mai
Interesting Facts about Songkran Festival