Songkran Festival 2023/2024 in Phuket
Last Updated: March 17,2023
In the past, people sprinkled small amounts of water on their friends and family to observe this tradition. Now-a-days, people use water guns, water buckets, and water cans to drench each other with water! These water fights are the most important event during the celebrations of the Songkran Festival, and they take place everywhere on the islands - along the roadsides, at every street corner, and from the backs of pick-up trucks! Revelers love the day-long events, and they can't wait for the craziness to begin! These water fights have become bigger and better every year, and there is no doubt visitors will be drenched by the end of the day!
If you are planning to visit Thailand during the Songkran festival, this guide is a must! It will explain the history of the Songkran festival, the importance of Songkran in Thai culture, and the best places to visit in Phuket province during the festival.
Songkran festival Celebration in Phuket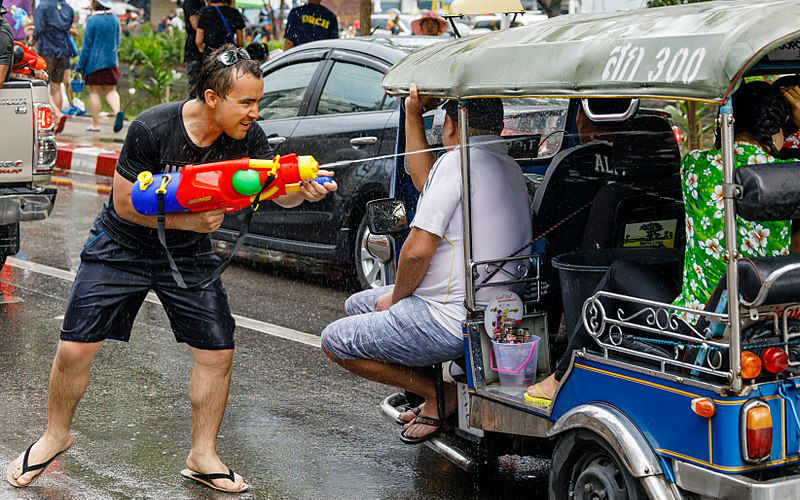 New Year festivities in Thailand can be wild and wet events for people throughout the country, but the celebrations in the province of Phuket are on an international scale!
If you are ready for some entertainment, then your visit is going to be a wet one…particularly if you are riding a motorbike or have hired a tuk-tuk (a motorized rickshaw) for your travels! Water fights take place everywhere and from sunset to sundown. To tourists, locals, and expats alike, these water fights are the spirit of this holiday and are celebrated by everyone for miles around!
On the first day of the festival, all major activities are celebrated in Queen Sirikit Park, a beautiful botanical garden which also includes a monument to Queen Sirikit. All other events are held daily at the popular seaside resort of Saphan Hin Park from 9:00 am to 6:00 pm.
Songkran Festival in Patong, Phuket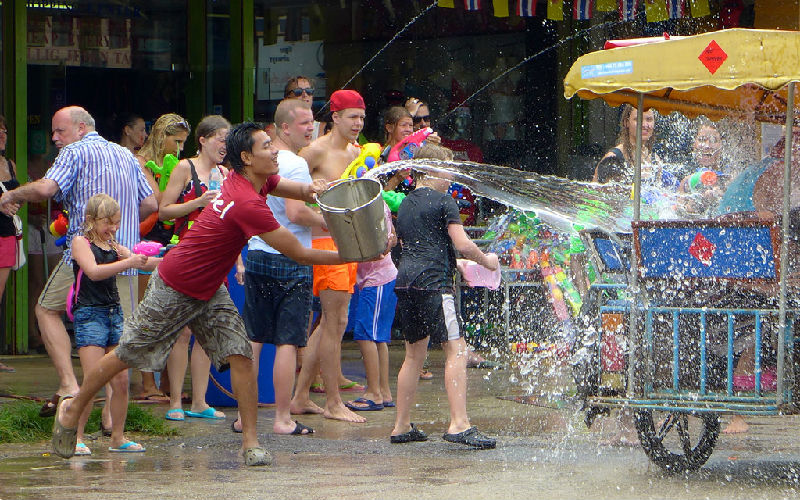 Another wonderful venue for enjoying the Songkran Festival is the city of Patong! The most famous beach resort on Phuket, Patong boasts bustling nightlife with hundreds of restaurants and night clubs. However, during Songkran Festival, this is also where you will experience some of the biggest water fights! This beach is undoubtedly the noisiest and the most entertaining place during Songkran! It is here that revelers will keep the party going late into the night!
However, if you prefer the traditional aspects of the Songkran festivities, then you will want to join the procession of Buddha images, which are carried with scented water, through the streets of the city in order to pay respect to the elders. You can also enjoy the cultural water plays presented by locals and the fun-filled parades in the streets which celebrate the Rice Goddess. There are many "dry" activities that can be enjoyed throughout the festival as well!
Songkran Festival in Phuket Town
The water parties in Phuket Town begin in early morning and continue until the last light of day where partiers end up on Bangla Road. More commonly called Patong Walking Street because it is closed to traffic at night, this street is filled with partiers moving from one restaurant or bar to another! During the Songkran Festival, you can imagine the crazy water fun that takes place here as festivities reach their peak!
For the Best Memories
To enjoy the excitement and to create the best memories from your celebrations at the Songkran Festival, you should consider the following:
•If you do NOT want to be a part of the crazy crowd during the festivities, then you might want to visit other local villages and avoid large tourist centers. In spite of this detour, you will still be able to enjoy many of the traditional activities that are hosted by the major resorts!
•If you DO want to join the fun, be sure to acquire your own water pistol, water can, water bottle, or water bucket; many are given for free or you can purchase these accessories from a roadside stall.
•Remember to plan in advance what clothing you will wear when attending to the festivities; expensive clothing can be damaged and white clothing becomes see-through when wet. Remember to use a waterproof pouch to protect your mobile phone and other valuables. Remember to bring spare clothes if you plan to visit more places after participating in a water fight.
•If you have thought about renting a motorbike on vacation, now is a great time! A motorbike during the Songkran Festival is the perfect method of transportation; however, be careful of the slippery roads!
Read more on What to Pack During Songkran Festival
Read more on How to Survive in Songkran Festival
Recommended Itineraries to Experience the Songkran Festival
If you want to travel to Thailand during these days. The transportation and accommodation will be a big problem. During the holiday, most of them will be sold out months before the festival. The streets will be a grand water carnival. Contact us and we can help you avoid the hassles, and have a Thailand local experience that includes the best of the Songkran Festival!

See below the most popular Thailand tours for inspiration:
2020 Songkran Carnival: 5 days Bangkok - Pattaya
What's you can expect in your creazy Songkran tour:
Water Battle by Tuk Tuk and get into the heart of the water battle!

Water Party in Silom Road. Spot the firetrucks ambushed at each intersection with their incredibly powerful water hoses.

Continue to Pattaya where helds a week-long Songkran celebration and colorful nightlife.

Celebrate like a local: Form a Sand Pagoda & Watch Bathing Rites of Buddha Image

Elephant sanctuary: wearing Karen clothing and bath these cute creatures.
Bangkok & Island Escape - 7 days Bangkok - Ayutthaya - Phuket
Best of Thailand Culture & Nature Tour - 14 days Bangkok - Ayutthaya - Chiang Rai - Chiang Mai - Phuket
If this still cannot meet your requirements, contact us to customize a super tour for you!