Pattaya Songkran Festival 2023/2024
Last Updated: March 17,2023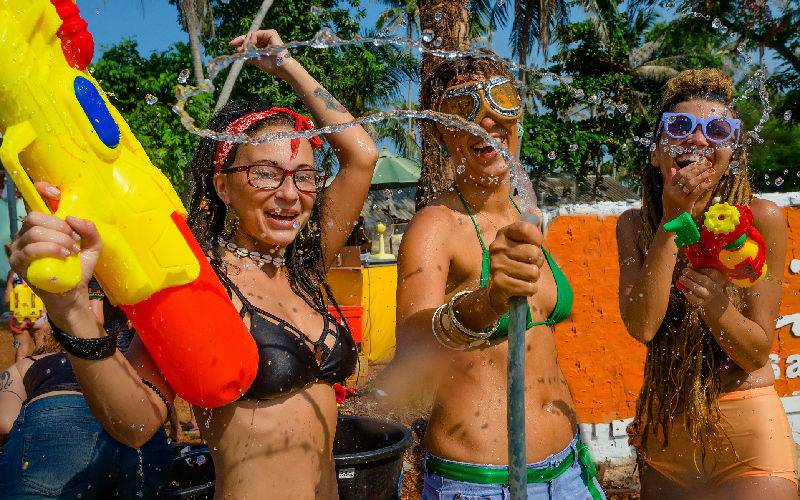 Songkran Festival, one of the most significant holidays in Thailand, is a remarkable water festival that welcomes in the Thai New Year. The party atmosphere of this celebration runs from April 13 through 15 throughout villages in Thailand; however, in the resort city of Pattaya, the party atmosphere lasts an entire week!
Famously called the 'Wan Lai Festival' by the citizens of Pattaya, the fun begins on April 11 and isn't over until April 19! This festival is merely an excuse for a week-long, super water-battle throughout the entire city! Songkran originated with family members sprinkling each other with water to commemorate the Thai New Year; it has now erupted into high-pressure soakings with water guns, buckets of ice poured down your back or on a passing car, and foam parties on Pattaya's beaches. These activities spare no one - participants or bystanders – everyone is drenched by the end of each day!
In addition to the biggest water fight you can possibly imagine, 'Wan Lai' features the building of exquisite sand sculptures on Pattaya's beaches and cultural performances called water plays – and yes, these performances provide another reason to be drenched with water!
There are also beauty contests and parades; specifically, a 'Kong Khao' parade dedicated to the Rice Goddess which is considered a hi-light of the celebration. Music plays lead to dancing in the streets and add to the festive atmosphere of the week - where the last day is usually the craziest!
Locals and Thais from around the islands flock to Pattaya for the seven-day frenzy of fun and excitement! You don't want to be left out, so contact us to create the best time of your life!
You Might like to book: Songkran Festival Tours
---
What Can I Expect at the Festival?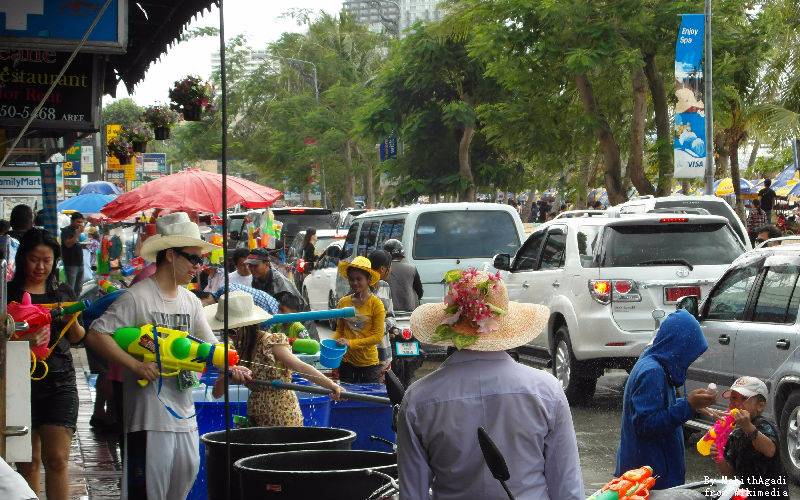 In Pattaya, a majority of roads will have a bar or restaurant on every corner; these are places where you will inevitably be caught in the crossfire - especially the Soi 6, 7 and 8! In addition to offering local drinks, each bar will also have large buckets of water where tourists can stop and collect more ammunition while soaking passers-by!
Even though you can drive your vehicle around the city, there is so much merry-making that most vehicles are forced to come to a standstill. Each street becomes a slow-moving procession with revelers throwing water at each other and where pickup trucks turn into moving party castles with their own water and a radio set to full-volume. Many young Thais move to whatever higher ground they can find to drop water bombs on unsuspecting party-goers and to rake pedestrians with blasts of water from their soakers!
If you want to escape the water fights for a while, head to Bunsen Beach in Pattaya where you can catch your breath and view artists creating exquisite sand castles and sculptures.
However, as you walk to the beach, you should also beware! Water trucks, provided by the local fire department, will be blocking parts of the beach road. Each truck will be filled with buckets of soap and foam machines for revelers to use as they walk the area listening to live music.
In addition to seeing water sprayed in every direction, you will also be treated to traditional festival scenes which include monks sitting safely in the back of a truck while rolling through the city and giving blessings to crowds who line their route. Every spectator shows great respect for these religious figures by being sure their saffron robes are kept completely dry – which is a huge contrast when everything around them is totally drenched!
Unlike these monks, the local police provide smiling targets for partiers, and they seem to enjoy being a major part of the festivities; they eventually end up being more saturated than anyone else - all for the sake of the great Songkran Festival!
---
How Can I Avoid Becoming Soaked?!
For travelers to Thailand who do NOT want to attend the Songkran Festival, one option is to take a week off and flee to Koh Samet or other nearby islands to experience the beauty and traditional culture of Thailand. Or you could always find your heaven by barricading yourself indoors with enough supplies to last the week!
However, a better option for travelers is to find a room with a view that overlooks the sights and sounds of the Songkran Festival. You can relax and experience the traditions, the exquisite sites, and the celebrations on the streets without feeling a single drop of water!
---
Tips to Make Your Vacation a Success
We strongly advise that you walk (instead of drive) the streets of Pattaya because there will be bumper-to-bumper traffic everywhere.
Also, avoid carrying or wearing anything expensive (especially anything electrical) because your belongings are likely to get wet. (You can always buy a waterproof purse before the festival.) Most of all, if you are going to take part in the festivities, you must be prepared to become soaked with water yourself. The goal of the festival is to have fun – not to become angry when you find yourself drenched by another reveler!
What Tours Do We Offer?
Our customized tour of the Songkran Festival includes the following:
Five days in Bangkok.

Pattaya Water Battle by Tuk Tuk – in the heart of the festivities!

Water Party on Silom Road - spot the firetrucks ready to ambush you with their incredibly powerful water hoses!

Enjoy the colorful nightlife of the city.

Celebrate like a local - form a sand pagoda and witness the bathing rites of Buddha image.

Visit an elephant sanctuary, wear Karen clothing, and bathe these cute creatures!
If you are looking for even more adventure, please contact us to customize your individual vacation!