Top 10 Elephant Sanctuary near Bangkok
Last Updated: February 15,2020
The opportunity to meet with highly endangered Asian elephants has attracted visitors from all over the world to Thailand. Elephants are very intelligent creatures-they have the largest brain among the terrestrial mammals. Sadly, the captive elephants have endured terrible ill-treatment in order to amuse human in traditional elephant tourism. Now, you have a totally ethical way to see them! You can consider volunteering in one of those best elephant sanctuaries in Thailand!
Volunteering with elephants is often a very rewarding experience. Retired working elephants are no longer able to re-enter the field and rely on human support for daily care. The best sanctuaries are those with large plots of land that allow gentle giants to roam freely in semi-wild environments.
Taking care an elephant is one of the most popular volunteer activities in Thailand. Keep reading, understanding the ethical elephant sanctuaries, and where you can volunteer near Bangkok.
All the following sanctuaries offer NO RIDING elephant volunteer activities. You can attend one of their day tour and return to Bangkok the same day.

1. Elephant World Sanctuary
Distance: 2h15min from Bangkok
Location: Kanchanaburi
Situated just outside the downtown of Kanchanaburi, Elephants World takes care for the daily needs of over 30 elephants. Those elephants' age range from 8 to 90 years old. Their eye, back, scars and generations, all show the mark of history and elephant culture in Thailand.
By offering up-close and personal encounter with these wonderful creatures to eco-volunteers, the sanctuary aims to provide a real shelter and raise people's awareness of elephant's welfare.
The programs range from a single day visit, overnight visit to the ethical mahout experience of a week or more. In every moment in the sanctuary, the staff strive to make the experience more educational, enjoyable and rewarding in meaningful ways. We wish to gather our visitors who love elephants and wish to play a part, as we do, in their conservation for future generations.
If you want to visit an ethical elephant sanctuary near Bangkok, it's probably one of the best options. It might be very easy to connect your Bangkok tour. Ayutthaya, Kanchanaburi and Bangkok, these three cities form a golden tourist triangle in central Thailand. Normally, you can visit there after or before Ayutthaya. Then you can turn back to Bangkok and head to your next destination.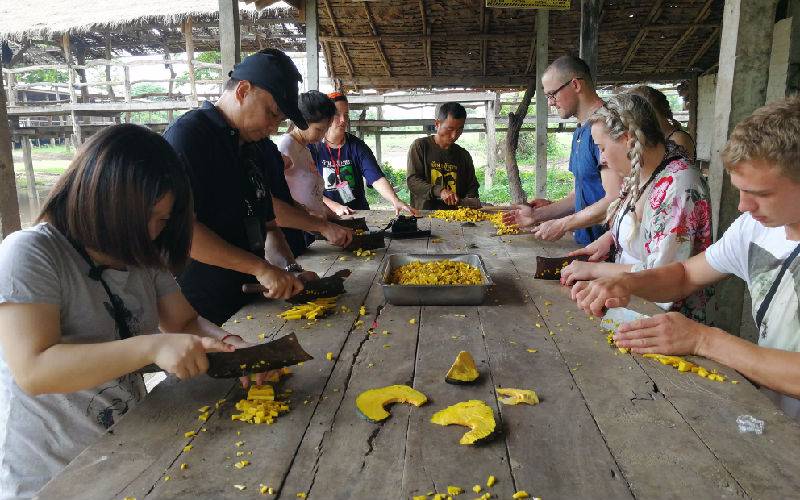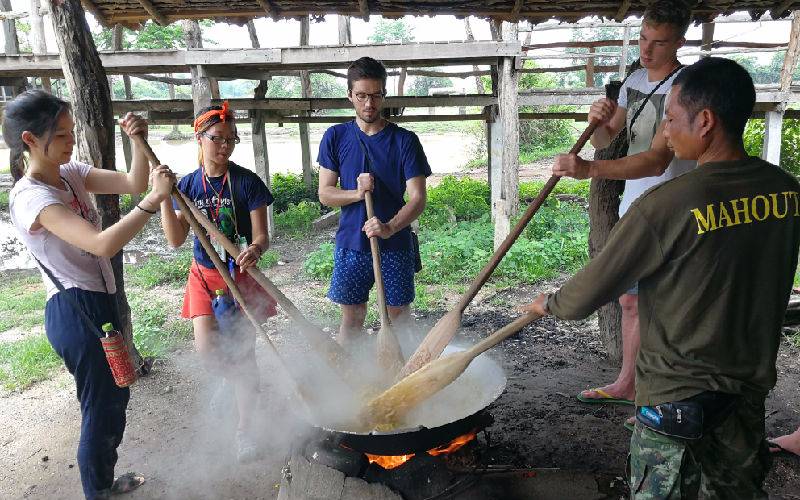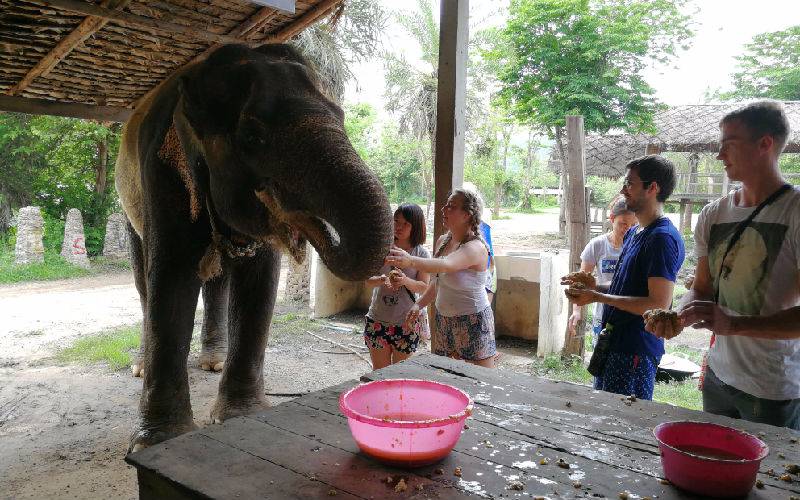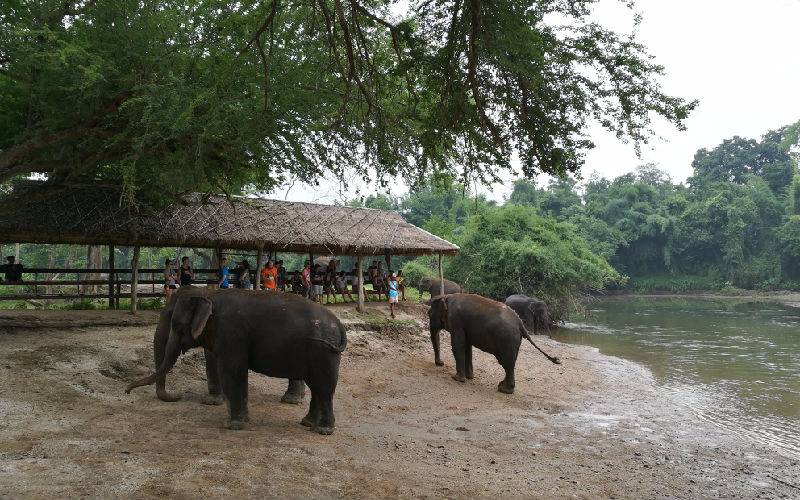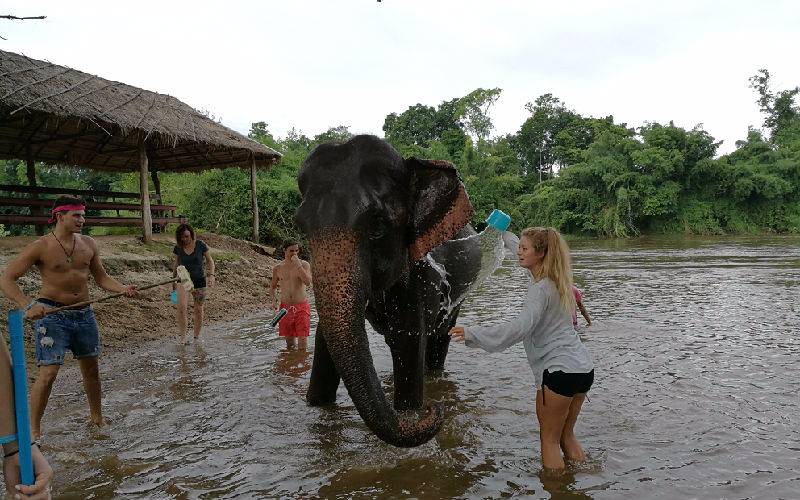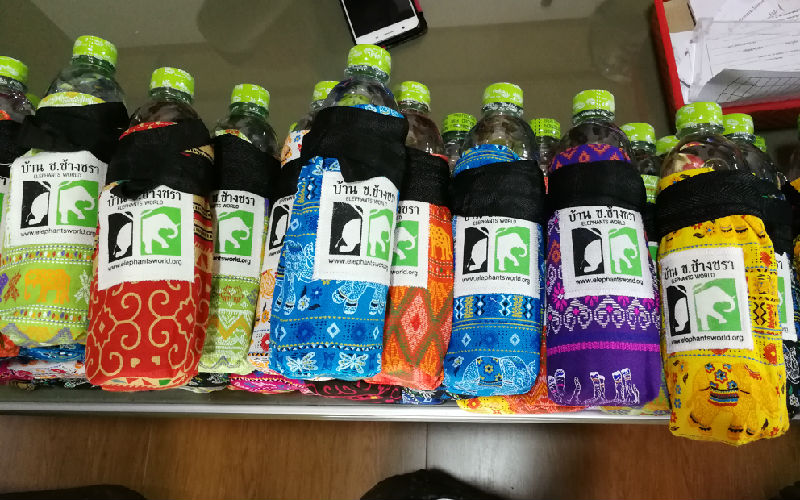 Price:

Activities: Gathering / planting food for the elephants, clean fruit/vegetables, prepare and cook 
sticky rice, meet and feed the elephants. Take the elephants to the river for a
bath / scrub them clean.
Programs available: One-day, overnight, one-week
You can book this day-tour here: Full Day Kanchanaburi Elephant World Volunteer Tour from Bangkok
Note: Booking is required 48 hours in advance
Tour Packages:
Heart of Thailand Tour: Bangkok - Kanchanaburi - Ayutthaya
Includes: Grand Palace, Wat Pho, Damnoen Saduak Floating Market and River Kwai of Kanchanaburi,volunteer and Have Close Contact with Thai Elephants, Ayutthaya Historical Park and Bang-Pa-In Summer Palace.
Take a scenic train ride on Thai-Burma Death Railway

Bath and feed elephant in Elephants world

Trace back from Bangkok to Ayutthaya dynasty - unmissable Thai history
If you would like to create an all-inclusive Thailand tour packages for your group, we can do that as well. We can customize the tour just for your group on your desired date and your group members will be the only ones with the exclusive guides and private transfer. Whether it's just a single-day tour or a multi-day tour, we can create it for you at a great price through the whole Thailand, such as Bangkok, Chiang Mai, Phuket, Koh Samui, etc.
2. Pattaya Elephant Jungle Sanctuary
Location: Pattaya
Distance: 2 hours from Bangkok
Elephant Jungle Sanctuary is an ethical and sustainable ecotourism project around Thailand. Initially, this was a joint operation between the Chiang Mai and members of the Karen Hill Tribe who concern about the welfare of Thai elephants. There's no elephant riding, no hooking, no circus tricks. Elephants are retired from traditional elephant performances or rescued from cruel owners.
For most travelers to Thailand, no matter which city you stay, there will always be a good choice near you. It's new and growing. Now, Elephant Jungle Sanctuary already have four locations in Thailand – Chiang Mai, Phuket, Patthaya and Samui.
Each site allows visitors to learn the elephants through incredible experience, such as trekking with them in jungle, feeding them by hand, bathing with them in river and even learning to make paper from elephant poop fiber! This sanctuary features the colorful Karen costume which you will wear in the sanctuary and keep it a meaningful souvenir!
For volunteers who starts from Bangkok, the best choice is half day visit program. There are two options: starts from 7:30 for a morning visit or 12:30 for an afternoon visit. The visit last for 5 hours. If you will stay in Pattaya for one night, you can join in a one-day visit. Then, you can have more time with those lovely creatures.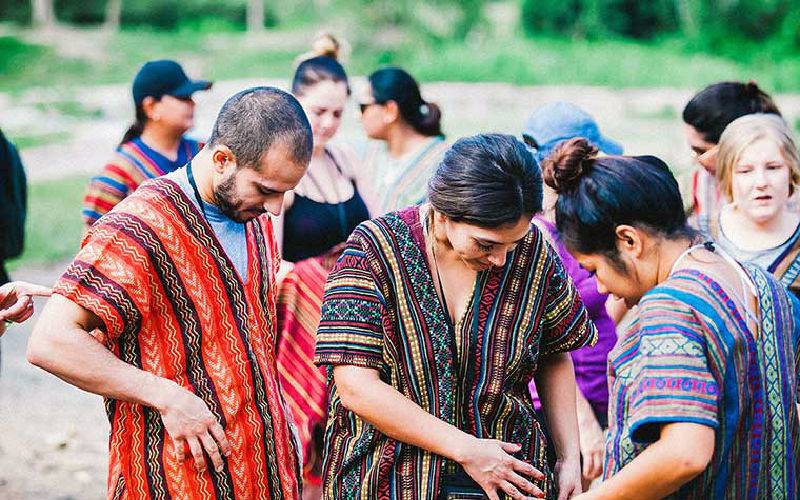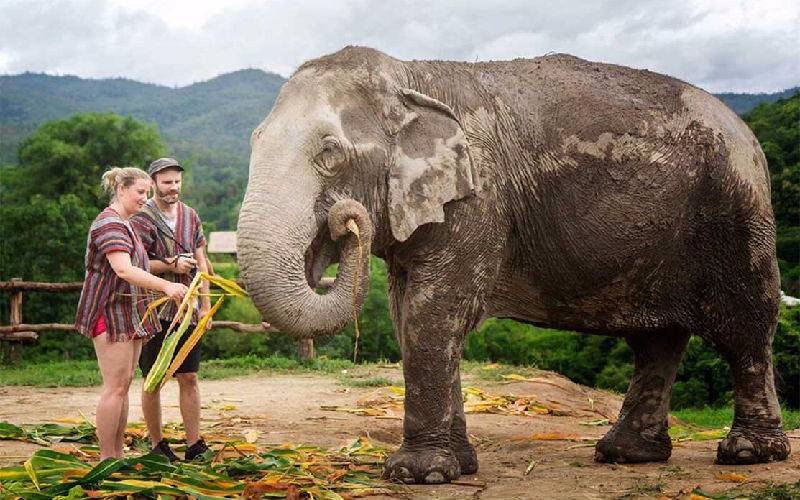 Price:

Activities: Interact with members of the Karen tribe and change to Karen costume. Meet the elephants and feed them. You can touch, feed, take photos, and interact with them in your spare time while you understand the natural life and behavior of the elephant. After, you can take a mud spa with the elephants and bath them. You can even learn to how to make the paper products from elephant poop fibers.
Programs available: Half-day, one-day
You can book this day-tour here: Half Day Pattaya Elephant Jungle Sanctuary from Bangkok
Note: Booking is required 48 hours in advance
Tour Packages:
We also provide elephant and other Thailand tour packages, offering private guides and sightseeing across Thailand. Click to customize a elephant lover's Thailand tour.
3. Hutsadin Elephant Foundation
Location: Hua Hin
Distance: 3 hours from Bangkok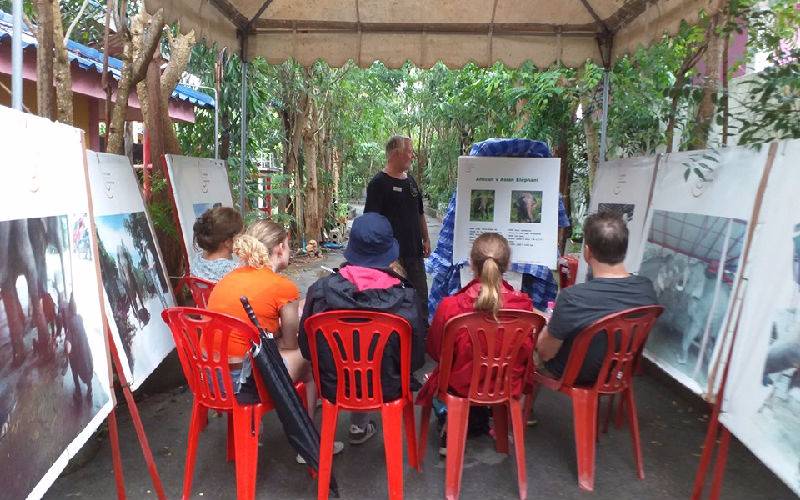 The Hutsadin Elephant foundation was set up by three local businessmen. They rescued working elephants abandoned by previous owners due to ill health, old age or simply because they are unable to earn more money. They take care of them and give them a better life in older age. The foundation is a non-profit organization and any funds received directly benefit the elephants.
It's located in the forest just outside Hua Hin city, which provides the closest beach to bangkok as well as a perfect habitat for the elephants.
In the sanctuary, you are allowed either walking with the elephants or bare-back riding. No wooden chair which means no hurting the elephant's back. You will get the chance to get up close and personal with adult elephants, walking alongside them in open fields and then giving them a well deserved shower.
Note: Volunteer program only accept visitors over 18 years old. Walking with elephants is available for all ages.
Activities & programs available: Education and Walking Alongside the Elephant, Bare Back Riding (Only One Person), Elephant Wash and Photo (Weather Permitting), Mahout Experience (Adults Only).
Thailand tour packages: All-inclusive, exotic, experienced and professional private tour packages available, from a single day up to 15 days. Click to book.
4. Wildlife Friends Foundation Thailand (WFFT)
Location: Kaeng Krachan
Distance: 2 hours 15 min from Bangkok
If you are in Bangkok for a little longer, then this is an absolute must!! No elephant riding or elephant drawing shows. Learn a lot about elephant's individual stories and about their mistreat history. After that, you will get to wash the elephants, feed them a little bit, and see a lot of the other animals if you come for a whole day.
You'll see some of the 600+ rescued animals at the Wildlife Rescue Centre, hear their stories and learn why they are living at the centre. Watching the animals and get to see the bears and monkeys enjoy their meals.
Activities & programs available: Full-day and half-day. Round transfer can be arranged from Bangkok, Hua Hin and Cha-Am.
Click to consult Thailand elephant tour packages.
5. Elephant Haven
Location: Sai Yok, Kanchanaburi
Distance: 2h45min from Bangkok
This sanctuary is trying to change the culture in Thailand about not using elephants for riding and entertainment. There were no chains, no bull hooks, no anything unnatural activities and nothing else restricting their movements, but you do follow them on their daily schedule of walking to the mud hole and river.
Great experience to see elephants happy and roaming free. There were 7 female elephants now in the sanctuary to feed, walk with and swim with.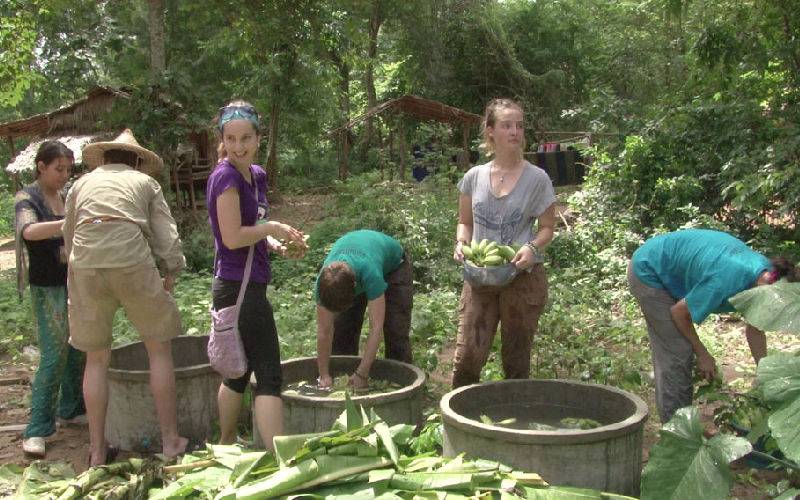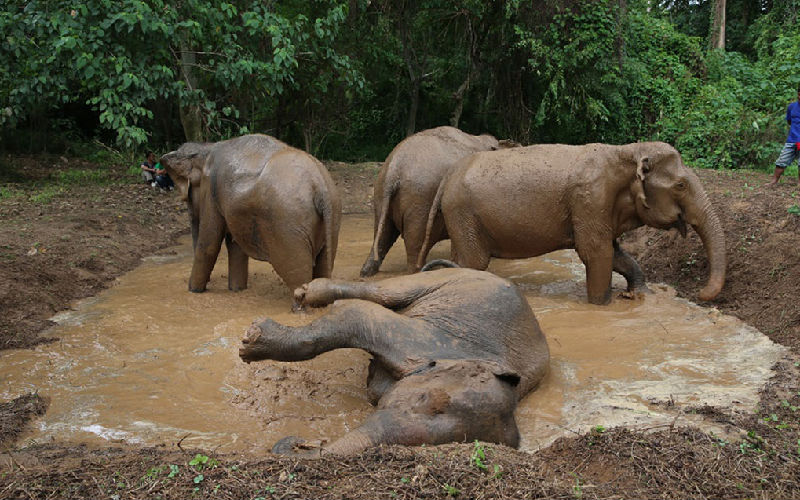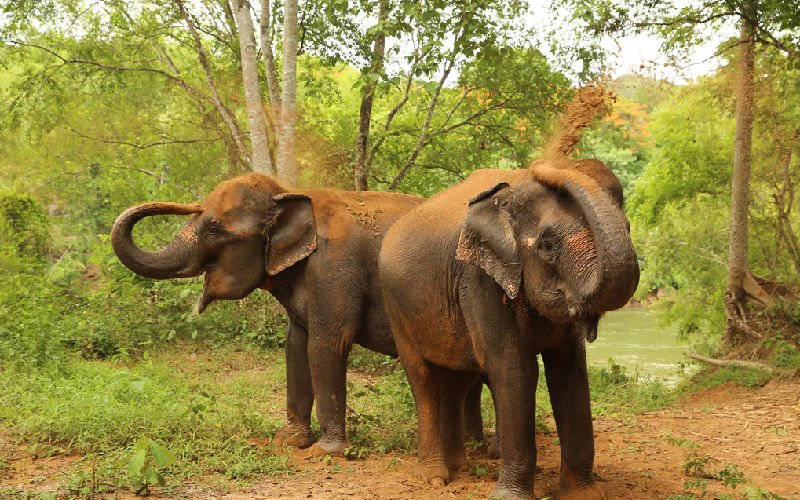 Activities & programs available: Full-day; overnight program(2 days 1 night).
Note: These trips start at 08:00 am from Kanchanaburi so recommend to stay in Kanchanaburi the night before your visit. Otherwise, you have to start early from Bangkok. It will take 3 hours from Bangkok to Kanchanaburi.
Click to consult Thailand elephant tour packages.
Other Elephant Encounter near Me?
Of cause, the best place to see elephant in Thailand is Chiang Mai, while you have better to take a flight first to Chiang Mai city the night before the visit. There are dozens of ethical elephant sanctuary, all located in dense jungle!
6. Elephant Nature Park
Location: Chiang Mai
Distance: 1 hour 15 min from Bangkok to Chiang Mai by flight, another 1 hour 15 min to the sanctuary.
If you decide to fly to Chiang Mai, don't miss Elephant Nature Park. This sanctuary is an outstanding program in Thailand elephant sanctuaries. Elephant Nature Park is an elephant rescue and rehabilitation center in Northern Thailand where you can volunteer and visit to help.
Sangdeaun Lek Chailert, a Thai woman, is its founder. Lek began to help elephants at the beginning with their hard-earned wages. Until 2003, she was invested by a good man in America, who offered her a 6 million – baht, and then Lek bought a land which is more than 200 acres.
The park provides a natural environment for not only elephants, but also a variety of animals, including dogs, cats, buffaloes and many other animals under the care. There are about 70 elephants living in the park currently. Your visit begins with a picturesque drive from the downtown to Elephant Nature Park.
You will hear the personal story behind those rescued elephants. See how big their life are changed from misery abuse. You will then enjoy a close forest walk with elephants, making food and feeding them by hands. Walking them into the river and observing their bathing while you stay dry on the river bank.
They also accept donation or sponsor an animal in the park. You can also order something from their online shop, including elephant design mini wallet, elephant mugs, elephant coffee, water bottles and photographs. No ivory or skin products. You can buy these in their online shop or in the sanctuary. All profit will donate in elephant saving.
Note: Please kindly note that the elephants will bathe themselves with no visitor interaction from 16 April 2018. You can watch the elephants bathe and play, while you stay dry on appointed platform and see them from afar.
The elephants love to swim and splash water to each other while only to do so alone or with their favoured elephant groups. Visitors are available to observe the elephants behaving naturally.
Activities & programs available: Single Day, 2 Days 1 Night, One Full Week Volunteer Program.
Click to consult Chiang Mai elephant tour packages.
7. Elephant Jungle Sanctuary Chiang Mai
Location: Chiang Mai
Distance: 1 hour 15 min from Bangkok to Chiang Mai by flight, another 1 hour 10 min to the sanctuary.
Elephant Jungle Sanctuary is a project that has set up ethical sanctuaries in Thailand. The sanctuary have three locations in Thailand, they are near Chiang Mai, Pattaya, Phuket and Koh Samui. All this, needless to say, the nearest sanctuary to Bangkok is Pattaya. While if you have time, it's also highly recommended to take part in a Chiang Mai visit.
The first park was founded in July 2014 near Chiang Mai. It is a joint initiative between members of the Karen hill-tribes and Chiang Mai locals who were concerned about the welfare of elephants in Thailand. Ecotourism is both benefit to local tribes and elephants. Comparing with other places, Elephant Jungle Sanctuary in Chiang Mai offer more visit program. Overnight is available.
Activities & programs available: Half Day, Full Day, Exclusive one-day walks with the animals, overnight stay options, One full week visit(dormitory), Maximum 2 week elephant care programs(runs every week, dormitory).
Click to consult Chiang Mai elephant tour packages.
8. Elephant Rescue Park
Location: Chiang Mai
Distance: 1 hour 15 min from Bangkok to Chiang Mai by flight, another 1 hour 10 min to the sanctuary.
All our elephants live with us here at Elephant Rescue Park permanently, we have purchased and rescued them from places like circuses, logging industry, mistreatment camps, hard working sites and unfortunate accidents.
Elephant Rescue Park has put together five special elephant tours for you to choose from, these unique and well-organized program tours are purely designed to help fund our park, provide more elephant rescues, food and veterinary care.
Click to consult Chiang Mai elephant tour packages.
If you fly to Koh Samui, there will be:
9. Elephant Sanctuary
Samui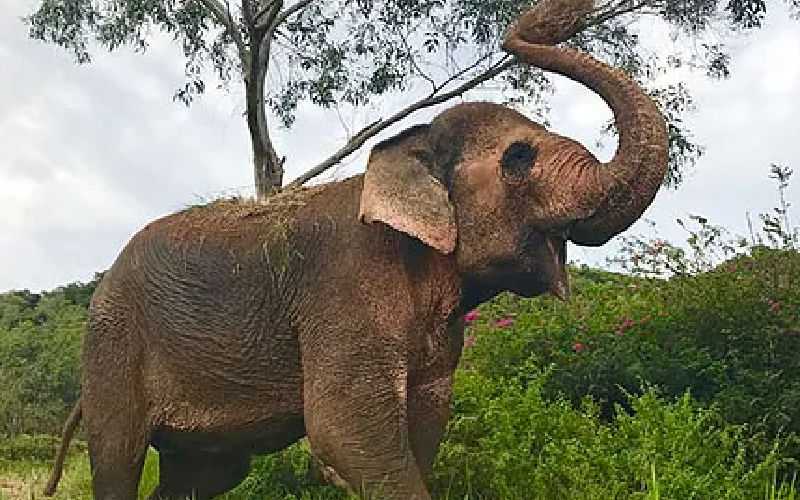 Normally, elephant sanctuaries are almost impossible to take part when you mainly stay in southern beaches and islands. It's available now in Samui Elephant Sanctuary!
The sanctuary currently have 6 elephants, born around 1958 to 1973. Most of them are born in northern Thailand and initially worked in the logging industry until this was finally banned by the Government in 1989. Then, they were forced to provide riding everyday for about 30 years in Pattaya, where has a high tourist demand to ride an elephant and watch them perform.
Despite all the adversity they has faced in they life before coming to the sanctuary, they are very friendly towards people. They can now relax in their new home and finally enjoy their time as an real elephant again.
The sanctuary provides a unique opportunity to feed elephants, walk with them, and observe them as they forage, socialise, and play in their fabulous purpose built pool. While this sanctuary now doesn't available to bath elephants. Elephants are highly empathetic animals and feel stress being surrounded by people. However, this sanctuary do offer an excellent feeding program. How incredible it is to be up close to an elephant!
Click to consult Koh Samui elephant tour packages.
10. Samui Elephant Haven

Location: Koh Samui
Distance: 1 hour 45 min from Bangkok to Koh Samui by flight and another 30 min
The sanctuary currently have 7 elephants, including a mother and son. The oldest one is 52 year's old. The youngest one is a 1 ½ year old male.
In this sanctuary, you will feeding, observe and interact with elephants. Walk with the elephants to a beautiful view point, wonderful photographic opportunities in jungle. Enjoy splashing, bathing and brushing the elephants in their very own swimming pool.
You will also have opportunity to visit a special Elephant Poo Poo paper factory, learn how the local Thais recycle from useless things. Try it yourself and buy some souvenirs if you need it.
Activities & programs available:
Half Day Private Tour (Morning: 06:30 am - 12:30 am and Afternoon: 12:00 pm – 6:00 pm)
Half Day Group Tour: 08:30am – 2:00pm
Full Day Group Tour: 08:30 am – 5:30 pm
Overnight Elephant Care: 2 Days, 1 Night starts from 08:30 am
Click to consult Koh Samui elephant tour packages.
11. Samui Elephant Jungle Sanctuary
Location: Koh Samui
Distance: 1 hour 45 min from Bangkok to Koh Samui by flight and another 30 min
Samui Elephant Jungle Sanctuary is also a lodge of Elephant Sanctuary Jungle Chiang Mai. The sanctuary is just 20 min from Samui international airport. The sanctuary currently have 2 elephants.
Activities & programs available: Half-day visit (starts from morning and afternoon).
Click to consult Koh Samui elephant tour packages.
If you fly to Phuket, there will be:
12. Elephant Jungle Sanctuary Phuket
Location: northern Phuket
Distance: 1 hour 10 min from Bangkok to Phuket by flight. Taking another 45 min from Phuket town or Patong Beach
Click to consult Phuket elephant tour packages.
13. Green Elephant Sanctuary Park
Location: northern Phuket
Distance: 1 hour 10 min from Bangkok to Phuket by flight. Taking another 30 min from Phuket town or Patong Beach
Click to consult Phuket elephant tour packages.
Take a Elephant Sanctuary Tour with Us!
If you want to have more close contact with elephant in Thailand, such as joining in an elephant volunteer program to take care of them, you need to travel to the northwest of Bangkok. The jungle and climate here provide a natural protection for those cute creatures.
We have specially-designed elephant sanctuary tour packages, offering you a chance to get close to Thai elephant in their natural habitat. These can also be tailored to include Bangkok, Chiang Mai and Phuket. Our travel advisors can also help you tailor-make a tour according to your requirements! See these popular Thailand Elephant tour first and feel free to inquiry us now!
Read more: Elephant Tours in Thailand
For an authentic elephant experience, you won't go wrong with the ones I have reviewed in the article. If you find this useful, remember to share it with your friends who are planning a elephant trip to Thailand. Have fun!