Laem Sing Beach
Last Updated: July 19,2019
Phuket is a tourist island in the south of Thailand. There are many beaches on the island. Laem Sing Beach is located on the west coast of central Phuket. The beach is a headland which is made up of hard rocky and it is adjacent to a small white sand beach. Compared to the bustle of Patong Beach, Laem Sing Beach is relatively quiet and items here are much cheaper than that of Patong Beach, and it is a famous snorkeling beach where there is no disappointment. There are a lot of corals around, and many divers come here to play. But be careful, there are a lot of roads going down the beach, some roads are steep and may not be suitable for people with limited mobility. There are not many people on this beach, the wind and waves are small, making it very suitable for diving.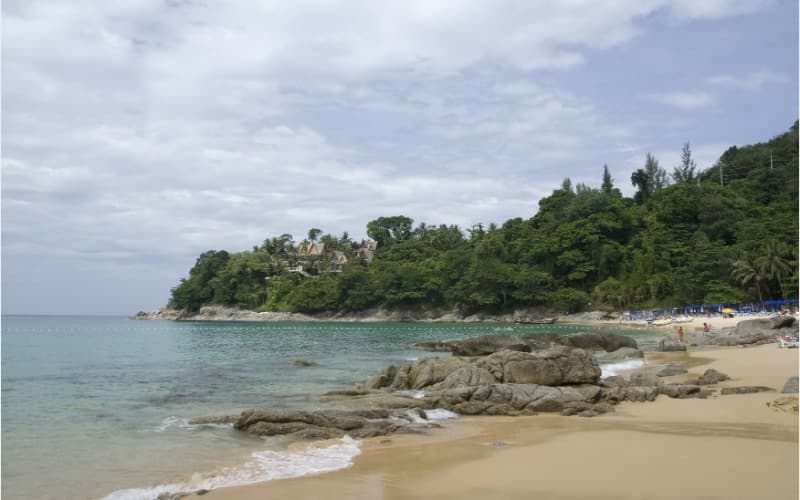 Laem Sing Beach is a perfect but not a secret beach. The water is so clear that you don't need to dive to see the water bugs, because only a few meters, you can see so many different fish beside the beach. The beach is big enough, and you can bring a book here and rent a set of beach chairs to lie on it leisurely to read your book while appreciating the beautiful beach view there. There are plenty of restaurants and bars behind the beach. Laem Sing Beach has always been very reliable, and the people working there are very interesting.
Laem Sing Beach is a very beautiful beach. Although it is not very big, it also maintains a very good environment because there are not many tourists, and the beach is not crowded. It is very leisurely, quiet and comfortable. The sand and sea water of the beach are better. Snorkeling is very famous here. If you like diving, be sure to come here and you will fall in love with this beach.
The Laem Sing Beach is very close to Kamala Beach. The environment here is comfortable, but there are not as many tourists as Patong Beach. The sand here is very fine. There are many foreign tourists on the Laem Sing Beach. Compared to Patong Beach, Laem Sing Beach is much calmer here, and it is worth visiting.
You might like to book: Thailand Beach Tours