Noppharathara Beach
Last Updated: July 19,2019
Noppharathara Beach is located 18 km west of Krabi town. This is a 3km-long beach that is filled with tiny sea shells. It used to be called "empty sea beach" by local villagers, mainly because the stream flowing down the mountain is very easy to dry at low tide, forming a dry beach and extending into the sea and bordering Kao Phak Hlong.

Noppharathara Beach is 6 km from South Bay, but the commercial ties connect the two beaches seamlessly. The more north you go, the quieter you will feel. There is also a small tourist center that displays the ecological environment of some coral reefs and mangroves in Thai and English.
With the backdrop of the tranquil evergreen trees, Noppharathara Beach is varied in terms of the scenery. Limestone shores and fossilized shells from 40 million years ago can be seen everywhere. It is also a destination for many local Thai tourists to have a holiday. On the beach, you can see a lot of local families take a meal while sitting on a blanket, or play on the beach.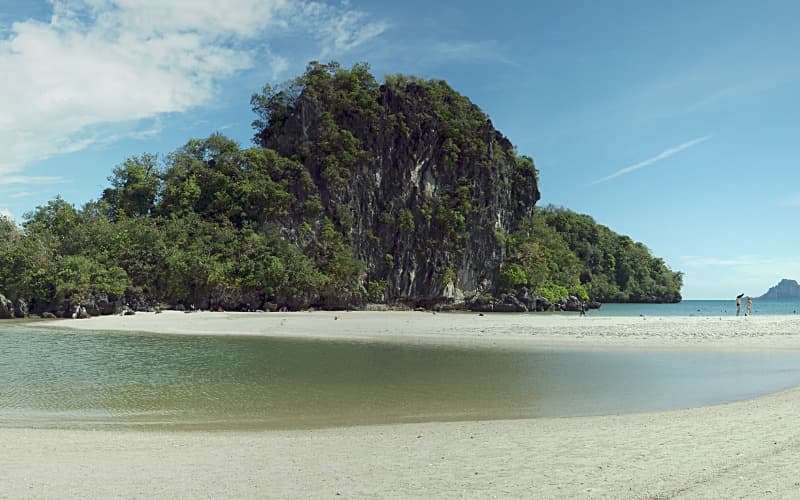 The view of Noppharathara Beach is really great, except for the long sandy beaches, there are long tail boats and coconut trees. When you go to the right, there is a reef and shoal. This beach will not be monotonous, and there are few tourists on the beach, making it completely show the natural beach beauty, the curvature of the beach, and the rocks strewn with trees, which are so amazing.
It is a super fun thing to catch up the sea with the locals at Noppharathara Beach at sunset. Various hermit crabs, small crabs, and shrimps can be seen there. Shrimp is hard to be caught because it can swim very fast. In short, at Noppharathara Beach, you will find it very interesting, and the overall scenery is good and it is not noisy.
You might like to book: Thailand Beach Tours