Nang Thong Beach
Last Updated: July 17,2019
The liveliest beach here is Nang Thong Beach, with plenty of resorts, restaurants and shops as well as travel agents on the beach and on the parallel Phet Kasem Highway.

You can stay in a hotel near here, where there are relatively few people on the beach, and there are many hotels, which are very suitable for holidays, and the sunset is very beautiful, and there are some places to take a meal nearby. The price is not very expensive, and the cost performance is acceptable.
Nang Thong Beach will appear with the ebb tide, and will disappear when the tide rise. There is a moon-shaped beach not far from the shore. This is the best place to watch the sunset. Playing water in the beach here is like standing in the middle of the sea. When the sun sets, whether it is tourists or local residents, will take out a mobile phone or camera to take pictures. Such a beautiful view is difficult to describe in words. If you have a chance, it is recommended to experience it yourself.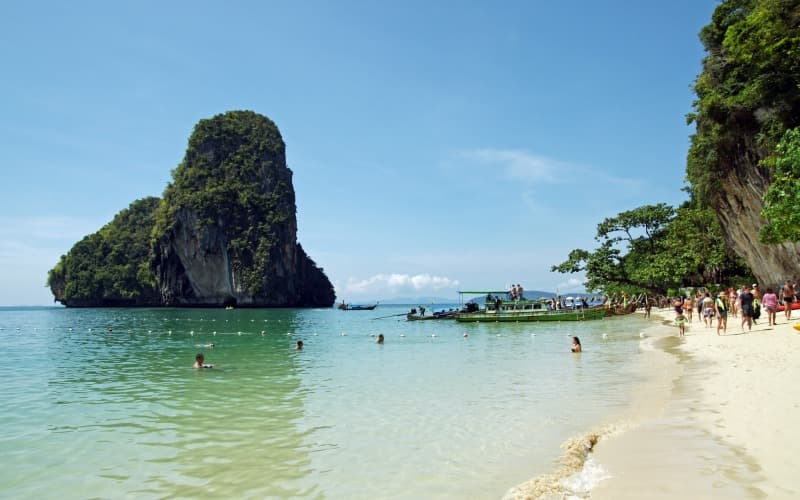 Nang Thong Beach is pretty good, where the price is relatively cheaper, and there are many small restaurants on the beach that are beautiful. The beach is basically the world of European and American tourists. This clean and detailed beach road has convenient vendors, which is definitely a good choice for enjoying leisure daylight.
On Nang Thong Beach, when you watch the sea water not far from the beach, and as the depth of the coastline slowly rendered, you will see the sea color become deeper and deeper. The red-green pontoon speedboats are arranged in twos and threes, resting on the shoal. The white clouds in the distance slide like silk across the sky, and like a giant marshmallow, thick as if you can never finish eating. The sunset at Nang Thong Beach is really beautiful. Many photographers enjoy watching the sunset here, and the beach is very delicate and very flat, and there is not much wind. It is a very comfortable beach.
You might like to book: Thailand Beach Tours