Wat Rong Khun
Last Updated: January 09,2019
Wat Rong Khun, also known as White Temple, is a beautifully designed temple that is famous for its symbolic use of colors and designs example the use of white color to symbolize purity of Buddha while the presence of glass embedded in the plaster signifies Buddha's wisdom and Dhamma, teachings of Buddha. It is a privately-owned location used for the exhibition of Buddhist styles. It was designed by Chalermchai Kositpipat, a great Thai visual artist. The temple's work is still not finished however it is still open for visits since 1997
The temple is specially designed to represent Buddhist teaching. The design itself shows the dire dedication and efforts to build the place. It is said that the local artist has contributed a sum of THB40 million (approximately AU$1,516,430) for renovating the building and incorporating new ideas in this place. The idea is to reflect the essence of Buddhist teachings including learning and meditation. The temple is still a work in progress however it is already open for all with free admission.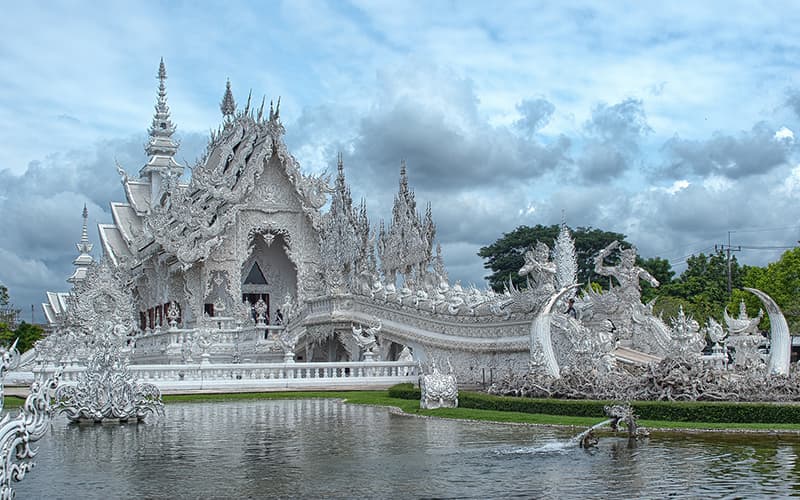 Opening time
Opening hours: 8:00am-5: 00 pm, closes for 1 hour daily during mid-day.
Structures and symbolism
The white temple comprises of different structures including a bridge, lake, golden gate, the main building etc. However, the temple is still in process of completing, once it's done it will have 9 buildings including ubosot (already present), meditation hall, an art gallery, hall of relics and living quarters especially for monks
The bridge of "the cycle of rebirth"
To reach the main building, the Ubosot, first you must cross the bridge. The idea to feel here is that to get to the ultimate destination, you must first cross a path. The bridge is made over a small late and is structured with various outreaching hands that symbolize different worldly temptations and desire and to reach beyond the bridge, you must let go of that temptation. Next to the lake are the statue of two very beautiful Kinnaree which are half-bird and half-human creatures and famously known from Buddhist mythology.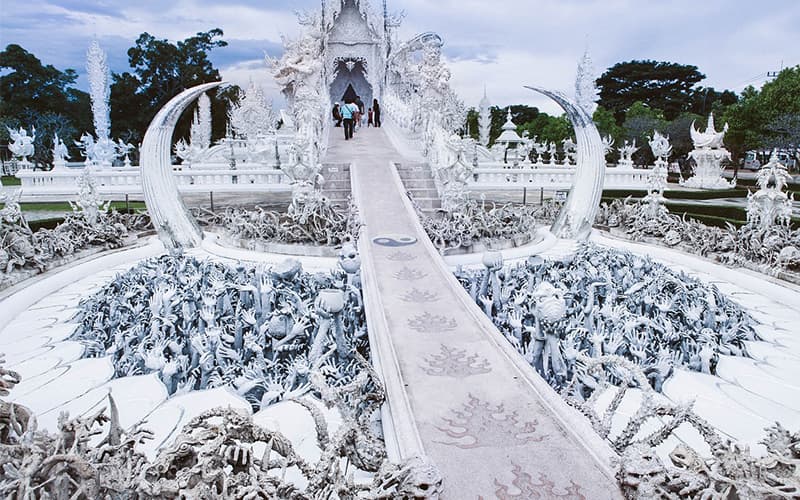 Cross the bridge and you will see the "gate of heaven" which is welcomed by two sculptures. One of them is Death, the other is Rahu (the one who decides the fate of the dead). You can also witness various mediating Buddas pictures in front of ubsot. 
The main building of the temple is ubosot which is colored white. The building's exterior is made up of embedded glasses. A lot of the architectural designs are adapted from Thai culture i.e. great use of Naga serpents and three-tiered roof. The inside of the temple is quite versatile. It shifts from pearly white to flaming. The ubosot is originally an all-white building with certain wreckages of mirrored glass cemented into the exterior of the building. The design of the ubosot building is featured from ancient thai architecture i.e. three-tiered roof and plentiful use of Naga serpents. There are some other pictures portraying blasts, nuclear work, and terrorist attack to symbolize the evil part inside a human. Other images like Superman, Hello kitty and Harry Potter are also present, however, the purpose of these images are not clear
The golden building doesn't only represent aesthetic beauty; the color selection symbolizes a deeper meaning. The building is used for restrooms and is mainly structured with golden and white (ubosot). The gold is used to represent the attraction of people with materialistic things, their desire to be wealthier and always have more. Whereas white represents merit, it reminds us to focus and search for peace instead of looking after worldly possessions. 
Transportation and getting around
There are many means to reach the temple. The place is approximately 20-30 minutes away from the city center. You can either get a tuk-tuk from your hotel or get a shared taxi called songthaew. You can even book a normal taxi from your hotel. The driver will take you the White Temple and will wait for you for 1 hour there. If you are planning to stay there more, you can ride through public bus from Chiang Rai. It has no air condition.
The best time to go
The weather is not a problem since it's a temple and you can visit it at any season irrespective of whether it's cold or hot. However, on day to day basis the temple's timing is from 8 am to 5 pm and because of its popularity, the temple usually gets crowded around 11 am. It is recommended to go in early hours if you want to avoid the crowd. 
Where to stay?
You can stay in Chiang Mai for convenience or you can take a day trip to stay in Chiang Rai.
How much time do you need there? 
The maximum time for the visit will be a maximum 2 hours. The rituals don't take that much and then you can have plenty of time to look around to appreciate the detailed architecture.   
To learn more about Wat Rong Khun, you might be interesting in Thailand culture, history and Buddhist architecture. Our popular Thailand tours can include this amazing temple in your tour and also arrange days to Bangkok and Phuket as well. All you need to do is telling us your requirements. Less worry and we will do all for you. See these recommended tour for you.