Tubkaek Beach
Last Updated: July 17,2019
Tub Kaek beach is located on the western coast of Krabi, with beautiful scenery, crystal clear sea and white sand. Staying at the hotel on the beach, you can take a bird's eye view of the picturesque Andaman Seascape. Walking out of the room of the hotel, you can feel it a tropical tourist paradise where you can breathe the sea, watch the brilliant sunrise, or take a leisurely stroll on the beach.

The mountains and seas are connected there. Tubkaek Beach is basically occupied by several hotels. The scenery is excellent. The outside is not the empty sea but a small island of limestone, like a mountain on the sea.
Tubkaek Beach is a quiet and beautiful beach with no noisy sounds, no harassment by massage, and not many people. Palm trees and other overhanging trees surround it, and there are huge boulders and rock pools in the farthest places.
Although Tubkaek Beach is a small beach, the scenery is quite beautiful, and the white sand beach shines like the silver beach. The seafood restaurant there is also famous, and there are some areas of marine life where the tides are low. There are small fish and small crabs that are very fun.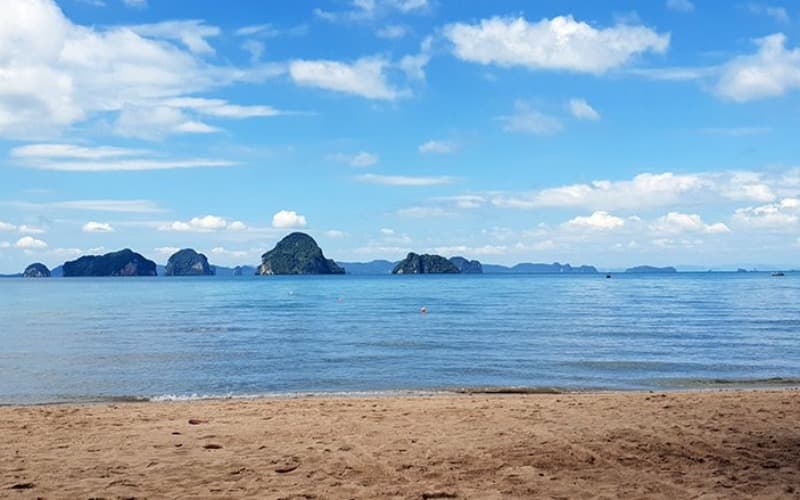 The scenery of Tubkaek Beach is very varied, the sunset is very nice and it is very relaxing as it feels very comfortable to walk in the sea.When you take photos casually, it can be a postcard, and people on the beach have become the scenery too. Commercialization on the beach is not serious, and many European and American tourists like it.
However, be sure to bring some clothes to change, mosquito repellent, mosquito bite medicine and sunscreen spray to have a better experience at Tubkaek Beach. Because Tubkaek Beach is really hot. It's best to wear sun-protective clothing and put on more sunscreen when you go there, so you can fully enjoy the beautiful beach view.
You might like to book: Thailand Beach Tours