Ao Yon Beach
Last Updated: July 10,2019
When you make your trip to Phuket, go to the small island around Phuket Island and experience the rich beach types of Phuket, try the Phuket cuisine and try different ways of playing. Only then can you feel the different island styles and play more ingeniously in Phuket. Ao Yon Beach is one of the beaches worth exploring in Phuket's surrounding beaches and is highly recommended.

Ao Yon Beach looks a bit more developed than other beaches because it has a pier deep into the sea for boat trips. The sand on the beach is full of golden luster, and it is dotted under the palm trees. It is a habit for locals to relax on weekends in Ao Yon Beach.
Ao Yon Beach is not big, the tourists here are not so too much, so it is particularly quiet, but the scenery here is very beautiful, the sea is very blue, and there is not a row of beach chairs and umbrellas on the beach like Patong. You can rent a kayak for free at the hotel. If you like to stay away from the crowd, Ao Yon Beach is a good choice.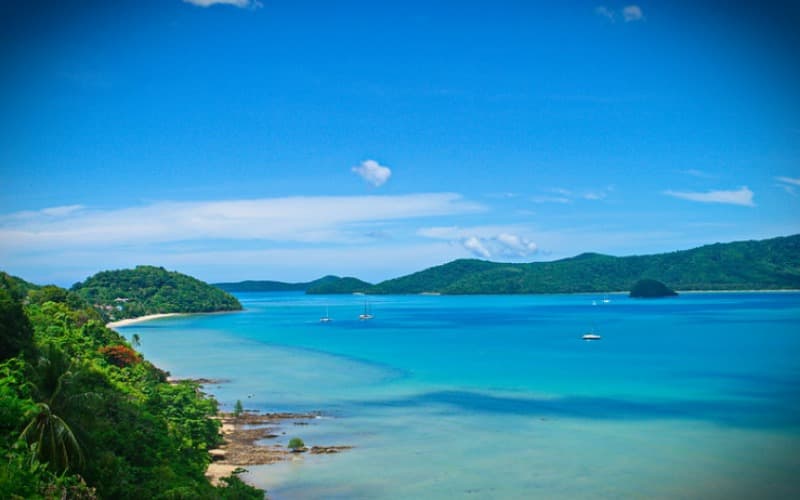 During the day, Ao Yon Beach is basically the foreigner's world. Although the waves are very big, there are still some people who will go surfing and swimming. Many girls choose to rent a sun lounger on the beach to sunbathe. The beach chairs on this beach are rented out and will be collected in the evening. Usually you can come to Ao Yon Beach at 17 o'clock in the afternoon to see the most beautiful sunset. You can take a photo on the beach and have a nice look. On the beach, there are often local dogs playing in the water, whose picture is very warm and sweet.
Overall, Ao Yon Beach has very good environment, and there are many Thai restaurants, and there are very good hotels nearby. Lying on the beach at night, listening to the sound of the magnificent waves, watching the stars, you will feel it very comfortable on the Ao Yon Beach.
You might like to book: Thailand Beach Tours