Karon Beach
Last Updated: July 11,2019
Compared with Patong Beach, Karon Beach is too comfortable, as there are not so densely water sports and you will not be surrounded by crowded tourists. Most of the tourists there are foreigners, and they are very fun to play there, and you can easily play with them, such as jumping in the waves in the daytime, watching the sunset in the evening, catching crabs, walking on the beach in the evening. It takes around 1 hour to arrive there if you take a taxi from the airport. There are a lot of five-star hotels nearby. It's really great to stay overnight in Karon. And you can live in the Hilton Hotel's Seaview Room, where it is very comfortable and it is opposite the beach, and the 7 -11 nearby is also very convenient, and there are many restaurants for you to taste delicious snacks nearby too.

Karon Beach's waves are very big, and the quality of the sea here is also not the best. It is not suitable for swimming in the water. There will be lifeguards on the beach to whistle from time to time to remind you of safety. The sand of Karon Beach is of average quality, but the sea view is very wide. It is better to sunbathe here because there is a comfortable sea breeze. There are also many bars in Karon Beach. On the other side of Karon Beach, there is also an art community where there are many studios and galleries that were built by Thai painters.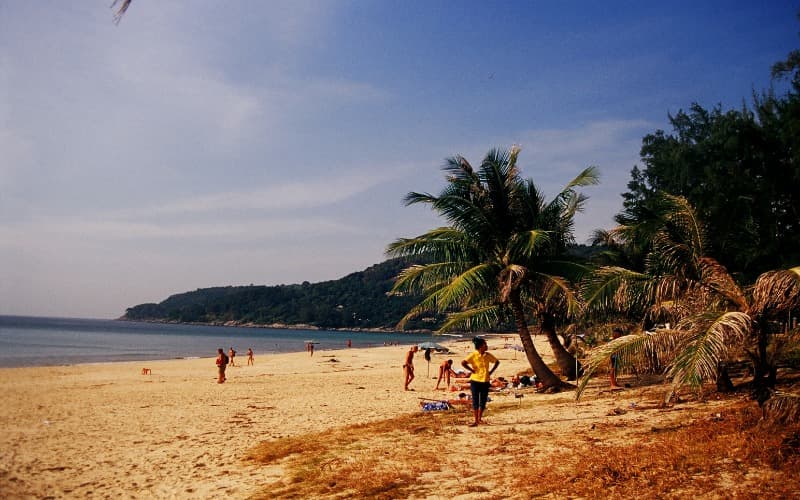 Karon Beach is a nice place, especially when watching the sunset, you will feel it quite beautiful. Tourists here are much less than that of Patong Beach, so, it is a very quiet beach, and the coastline is very long and very stunning. It is very suitable for romantic couples to come here to enjoy honeymoon.
The scenery of Karon Beach is captivating. It is an awesome beach. Although it is not as big as Patong Beach, it is also very comfortable. If you are interested, you can play jet skis and paragliding. The cost of playing motorbike is 1300 baht and the paraglider is 1,500 baht, just enjoy yourself in Karon Beach.
You might like to book: Thailand Beach Tours