Ao Phra Nang
Last Updated: January 09,2020
Ao Phra Nang is not far from Ao Nang Beach. The most special thing about Ao Phra Nang is that when the tide is low in the afternoon, the sun shines on the mud that has not yet dried up on the beach and when you look from a distance, there is a feeling of Skyspaces. You can buy snacks and drinks at 7-11, sit on Ao Phra Nang and listen to the wind and wait for the sunset.
Ao Phra Nang is facing the west and is the best place to watch the sunset. The sand here is also very soft and the sea water is crystal clear. Some fishermen drive long-tail boats to the shore to sell snacks and drinks, and the price is similar to that of street stalls. It is very conscient. You can buy corn and sit on the beach. There is also a restaurant in the cave. If you live in the Railay Peninsula, you may wish to experience the sunset dinner at the beach.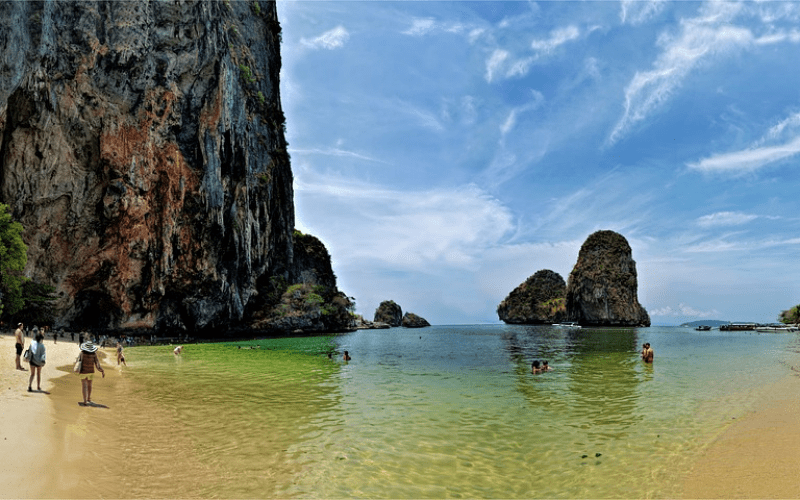 Ao Phra Nang has a good environment, and it is very suitable for adults to take pictures, children play sand. The sand is very white and delicate. In this long white sand beach, the blue-green water is beautiful, and this is a relatively clean beach, whose scenery is picturesque. There are a few people playing in the Ao Phra Nang, but there are more Europeans and people who come here. Here you can spend a day enjoying the sun and relaxing. This Ao Phra Nang is a very good attraction, which is suitable for children or family to come and play here, but you must pay attention to sun protection when you come to the Ao Phra Nang.
Ao Phra Nang is a place worth visiting in Krabi. Its beauty is also famous in Thailand. Many people will leave a good dream when they come here. What tourist like the most is the delicate beach there and the lovely sands that are like white sugar. Even when the tour in Ao Phra Nang is over, it is like stepping on a dream.
You might like to book: Thailand Beach Tours