Wat Arun
LOCATION: thailand,bangkok
WEB: www.watarun.org
PHONE: +66 2 891 2185
OPEN TIME: none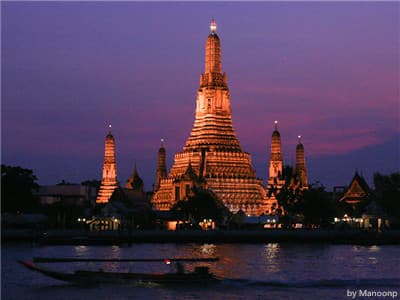 After the fall of Ayuthaya, King Taksin ceremoniously clinched control here on the site of a local shrine and established a royal palace and a temple to house the Emerald Buddha. The temple was renamed after the Indian god of dawn (Aruna) and in honour of the literal and symbolic founding of a new Ayuthaya.
At time of research, the spire of Wat Arun was closed until 2016 due to renovation. Visitors can enter the compound, but cannot climb the tower.
It wasn't until the capital and the Emerald Buddha were moved to Bangkok that Wat Arun received its most prominent characteristic: the 82m-high þrahng (Khmer-style tower). The tower's construction was started during the first half of the 19th century by Rama II and later completed by Rama III. Not apparent from a distance are the ornate floral mosaics made from broken, multihued Chinese porcelain, a common temple ornamentation in the early Ratanakosin period, when Chinese ships calling at the port of Bangkok discarded tonnes of old porcelain as ballast.
Also worth an inspection is the interior of the bòht. The main Buddha image is said to have been designed by Rama II (King Phraphutthaloetla Naphalai; r 1809–24) himself. The murals date from the reign of Rama V (King Chulalongkorn; r 1868–1910); particularly impressive is one that depicts Prince Siddhartha encountering examples of birth, old age, sickness and death outside his palace walls, an experience that led him to abandon the worldly life. The ashes of Rama II are interred in the base of the presiding Buddha image.
Frequent cross-river ferries run over to Wat Arun from Tien Pier (3B).
See more attractions
More attractions that you might interested in.
Great Bangkok Tour Packages
Bangkok Local Tips
Get drown in information? UME has gathered the most useful guides and tips about Bangkok tourism – everything first timers needs to plan a wonderful dream Bangkok tour.
Tailor-made Thailand Tours
Receive a free quote within 24 hours - Already more than 183,063 satisfied customers!
Create My Trip Now !