Why choose Phuket for your overseas travel destination during Covid-19?
Last Updated: November 11,2021
In the past 2020, we faced the huge challenge of coronavirus, the tourism has been affected a lot in Thailand. Now, with the announcement of TAT (Tourism Authority of Thailand), one of the most beautiful islands of Thailand - Phuket, will be the first city in Thailand to open to overseas tourists from 1st July, and travelers who had vaccinated already no need to quarantine any more...Read More.
With the decrease in local and international tourism during Covid-19, there have been some really positive impacts on Phuket. Nature is having a moment to breathe once again and the sea is purer, the sand is cleaner, and there is more fish than ever. A lot less air traffic buzzing around Phuket's sky and fewer coaches and minivans polluting the islands' road. We have to say that now is a good time to visit Phuket.

What you can expect to see in Phuket during Covid-19?
1.Save at least 20% on hotel promotion
With the decrease of international tourism, now all the hotels in Phuket are experiencing a big challenge. The hotel industry all over the world is struggling to survive, and it seems even harder for hotels in a tourist-dependent city like Phuket. Now, most of Phuket's hotels are in their lowest season, you will expect to save about 20%-50% on your accommodation, which will cover most of your travel budget. Grab this great opportunity to pick one of the luxury hotels you've always dreamed of.

2. Quieter & Cleaner Beaches
Phuket's beaches are the main draw for many visitors, due to the Covid-19, Phuket's beaches become quieter and cleaner. Rent a beach chair, enjoy the sunbathe, calm down and relax, escape from the nervousness of the virus.

3.More Time with the Animals
Phuket is a nice place to experience responsible animal tourism. Opened at the end of 2016, the Phuket Elephant Sanctuary is already attracting headlines for the right reasons. Visit the most ethical elephant sanctuary in Phuket, the Elephant Jungle Sanctuary. This Phuket elephant tour includes some incredible experiences. Go swimming with elephants and enjoy elephant bathing in Phuket at the Elephant Jungle Sanctuary! Similarly, the Gibbon Rehabilitation project has won international plaudits and can be visited by tourists as can the Soi Dog Foundation which was established by a retired British couple to help Phuket's population of stray dogs and cats. You'll have several times more time to get close to the animals than usual.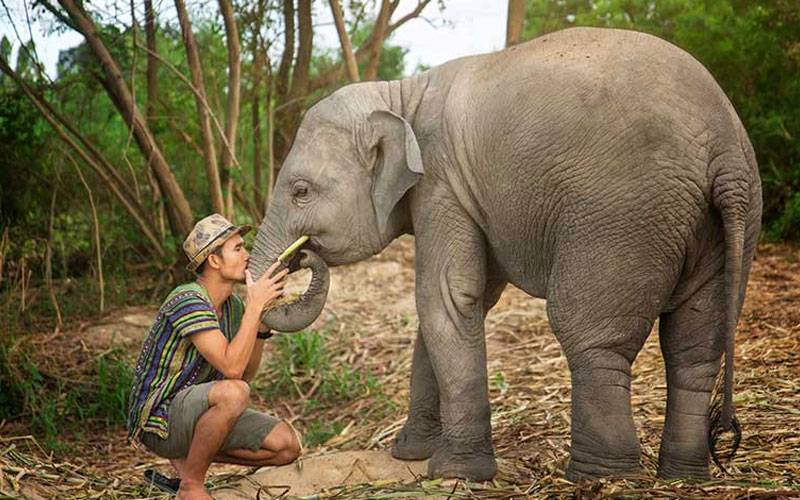 4. Purer Picture-perfect Islands
Dozens of small islands are waiting for you to explore. Especially during the Covid-19, all the islands have been freed from human pollution for a long time, the beaches are cleaner, oceans are more crystal blue. It's easy to arrange boat trips from Phuket. Channel your inner Roger Moore with a trip out to 'James Bond Island' where scenes from the Man with the Golden Gun were filmed. The nearby Phi Phi islands also have a big screen connection having served as one of the locations for the Leonardo DiCaprio movie, The Beach. A better dive site can be also found just to the north with the Similan Islands and Surin Islands.

5. Effortlessly Bargain
Phuket is a good place for shopping, with the effect of the COVID-19, most of the shopping malls and night markets are almost going out of business. You'll likely be able to find something special at a great price.

6. Best Time to Avoid Tourism – Phuket Town
Phuket Town is worth making the effort to visit. Check out the elegant Sino-Portuguese heritage buildings dotted around Thalang Road, photograph the colorful street art, and enjoy the boutique shops and local atmosphere. Pay a visit to the impressive Big Buddha and check out the other viewpoints on the island including the Three Beaches Viewpoint, Windmill Viewpoint, and Radar Hill. With less tourism during Covid-10, you can slow your phase and enjoy your time!

7. More Attentively Traditional Thai Cuisine
Having a delicious and traditional Thai cuisine is one must-do thing in every tourists' wish list, the juxtaposition of sweet, sour, hot, and salty flavors are what makes Thai cuisine so distinct. It's most noticeable in tom yum, Thailand's national soup. Normally, you will find all the famous restaurants full of tourists, but this time, you can enjoy a more attentively prepared Thai food with a less crowded atmosphere that provides a pleasant contrast to a former Phuket.

8. Visit the Amusement Parks - You're the VIP
Phuket is a perfect destination for every family member. Water-based fun can be found at Splash Jungle Waterpark and for teenagers and adults at Surf House Phuket. The Upside Down House (Baan Teelanka) and the 3D Museum will also be a nice choice. To visit these amusement parks during Covid-19, you will of course get plenty of photo opportunities with no crowd in the background!

In many ways, this is the time to visit Phuket, with special deals, serene beaches, and quieter hotels, come and experience a different pace of life on one of Thailand's most beautiful islands as soon as you can.
Traveling to Thailand during Covid-19
What you need to know before you visit Phuket Thailand during COVID-19...Read More.
19 Questions about Phuket Reopen Plan ( Phuket Sandbox ) under COVID 19...Read More.