Top 10 Best Koh Samui Day Trip – Nature & Wildlife
Last Updated: February 24,2020
There various and diverse set of things you can do and see at the Koh Samui's daytrip. The island hosts a great deal of splendid natural and man-made attractions from mummified monks to the famous grandma and grandpa rocks (Hin Ta & Hin Yai) to attractive waterfalls and more, there's nothing to stop you having a blast on Samui Island. However, here is a compilation of top ten places you can visit during the koh samui daytrip.

1. Angthong National Marine Park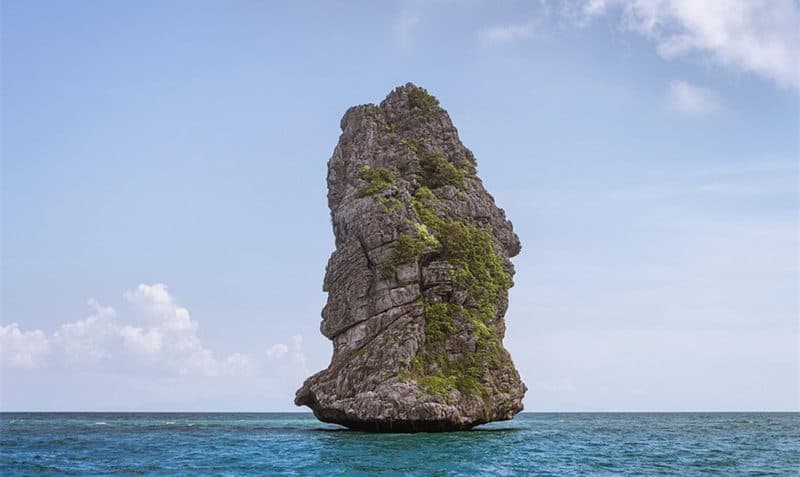 Angthong National Marine Park is 28 kilometres from Samui Angthong. It is a pristine archipelago of 42 islands in the Gulf of Thailand with towering limestone mountains, thick jungle, white-sand beaches, fertile mangroves, waterfalls and hidden coves and lakes to explore. Within sight of Koh Samui, Ang Thong Park is a protected area of more than 100sqkm of land and sea, and home to a rich variety of exotic wildlife and sea creatures. If you are someone that derives fun from viewing wildlife and sea creature, this is a perfect place for you to visit.
2. Big Buddha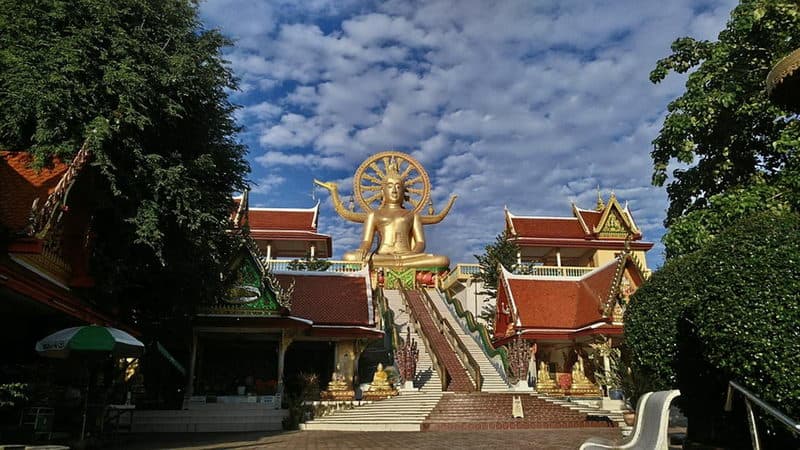 Big Buddha on the northern coast of Koh Samui is the famous Big Buddha shrine and probably the Samui's most well-known landmark, the 12-metre high golden Buddha can be seen from several kilometres away. Inside the surrounding temple are many different shrines and other smaller ornate Buddhas. There is also a small market selling a wide range of luck charms and other souvenirs, alongside numerous food stalls.
3. Bophut's Fisherman's Village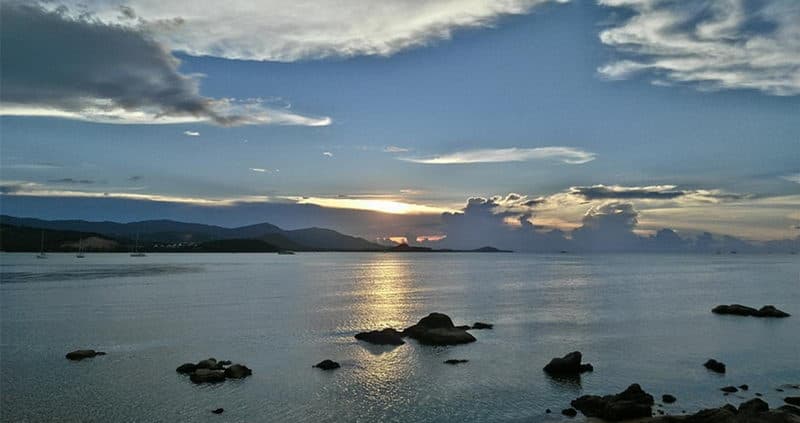 Fisherman's Village Samui is a historical part of Bophut, with rustic-style buildings housing boutique stores, trendy restaurants and a small selection of hotels lining the narrow Beach Road. Every Friday, the whole area becomes the site of the Fisherman's Village Walking Street market, attracting huge numbers of shoppers from across the island for the amazing variety of wares and the lively atmosphere.
4. Hin Ta and Hin Yai Lamai Beach
Koh Samui Art often imitates nature but less common is nature imitating art, especially the art of the ribald. But in Thailand anything is possible including, on Koh Samui, the natural geological formations known as Hin Ta and Hin Yai Rocks (the Grandpa and Grandma rocks), which look, respectively, like male and female genitalia.
You might like to book: Thailand Beach Tours
5. Koh Tao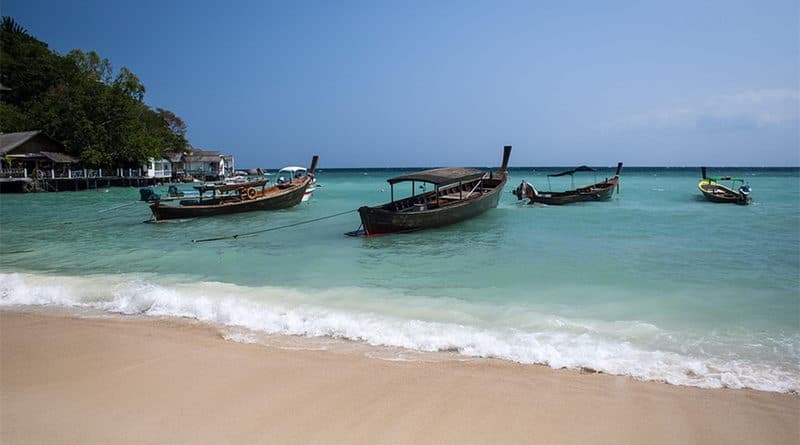 Koh Tao – meaning 'Turtle Island' – lives up to its name, being the scuba diving destination of choice in Thailand. The perfect white-sand beaches which ring the hilly 21 km² island are surrounded by the crystal-clear waters of the Gulf of Thailand. The vibrant coral reefs there are home to a wide range of exciting and colourful sea creatures, including natural turtles.
You might like to book: Thailand Island Tours
6. Wat Plai Laem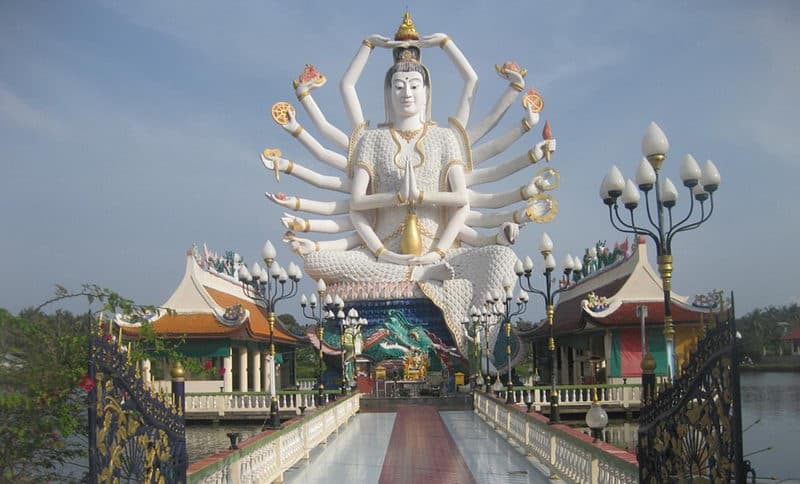 It is located near the Big Buddha in the north of the island, Wat Plai Laem is a colourful and interesting Buddhist Temple. The temple features are very ornate decor and art, an 18-arm image of Guanyin - the Goddess of Mercy - and a large white Chinese Buddha set on the lake. If you donate money for the upkeep of the temple you'll be given a bag of food to throw to the teeming fish in the lake. Many people visits this place to perform the rite.
7. Namuang Waterfall
Although Samui has several waterfalls, the two Na Muang waterfalls are probably the most picturesque. The name Na Muang refers to the massive purple rocks at the waterfalls. Rocks and tree roots form a natural staircase that leads to the base of Na Muang 1. A large natural pool sits under the waterfall. A 10-minute walk further up the mountain leads to Samui's most beautiful waterfall, Na Muang.
8. Secret Buddha Garden Hills of Samui
Secret Buddha Garden is hidden away high in the hills in Koh Samui interior, offering majestic views and an unusual collection of statues amid lush jungle surrounds. The gardens are a creation of an old Samui fruit farmer, Nim Thongsuk, who in 1976 began erecting several statues and temples around his family's verdant land.

9. Mummy Monk at Wat Khunaram Lamai
The body of Samui's most famous mummified monk, Luang Pordaeng is on display here. Luang Pordaeng died over 20 years ago and as per his instructions, his body was placed in a specially designed glass case for posterity. It has remained there ever since and has showed few signs of decay. People often visit this place to see the Monk's body.
10. Ladyboy Cabaret Shows Chaweng Beach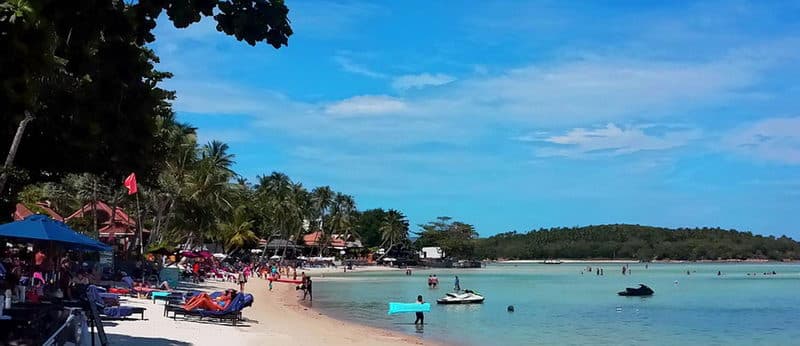 Ladyboy Cabarets might not be everyone's cup of tea but for fans, Chaweng Beach has plenty to choose from. Thailand's katoeys or the 'third sex' are world famous, partly because there are so many of them and also because they are so feminine. In fact it can be difficult to tell if the beautiful young lady paying you attention was a lady at birth, because many tourist has been wondering about it for long.