A Best Thai Curry Guide
Last Updated: January 10,2020
Thai curry maybe the best starting point for your Thai food exploration when you visit the country and it is one of the essence in Thai cuisine. However, you might get confused when you order a curry dish because Thai curries have various types. The top 5 Thai curries are: red, green, yellow, Mssaman and Penang curry with different flavors spicy, sweet, superhot. Thai dishes with curries are very easy to be found throughout the country from fancy restaurant menus to street market. Therefore, being aware of which Thai curry dish is the suitable one for you and what the differences are between the curries before ordering is very important.
What is Thai curry

When you mix coconut milk with some spices and fresh herbs, the result is intensely fragrant dish called Thai curry or Kaeng in Thai.
As a matter of fact, Thai curry can refer to any dish in Thai cuisine cooked with different types of curry paste or to pastes themselves. Generally, a Thai curry dish is made from coconut milk or water, meat, seafood, various vegetables, fruit and herbs.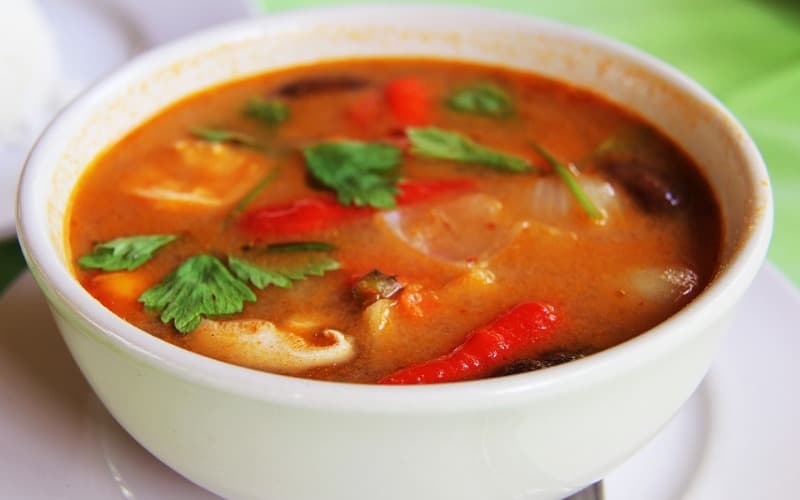 What is Thai curry paste made of

Thai curry paste is usually made with chilies, garlic, onions, lemongrass, galangal, coriander, shrimp paste and sometimes turmeric, cumin or pepper will be added depending on different types of curry. All of these ingredients are firstly mashed by hands with the help of a mortar and pestle then it will be stir-fired to let all the flavors released, afterwards, coconut milk will be added to create a creamy body for the stew. This kind of curry dish is very typical in Southern Thailand. Coconut milk often be replaced by lime juice in Northern Thailand.

Thai paste can be made with fresh ingredients bought in the market or it can be bought conveniently at almost any supermarket, ready-to-use packages.
What are the common ingredients in a Thai Curry dish?

Most Thai curries are made with meat or seafood like chicken, pork, shrimp and freshwater fish as these ingredients are nutritious and in the meanwhile easily get. Usually fruit, vegetables and flowers are added. The commonly used vegetables are different kinds of pumpkin, eggplant, yard long beans. Herbs are also commonly added to curries to boost the flavor. Lime leaves, finger root, fresh kaffir and Thai basil are usually used. Dried herbs are cooked slowly with other ingredients, while the fresh herbs like Thai Basil, are usually added at the very last moment. Cooking in this way, the original taste will be reserved and in the mean while create a taste differ from the others. Fish sauce sometime can be added during the cooking, and it also can be a condiment on the table. Sugar is used for those who like sweetness while lime juice and tamarind are used in sour curries.

What are a Thai curry dish eaten with?
Normally, Thai curries are eaten with rice. In northern Thailand, sticky rice is the most popular accompaniments, while in central and southern Thailand, jasmine rice is more prefer. Sometimes curries are accompanied with roti, the Thai version of common fried flat India bread.
Why Thai curry is so distinctive?
Thai cooking does not use dried or powdered spices
Unlike Indian, Thai cooking focuses only on fresh ingredients including fresh chilies, herbs and roots, and no dried or powdered spices are used, so the curries are cooked for a shorter time and original tastes of the ingredients are reserved. Therefore, at the beginning, Thai curry is spicier because of fresh while Indian curry flavors will last longer.
Some essential ingredients for Thai food are not common everywhere

Some fundamental Thai food ingredients are not always easy to be found in countries in the world, and their taste is hard to duplicated. A few of the rarer essentials include:
Lemongrass – it looks quite similar to spring onions but it is hard to find outside the tropical regions. It has an extremely unique citrus edge.

Galangal – ginger's less common sister not easy to find other places.

Shrimp paste – this odd ingredient made from fermented shrimp and salt with lots of flavor to the paste. A fish sauce can be added to the mix. It is common in many Eastern Asian cuisines as well.

Coconut milk typically makes the sauce thin

Coconut milk is one of the essential ingredient in Thai curry. No matter what curry you choose to eat, the bulk of the sauce will typically be coconut milk, providing distinguishes soup we all love.
Differences between different types of Thai curries
1.Green curry: the hottest but also sweet curry
Commonly known that green curry is the hottest of the curries among Thai curries, however, it is also very sweet as large amounts of lime juice and coconut milk is used. Sweet, salty, a little sour, and very hot with fragrance of coconut. The green curry in Thailand also served with unique local ingredients and flavorings of Thai sweet basil, kaffir lime leaves, eggplant, garlic, and turmeric. The meat of choice of green curry is chicken but can come as any.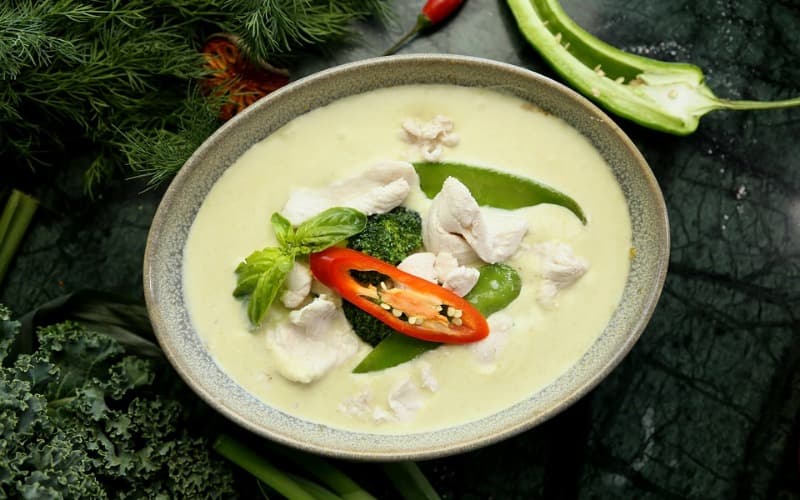 2. Red curry: spicy Thai curry

Also known as "spicy curry", red curry is another fiery curry paste which gets its color and heat from large amounts of red chilies. They are crushed with other ingredients like garlic, blue ginger, shallots and lemongrass. This makes the base red curry for the dish, together with coconut milk to form the curry sauce. Various "meat", vegetables including pumpkin, eggplant and tofu can be cooked slowly in the sauce.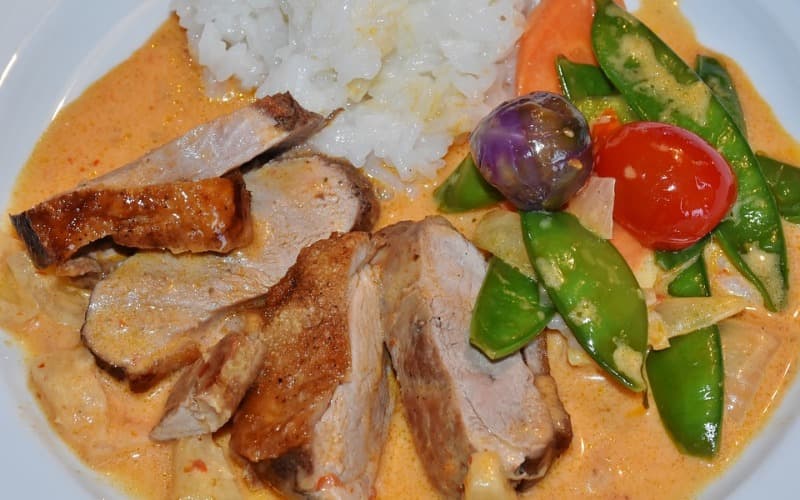 3.Yellow curry: milder, not very spicy

Yellow curry is a milder, not very spicy and not as oily as other kinds which is the result of the British influence in Asia during the late 19th century. It has many different varieties in Thailand and the most popular one contains especially rich coconut cream and is normally served with mixed vegetables. There is a kind of yellow-colored curries including golden-colored one, which is a spicier version compared with the basic yellow curry; elephant curry, a highly spicy version is without coconut milk; orange curry, a very sour version is without coconut milk.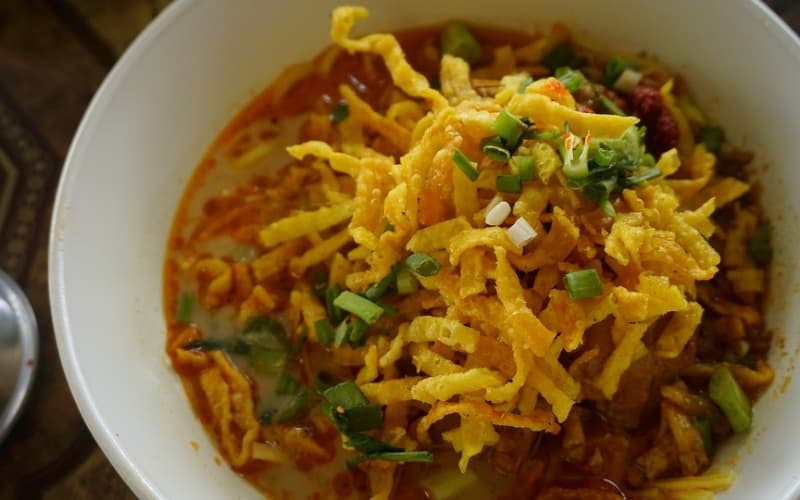 4.Massaman curry: exotic taste of Islam flavor

Massaman curry is a milder member of the Thai coconut curry family with unique Muslim influences. Its exotic flavor is derived from imported ingredients from south Asia such as cardamom, cinnamon, cloves, nutmeg, star anise and bay leaves. It is favorite in Southern Thailand and commonly comes stewed with chunks of potato and sprinkles of peanuts.
5.Penang curry: thick and milder

It is a very thick and milder curry with an incredible flavor from Laos. It tastes a little salty and sweet with a primarily peanut flavor. The curry paste is made with chilies, coriander, lemongrass, galangal, cumin, garlic, shrimp paste, coconut milk and many other ingredients.
Best Thai curry dishes can't be missed

We believe one of the top reasons to visit Thailand is Thai food, so we have picked some best Thai curry dishes those you should not miss when visit Thailand.

1.Green curry with shrimp or chicken

It is a fragrant creamy Thai curry dish. The concentration of the curry depends on how much of coconut milk used to cook it with. As we all know, green curry is the hottest one among all curries in Thailand, however, it is also a sweet one when cook with plenty of palm sugar, lime juice and coconut milk. It is one of the most unexpected mouthwatering curries in Thailand.
2.Red curry with shrimp or chicken

Red curry and shrimp may be the perfect match. The paste is fried in a saucepan with oil and coconut milk is the unique liquid to be added. Chicken, beef, pork, or shrimp would be added to the curry soup, along with fish sauce, Thai eggplant, bamboo shoots, Thai basil and sugar. The vegetarian versions of the dish include meat analogues, vegetables and tofu.
3.Yellow curry with chicken

Compare with green and red curries, yellow curry is milder and more suitable for people who do not like spiciness. Usually yellow curry is ordered with chicken, but you can also order it with shrimp, beef, or fish.
4.Massaman curry with beef or lamb

Since Massaman curry has exotic Islamic flavor, it is often made with beef, lamb or chicken. Lamb and beef are most favorite and they are the best choices for tourists. The taste of Massanman curry is magnificent and flavorful. It will be a fantastic feeling when those well-stewed juicy and tender lamb or beef pieces are melting in your mouth along with various vibrant spices.
5.Penang curry with beef or chicken

Since Penang curry is a very thick stew without abundant soupy sauce to absorb the freshness of the seafood, the perfect match are beef and chicken. The taste of it is slightly sweeter and saltier and not very spicy.
Take a trip to Thailand with UME Travel

Are you mouthwatering now after reading the article? Take a trip to Thailandwith UME Travel to taste the unique flavor of Thai curries to satisfy your taste buds. We will craft a perfect itinerary for you and ensure you a worry-free trip.

Fish curry is one of the most popular dishes in Thailand. Its main ingredient is fillets of fish. It can be simmered in either rich milky red, green, or yellow curry sauce. The taste is different accordingly, but it never fails to thrill your taste buds with the right amount of lime juice and fish sauce. Fresh vegetables are added, such as potatoes or green/red bell peppers, to give it a cheerful color.

Please check out Thailand Tours here and start learning about our itineraries now: