Full Moon Party Tour Packages
Full Moon Party 2022-2023
A visit to Thailand wouldn't be complete without attending the world-famous Full Moon Party of Koh Pha Ngan. Experience partying under the glow of the full moon, and dance along with the DJs and dancers until the sun comes out! Be amazed by the fire dancers as they put on awe-inspiring performances! Enjoy all the drinks available to quench your thirst throughout the night.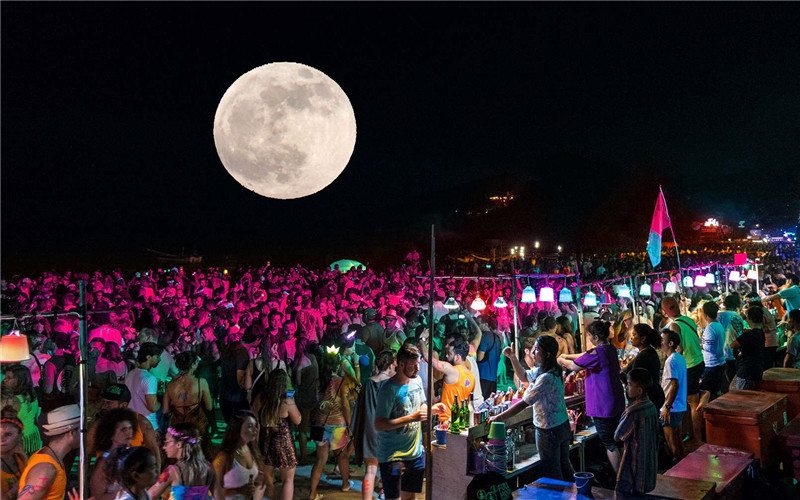 Full Moon Party Origin
The Full Moon Party has been around on Koh Pha Ngan for a long time ago (nobody knows the exact year), it said that a group of tourists found that the moon in Koh Pha Ngan was beautiful and they arranged a party to celebrate the Full Moon night along the crest-shaped beach of Haad Rin. From then on, people from all over the world come to join the celebration.
Nowadays, the Full Moon Party becomes a giant festival-like party that attracts 10,000-30,000 tourists at the party on Koh Pha Ngan each month. There are also some smaller-scaled full moon parties held in Phuket.
Full Moon Party Dates 2022-2023
Full Moon Party is organized on a lunar cycle to take place when the moon is full. However, when there are sometimes important Buddhist holidays these days, the consumption and sale of alcohol are banned, the date of the Full Moon Party may be postponed by one to two days. If you miss the Full Moon Party on Koh Pha Ngan, there's also Half Moon Party and Black Moon Party on Koh Pha Ngan you could consider about. In addition, there's also a Full Moon Party, a Half Moon Party, and a New Moon Party every weekend in Phuket.
2022 - 2023 Full Moon Party Dates on Koh Pha Ngan
If you would like to experience the most famous Full Moon Party, it must be on Koh Pha Ngan for sure! Please check the schedule below before planning your trip.
2022

2023

Monday, 17 January

Friday, 6 January

Thursday, 17 February

Sunday, 5 February

Thursday, 17 March

Tuesday, 7 March

Saturday, 16 April

Wednesday, 5 April

Monday, 16 May

Friday, 4 May

Tuesday, 14 June

Sunday, 4 June

Friday, 15 July

Sunday, 2 July

Saturday, 12 August

Thursday, 3 August

Thursday,31 August

Saturday, 10 September

Friday, 29 September

Tuesday, 11 October

Monday, 30 October

Tuesday, 8 November

Monday, 27 November

Thursday, 8 December

Wednesday, 27 December

Saturday

, 31 December

(New Year's Party)

Sunday,

31 December

(New Year's Party)
2022 - 2023 Full Moon Party Dates in Phuket
If your visit doesn't coincide with the full moon on Koh Pha Ngan, you can choose to experience a relatively smaller full moon party in Phuket. Just remember that the Full Moon Party in Phuket was held EVERY SATURDAY on paradise Beach!
Full Moon Party Activities
No matter on Koh Pha Nga or in Phuket, a Full Moon Party is all about alcohol, party, dancing, sex, and drugs. Each bar has its own sound system, so you'll hear different music loudly blasting onto the beach every few feet. The beach itself is lined with people selling alcohol, fire dancers putting on shows, and little booths selling glow-in-the-dark face paint.
Best Beaches for Full Moon Party
Haad Rin Nok (Sunrise Beach) Beach - Koh Pha Ngan
Haad Rin is the best-known town in Koh Phangan thanks to the monthly Full Moon Party.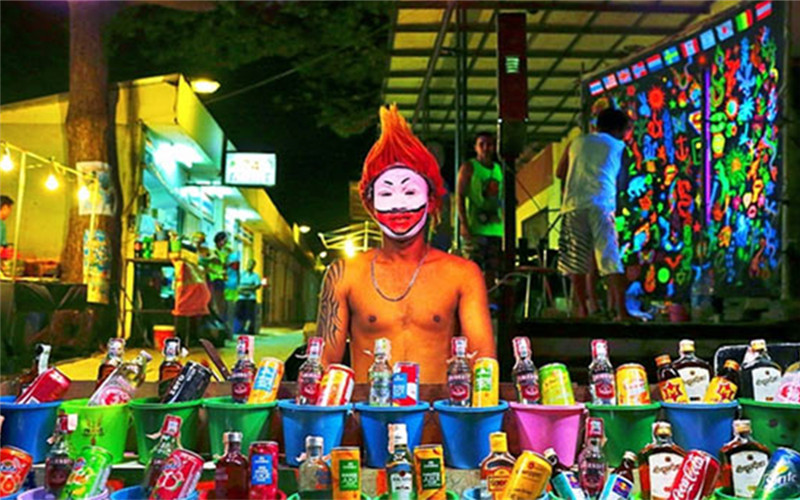 There are 2 main beaches in Haad Rin – Haad Rin Nok Beach (Sunrise Beach), and Haad Rin Nai (Sunset Beach) – which are separated by a rocky headland. The Haad Rin Nok Beach (Sunrise Beach) is where the Full Moon Party takes place.
During the day the beach is full of sun-worshippers, soaking up rays and getting ready for the night ahead. Haad Rin Nok Beach (Sunrise Beach) really comes alive at night and easily has the biggest concentration of clubs in the Gulf, with a wide spectrum of dance music played at different venues and beachside drinking and dining on mats on the sand.
The entrance fee of the Full Moon Party at the Haad Rin Nok Beach is 100 Bath, you can choose to book your accommodation on Koh Pha Ngan in advance, or just to stay on Koh Samui and take a ferry boat to join this party!
The Full Moon Festival at Phuket Paradise Beach has been around for a while.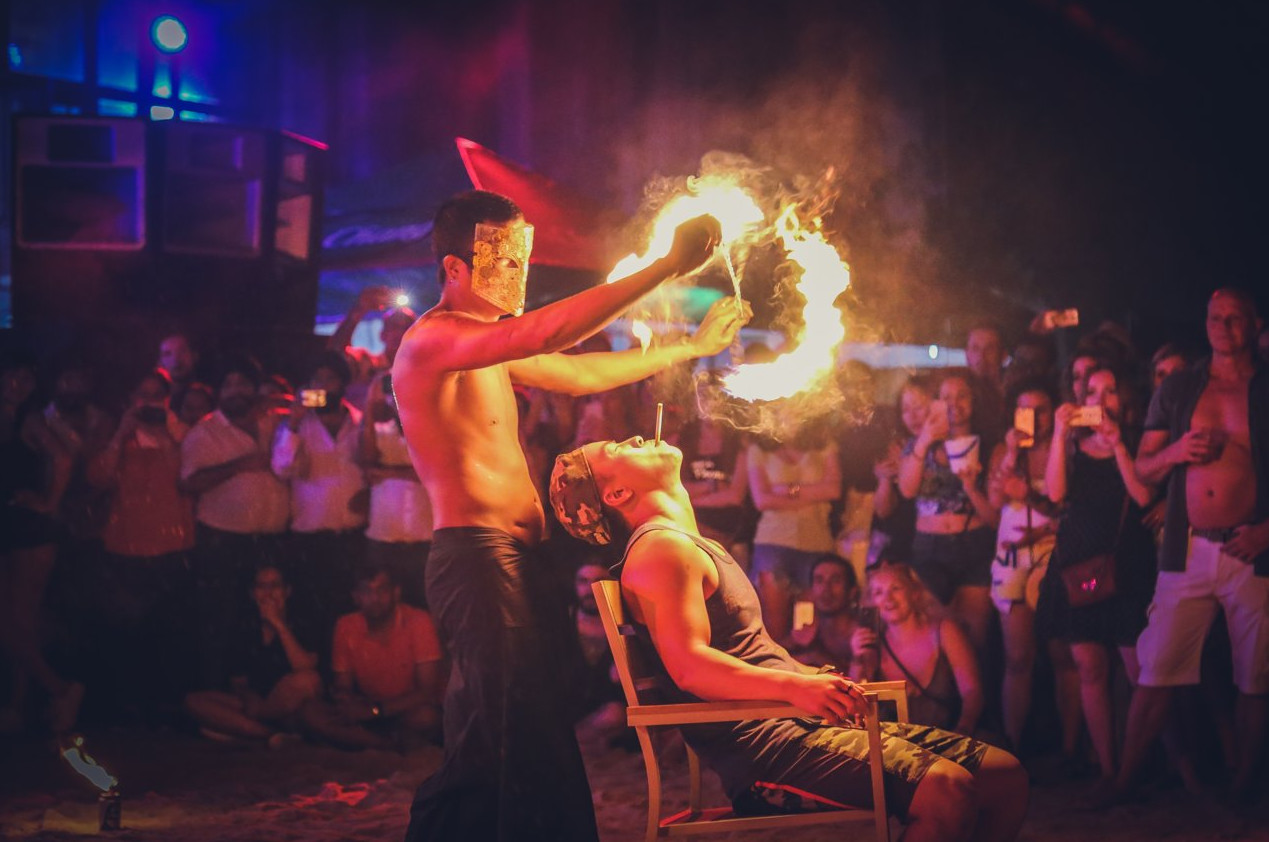 It is modeled after the successful Full Moon Party on Koh Pha Ngan. Even though it is smaller than the Koh Pha Ngan Party, but it is more upscale, well organized, and easy to access. It is gaining popularity in recent years.
Paradise Beach has parties that take turns almost every weekend, parties for a full moon, half-moon, and new moon. If your visit doesn't coincide with the full moon on Koh Pha Ngan, you can simply choose any weekend (normally every Saturday) to experience this famous party in Phuket.
The entrance starts at costs 800 baht or 1,000 baht with a 'Premium Bucket' or 2 Chang beers. Then there are many other inclusive offers, up to 1,700 baht with tee shirts, more drinks, and lockers. Paradise Beach is close to the famous Patong Beach, and there is an all-day/all-night free transfer from and to Patong by bus every 30 minutes. So you don't have to plan long in advance: you can get there when it happens.
Start planning your tailor-made holiday by ​contacting one of our specialists...
Monica

Steven

Natasha

Dan