Angkor Wat
LOCATION: cambodia,siem-reap
WEB: none
PHONE: none
OPEN TIME: none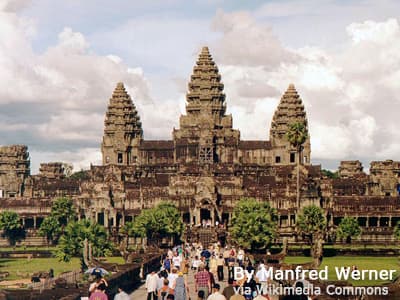 Angkor Wat is a temple complex in Cambodia and the largest religious monument in the world, with the site measuring 162.6 hectares. It was originally constructed as a Hindu temple of god Vishnu for the Khmer Empire, gradually transforming into a Buddhist temple towards the end of the 12th century. It was built by the Khmer King Suryavarman II in the early 12th century in Yaśodharapura, the capital of the Khmer Empire, as his state temple and eventual mausoleum. Breaking from the Shaiva tradition of previous kings, Angkor Wat was instead dedicated to Vishnu. As the best-preserved temple at the site, it is the only one to have remained a significant religious centre since its foundation. The temple is at the top of the high classical style of Khmer architecture. It has become a symbol of Cambodia, appearing on its national flag, and it is the country's prime attraction for visitors.
See more attractions
More attractions that you might interested in.
Explore Siem Reap City
Find complete list of Cambodia tour packages including culture, nature, food or adventure activities for families and couples. The choices of over 90% customers with reasonable price! Get your customizable itinerary in UME now!
Tailor-made Cambodia Tours
Receive a free quote within 24 hours - Already more than 183,063 satisfied customers!
Create My Trip Now !