Chatuchak Weekend Market
LOCATION: thailand,bangkok
PHONE: +66 2 272 4813
OPEN TIME: none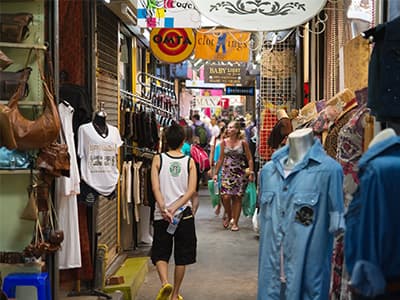 Every Saturday and Sunday, more than 200,000 shoppers peruse some 5,000 stalls spread over 35 acres at Chatuchak Market (pronounced ja-tu-jak, "JJ" for short), which is supposedly the largest outdoor market in the world. One of Bangkok's top tourist attractions and a must for shopping enthusiasts, it's also hot, crowded and confusing. Do pack your patience.
This is not a made-for-tourists destination; gaggles of locals make the pilgrimage to JJ as well. Though the gargantuan pavilions are partially open to the air, the tight maze of roofed lanes can feel like an underground labyrinth. No matter the season, JJ always seems to be 10 times hotter and 10 times more crowded than the rest of Bangkok. It can feel like you're trapped in a maze of leather shoes and ceramic bowls, yet perpetually distracted by more things to buy.
See more attractions
More attractions that you might interested in.
Great Bangkok Tour Packages
Bangkok Local Tips
Get drown in information? UME has gathered the most useful guides and tips about Bangkok tourism – everything first timers needs to plan a wonderful dream Bangkok tour.
Tailor-made Thailand Tours
Receive a free quote within 24 hours - Already more than 183,063 satisfied customers!
Create My Trip Now !