How to Plan An Vietnam Vacation
Last Updated: January 07,2020
Vietnam is one of the most gorgeous countries you will ever see in the entire world. This beautiful place is home to the most scenic spots that has a little something for everyone ranging from beaches to lovely rice terraces and mountains. We have compiled some of the most beautiful places in Vietnam and put them down in this article to guide you for the best trip to Vietnam.
Why visits Vietnam
Vietnam does not boast of scenic spots and locations, yet it is a popular tourist destination. You might be thinking what's so special about Vietnam?
The answer is simple. Vietnam is a "gorgeous place that gives you value for money". You will not be spending half as much money in Vietnam that you would be spending in some other SE Asian countries. However, spending less doesn't mean that you will not have an amazing experience.
There is a lot to do in Vietnam. From the delicious Vietnamese cuisine to a nice soak in the sun on a beautiful beach, Vietnam has it all. Some of the major reasons for Vietnam have been listed below:
While it does not brag about having one kind of specialty it does pride itself on having a little something for everyone thus ensuring that your money is well spent, down to the last cent.
Vietnam has a beautiful coastline roughly measuring a little over 3000 kilometers. Few of the more popular beaches are Phu Quoc, Nha Trang and of course the ever so popular Danang. In addition to the beaches, Vietnam has a lot of beautiful islands as well.
Vietnam holds an amazing cultural experience for all those who visit it. On one hand, it has beautiful and well-preserved sites such as the Hoi An Ancient Town while on the other hand it has countless limestone karsts.
Delightful food adventures
Whatever you want to eat, be it fresh seafood or street food, you can find it all in Vietnam. Checking out Halong Bay for seafood and the markets of Hanoi, Hoi An and Ho Chi Minh City for street food would be a good idea. Food in Vietnam is delicious and worth a try.
Is it safe for traveling to Vietnam?
Are you traveling with family and worried if Vietnam is a good option to explore safety wise?
Well, the answer is "For sure!"
Vietnam is one of the safest places on Earth that has never had a single terrorist attack ever. In fact, it's so safe that it was a part of the list that had been released regarding the safest places in the entire world. Owing to a low crime rate and a stable government Vietnam was amongst the top 20's in this list and is generally termed as a happy place for both locals and tourists.
Vietnam visa
You need an entry visa when traveling to Vietnam. Regardless of how long you intend on staying there, you will need to fill out forms, both at arrival and exit from the country. Along with that, you will have to provide two passport-sized pictures of yourself with your passport at the immigration.
For the Citizens of the Countries that are exempt from obtaining visas, even they need a short-term visa exemption to enter Vietnam and in case they want to stay longer than the allowed time frame then they will have to apply for a full visa. This is done either through the Vietnamese Embassy or through the Consulate. The facility of Visa on Arrival can also be availed. Take care that your passport has a validity of at least six months from your date of travel.
See also: How to Apply for A Visa to Visit Vietnam
Best time to travel to Vietnam
Vietnam has a mild temperature all year around. Despite that, the best time to visit it would undoubtedly be between the months of November and February. This is when the temperature is neither that high nor low.
High Season (November–February) — Cool, Dry Season
As aforementioned, the months between November to February in Vietnam have a mild temperature making it the perfect weather for the tourists. If you are in Vietnam during this time frame, then you can also take part in and enjoy the local celebrations such as the Tet (which is the Vietnamese New Year). But beware as everything currently is super expensive.
Shoulder Season (March - April) — Warm, Dry Season
The ideal time to visit Vietnam is in March when there is a balance between both the prices of things and the weather conditions. Although it will be hotter than it was in January and February in Vietnam don't worry it won't be boiling still.
Low Season (May–October) — Hot, Rainy Season (Monsoon)
For those looking for cheap rates for hotels and interested in value shopping, they should visit Vietnam during this time. As it is hot in this season, the entire country offers cheap prices for tourists from the hotels to the restaurants. Rain adds to humidity.
More information about Vietnam weather from north to south: Best time to travel to vietnam
Also read: Best Time to Visit Hanoi
Things to do in Vietnam
There is a lot that you can do whilst in Vietnam. Some of the more fun options have been listed here for you.
Wandering around Hoi An Ancient Town
Hoi An Ancient Town, as the name suggests, boasts of countless ancient stuff such as old Chinese temples and an old bridge that had been designed by the Japanese. You will also come across several shops and houses made of wood and well-structured canals. Vietnam was listed in the UNESCO World Heritage Site at the end of nineties.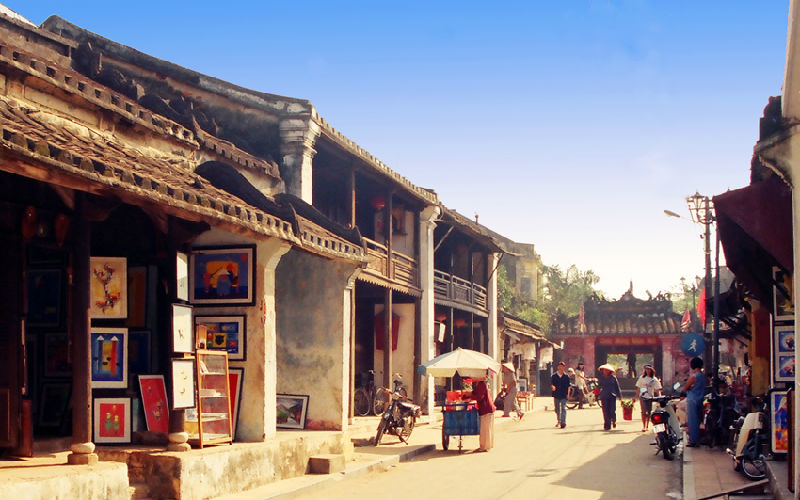 Take your Vietnamese food fantasy to Hanoi
In Vietnam, Hanoi is surely going to tantalize your taste buds. You will find a variety of yummy treats such as pho, steamed fish and sticky rice. Trying the egg coffee is highly recommended. Read Top 10 Things to Do in Hanoi | Top 10 Best Vietnamese Food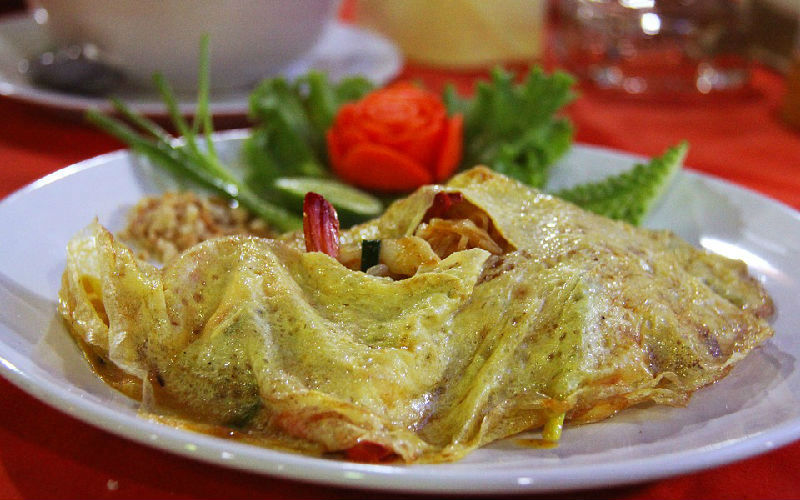 Explore Cu Chi Tunnels underground
The Cu Chi Tunnels are underground. They are original war tunnels spanning about 120km in length that was later turned into a museum to give the tourists a sneak peek into the tough lives of the soldiers of the Viet Cong times.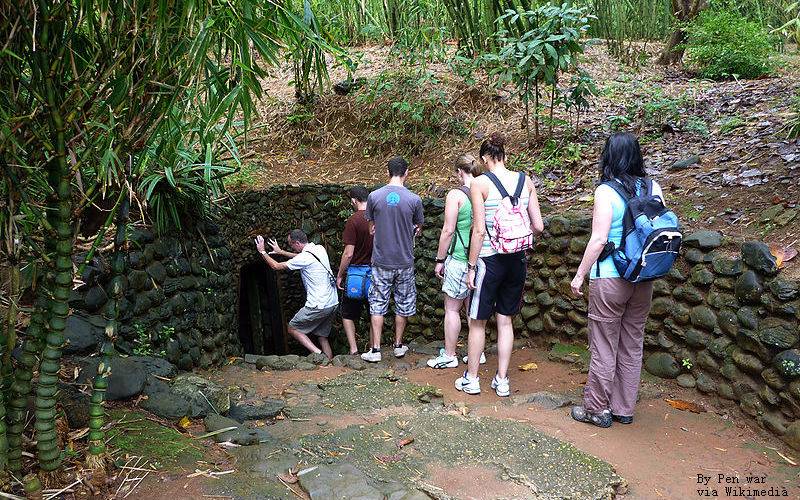 Visiting War Remnants Museum - Understand Vietnam's bloody past
The War Remnants Museum is one of the more popular tourist spots as it depicts and displays the cruel effects of war on its citizens.
Watch traditional water puppet
The traditional water puppet is another popular tourist attraction. It can be dated back to the 11th century, a time when the rice paddy fields used to be flooded and the locals would stand waist-deep in them and watch puppets perform.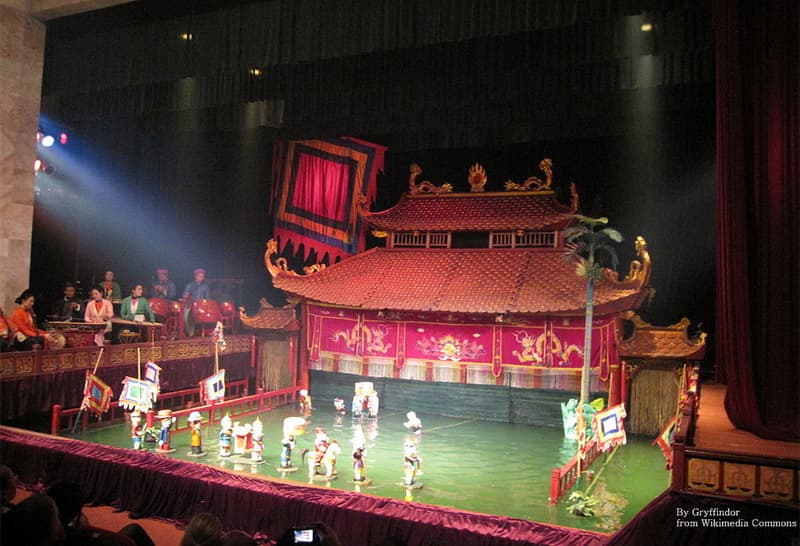 Overnight onboard on Halong Bay
Having a covered area of 1500 square kilometer, the Halong Bay is house to a little over 1,500 limestone islands and islets. Many of these limestone caves are simply amazing such as the Phreatic caves, karstic foot caves, and the marine notch caves to name a few.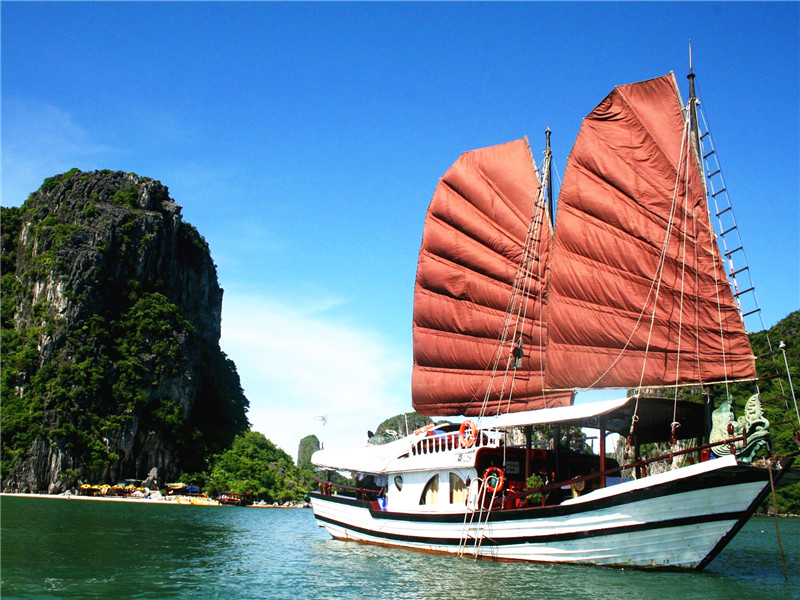 Hiking and cave expeditions in Phong Nha-Ke Bang National Park
For the tourist who is looking for an adventurous holiday, Vietnam is the place to go to. It has several limestone caves that are fun to explore.
Cruise the Mekong Delta
Times have changed all over the world, but Vietnam is one such place where it seems like time has stood still. The locals/villagers still follow the same way of life. Cruise along the Mekong Delta and savor the beauty of the islands, the rice paddies and the traditional living style of the villagers.
The complex of Hue Monuments
Countless monuments in Vietnam can be dated back to the start of the 19th century. The Forbidden Purple City, the royal tombs and the pagodas are some such examples.
Trekking in Sapa in Northern Vietnam
The Hmong, Dao, Tay, Giay and Xa Pho are some of the major tribes of Sapa. You can trek through this beautiful area full of natural beauty on foot and bask in its beauty.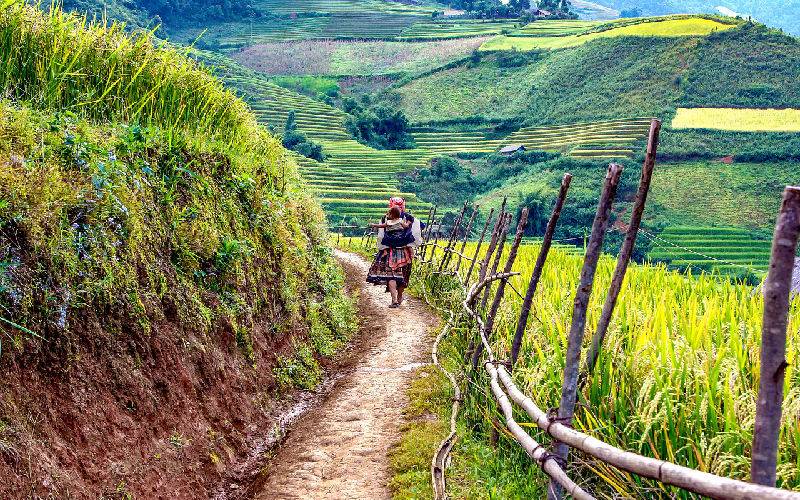 Relax on Vietnam beaches
Beaches of Vietnam are popular for being one of the best in the entire of Southeast Asia. It won't be wrong to say that its home to some of the most pristine beaches that you will find anywhere in the entire world. Read Top 10 Most Beautiful Beaches in Vietnam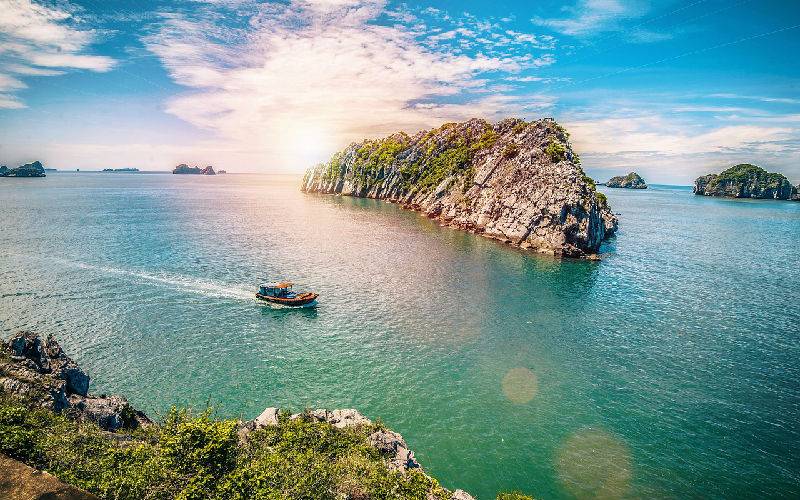 Most popular tours which cover all those highlights in Vietnam:
See for inspiration and contact us to tailor-make your tour!
Essence of Vietnam: 8 days Ho Chi Minh City-Hoi An-Hanoi-Halong Bay
Best of Vietnam Culture & Nature Tour: 10 days Ho Chi Minh - Da Nang - Hoi An - Hanoi - Ha Long Bay
Find more ideas from our Vietnam tours.
Top Vietnam cities
Our top picks of the Vietnam cities that are not to be missed on your next trip to Vietnam are:

This is the capital of Vietnam and surely a place that is best explored on foot. It boasts of beautiful colonial buildings and museums around the center of the city. Read more: Top 10 Hanoi Points of Interest | How to plan your trip to Hanoi.
Hue used to be the royal capital of Vietnam. For this reason, it boasts of an illustrious history and is a treat to visit for any history buff.
It is a trading port that has a history which can be dated back to the 15th century. Learn more on: How to plan a trip to Hoi An.
Halong Bay is a beautiful natural wonder in northern Vietnam as well as the largest tourist center in northern Vietnam. The island is littered with wind-erosion and wavy grottoes, an ethereal beauty and the largest tourist center in northern Vietnam. UNESCO declared it a World Heritage site in 1994, and the best way to experience it is by boat. To many tourists, this place is like something in a movie.
This city has a little of both- the old and the new. The old comprises of the war relics from the brutal Vietnam War times whereas the new includes tall skyscrapers and well-structured buildings such as sports clubs. It's also the best place for those interested in shopping. More on: How to plan a trip to Ho Chi Minh City.
Nha Trang is a beach area. The beaches here are pristine and have crystal clear waters.
Da Nang is ranked as Vietnam's third largest city, the travelers who have their final destination as Hoi An and Hue, often briefly pass through this port city. More on:
how to plan a trip to Da Nang
.
Transportation in Vietnam
All kinds of transportation modes are present in Vietnam. You can choose a particular mode as per your preference.
How to get to Vietnam and get around
International flights
The best option to travel to Vietnam is without a doubt to travel via air. The airport has a well-maintained system and all flights are usually on time. The main plus is that Vietnam has an important location. It is connected to major cities in countries like Japan, China and Australia making it convenient to commute from here to there or vice versa.
Train
You can use one of the seven lines of the railway network for commuting to the desired location. All are functional and interconnected. Off these, the most popular one would have to be The North-South Railway Line. It connects the cities, Hanoi and Ho Chi Minh City. Read more: All Things to Know Before Planning A Vietnam Train Travel
Internal flights
Traveling via air within Vietnam is also an excellent choice - owing to the availability of cheap flights between major cities. Vietnam is in collaboration with about 20 airports with the Vietnam airlines, which is the main airline commonly used for domestic transportation.
Roads/Buses
Traveling via road isn't the best option for those that have motion sickness issues. Avoid taking the bus when traveling between cities in Vietnam due to the long winding roads along the hills. But if you are on a limited budget then, it's the best available option to get to the main tourist spots.
Boats
Using a boat to commute from one area to the other will be a memorable experience for you. You will come across many of them in the Ha Long Bay and the Mekong Delta regions.
Click to know more about transportation in Vietnam.
Using Money in Vietnam
The currency used in Vietnam is the Vietnamese Dong. It is the preferred currency in Vietnam. The American dollar is also accepted in shops, hotels, and restaurants.
vietnamese currency to usd 9K
1 Vietnamese Dong = 4.29887E-5 United States Dollar
1 United States Dollar = 23261.905172 Vietnamese Dong
Example: convert 15 Vietnamese Dong to United States Dollar:
15 Vietnamese Dong = 15 × 4.29887E-5 United States Dollar = 0.0006448311 United States Dollar
Read ultimate currency guide in Vietnam: Vietnam Currency & Using Money in Vietnam.
How to choose hotels in Vietnam?
The good thing about the hotels in Vietnam is that they are very pocket-friendly as compared to the hotels in other countries. For instance, a good hotel categorized as a "boutique" level which is equivalent to 3–4 stars in hotels in other countries, provides a comfy room with a good breakfast and costs around 50 to 100 dollars per night.
Best Vietnamese food
Influenced by its French colonial past and its neighbors, Vietnamese cuisine is an amalgamation of the exciting eats offered in these countries while still maintaining its own identity.

Banh xeo and banh khot

Bun rieu

Goi cuon

Thit kho to

Bun bo Hue
Read more about Vietnamese food&drink: Ultimate guide to Vietnamese food&drink
What to buy in Vietnam - top souvenirs
Conical Hat / Straw Hat. Non La is a circular cone hat made out of bamboo cataphylls and is a souvenir you must bring back home.
Ao Dai – Vietnamese Traditional Dress

Silk

Handmade Vietnamese Embroidery

Guoc Moc

Musical Instruments

Hand Fan

Sand Paintings
More information on things to buy in Vietnam.

How long for a trip to Vietnam and where to go
The number of cities you can visit in Vietnam is dependent on the number of days you will be staying there. Of course, if you have more time, you can tour the entire country otherwise you can opt for the more popular places depending on your interests. If you are looking to relax,you can go to a beach area or if you are a history buff then you should investigate options of exploring tourist spots that hold historical value and significance.
Following is the list of some trip suggestions for your upcoming tour to Vietnam. Come with me!
Set Up a Basic Country-Wide Tour of 8 Days
A 8-day trip will be more than enough to visit all beautiful yet popular cities of Vietnam including Hanoi, Hoi An, Halong Bay, Mekong Dalta, or Ho Chi Minh City. In this way, you can enjoy meeting different people, tasting different food, and wandering around beautiful place from north to south.
Reccommend itnerary:
Set Up an Advanced Country-Wide Tour of 14-Days Including a Stay at Beach
Vietnam is also famous for its relaxing sensation at the beautiful beaches including Nha Rang, Da Nang Beach, Phuc Quoc etc. Therefore, if you're looking forward to spending quality time at beaches, consider expanding the trip to 14 days.
Only Visit the North Vietnam
Fewer visitors will go deep north. Northern Vietnam is prepared for whom desire for undiscovered beauties and hill-tribe culture. You'll find breathtaking bays, stunning rice terraces and unbeatable scenery.
If you're looking forward to only visiting the northern part, 6-8 days is more than enough to thoroughly enjoy the northern zone. You will be able to spend quality time in Sapa, Hanoi, or Mai Chau mountains and also go the Halong Bay later. Avoid planning trip to north during July or August as northern Vietnam often experience storms in this weather.
Reccommend itnerary:
Only Visit the South Vietnam
The 6-10 days short trip to southern Vietnam will include visiting Cu Chi tunnels, Ho Chi Minh, Mekong Delta Zone and some of Vietnamese beaches. You can cut down the length or change a little bit to better suit your requests, contact us for super tailor-made tour.
Reccommend itineraries:
Visit Vietnam with family
Vietnam is one of the best countries to visit with family and enjoy quality time. It is safe and has a little something for every family member. The locals are extremely warm and welcoming. Whether it's sailing along the mesmerizing Halong Bay or entertaining yourself with a puppet show,Vietnam is the worth a shot for your next family trip. If so, it will be a fun and a memorable family trip for all. We are experienced in planning vietnam tours for families: Ultimate family travel guide to Vietnam
Vietnam honeymoon trip for couples
Not only it is an ideal tourist destination, but a good place to spend time with your other half. It is bound to be a memorable trip regardless of whether you are traveling to Hanoi or Hoi An Ancient Town. Fall in love with Vietnam- and more with each other. Consider more time in Vietnamese beaches is a good idea, such as Phu Quoc, Con Dao or overnight on board on Halong Bay.
Related travel guide for you:
How to plan a romantic trip to Vietnam
Planning a trip to Vietnam, Thailand and Cambodia
Travelling to 2-3 countiries in Southeast Asia means to spending more than 15-17 days at least. At the same time, you will absolutely see more! You will experience three of Southeast Asia's most exciting, rewarding and unique countries from multiple perspectives. The Indochina trail is South East Asia's most infamous travel route. A popular itinerary crosses 3 countries, namely Thailand, Cambodia & Vietnam.
Most popular itineraries:
​How much a Vietnam trip costs
It only costs USD 100–150 per day for a private tour (Guide+Car).
Packing list for vietnam trip
Here's a comprehensive packing list for Vietnam to help you bring all the essentials and enjoy your Vietnam trip to the max.

Check your passport is valid for at least six months before your arrival date in Vietnam

Order a Vietnam SIM card

Check what vaccinations you need for Vietnam.

Good footwear – Vietnam's streets are bumpy and lumpy

Good mosquito repellent with DEET

Rain jacket for humid season. Fleece or jumper if travelling to the north. If Riding a Motorbike, prepare Headwear (head buff), long trousers and polarized sunglasses.

Electrical adaptors

Get some US Dollars cash to use in Vietnam.

Check your debit and credit cards will work in Vietnam. Bring more than type of credit card as backup if you can.

If you have prescription medicines that you take regularly, talk to your doctor ahead of time to get a supply that will last throughout your trip.