3

Super Experiences!

Our genuine experts explored the destinations time and again and finally worked out the itinerary taking you to experience the highlights in various ways that others might miss.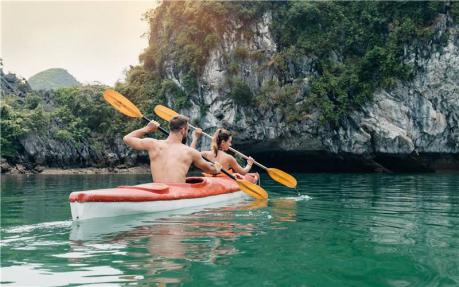 Overnight on a luxury Halong Bay cruise, enjoy what the cruise has to offer!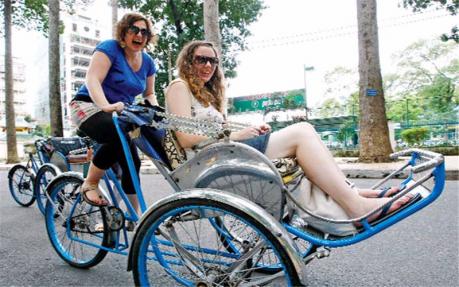 The rickshaw ride will give you the liberty to capture the beauty of Hanoi in your cameras and you can also breathe the culture.
Get a chance to visit local craftsman's home, learn to make a lantern and keep the lantern as a souvenir.
Itinerary Details
The following itinerary is for your inspiration. Our experts will customize your own tour according to your interests, schedules, hotel tastes and budget. All can be tailor-made!
You Can
Extend/cut down length
Adjust activities to your interests
Change a hotel
Everything you want
Accommodation
2 Nights in Hanoi
1 Night in Ha Long Bay
1 Night in Da Nang
2 Nights in Hoi An
2 Nights in Ho Chi Minh City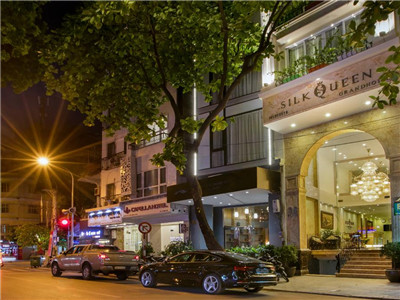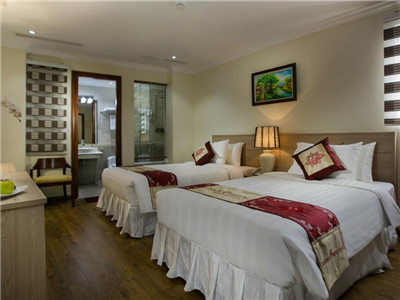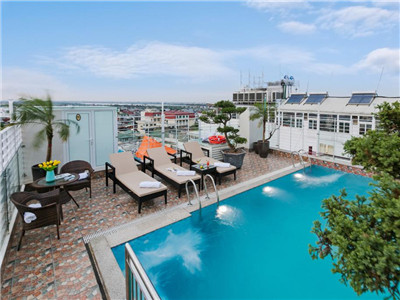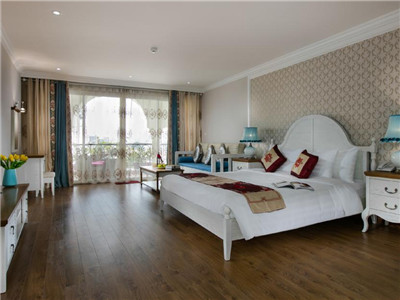 Why this Hotel:
200 m from Thang Long Water Puppet Theater
300 m from Ngoc Son Temple
400 m from Hoan Kiem Lake
35 sqm spacious executive room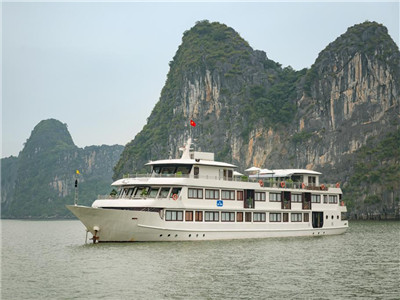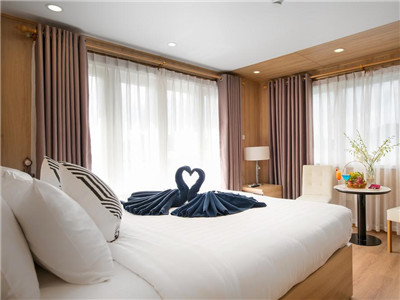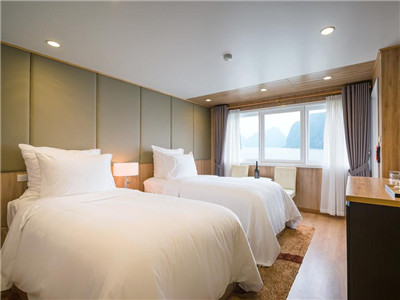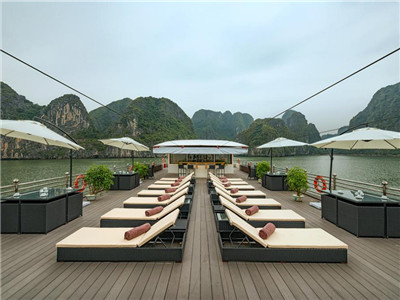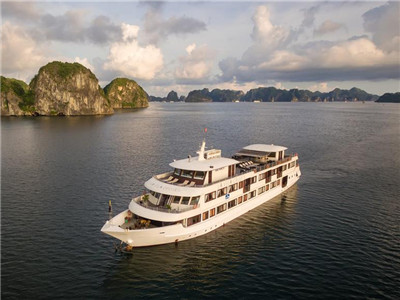 Why this Hotel:
23 sqm spacious cabins come with connecting capabilities upon request
A selection of activities are offered on board, such as fishing and hiking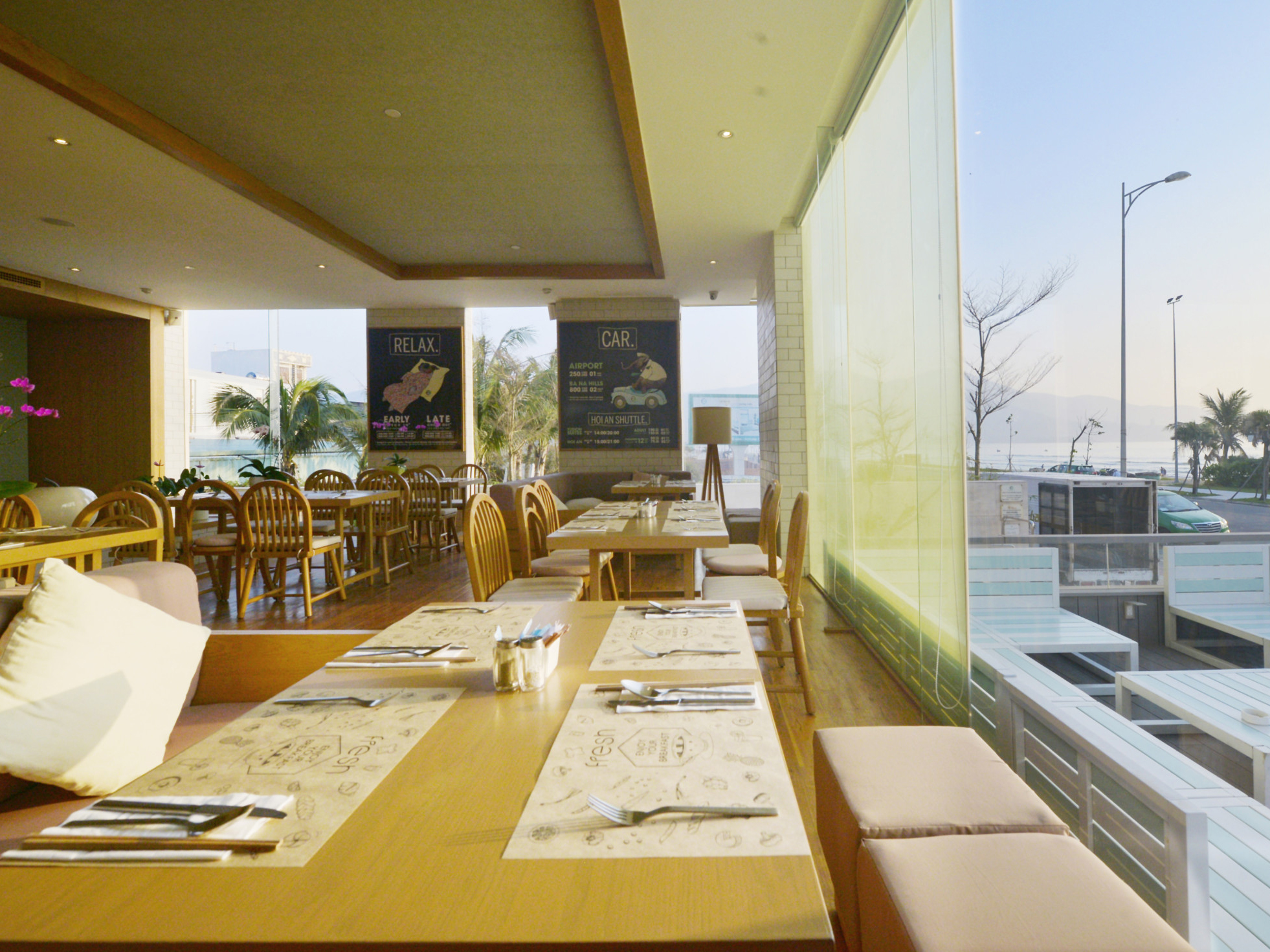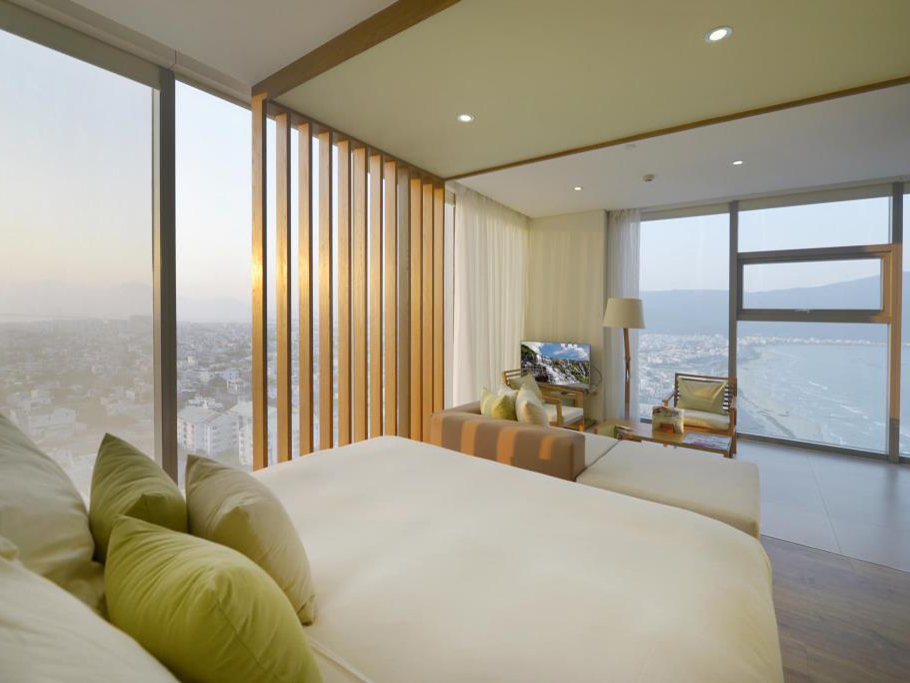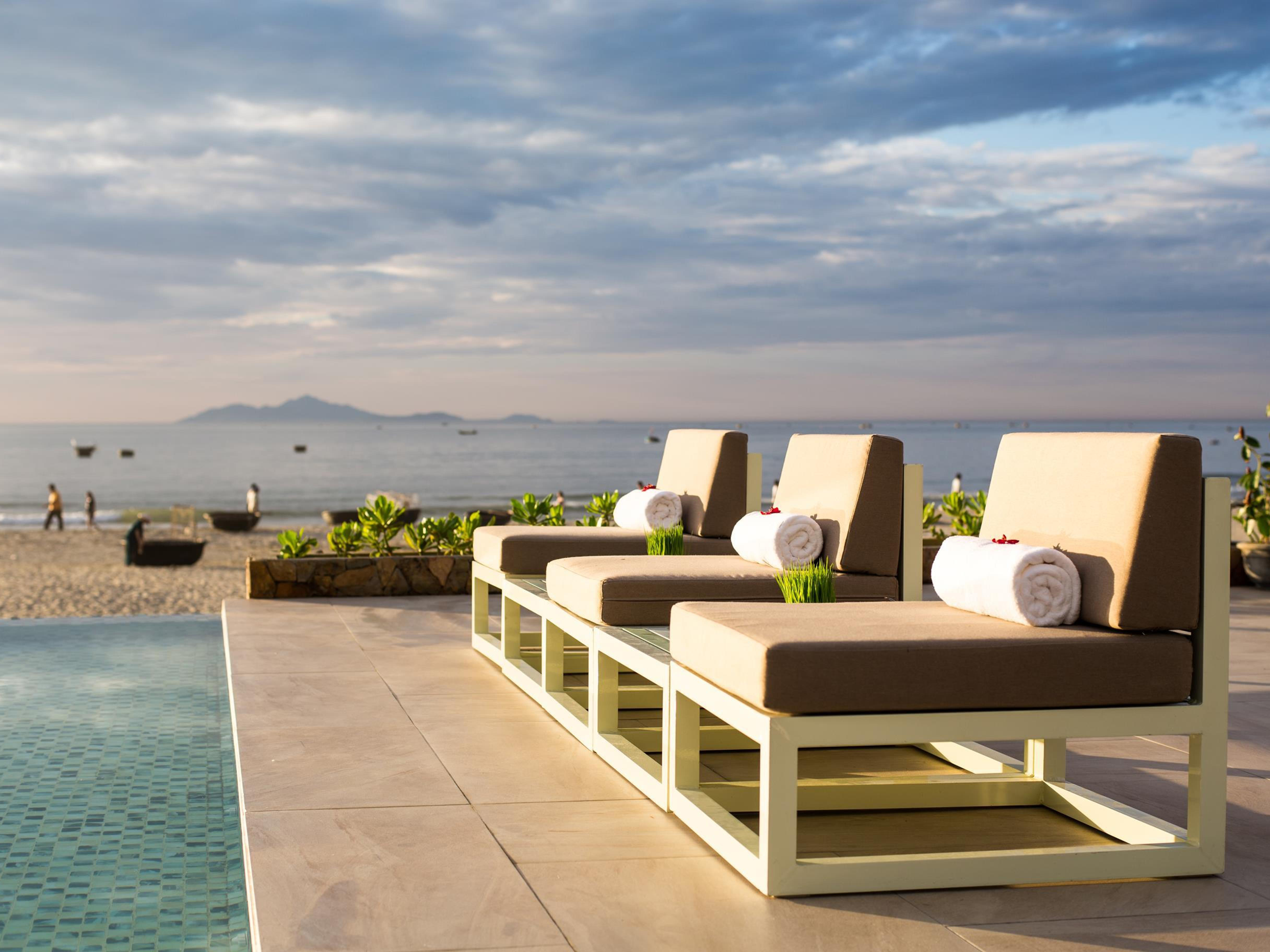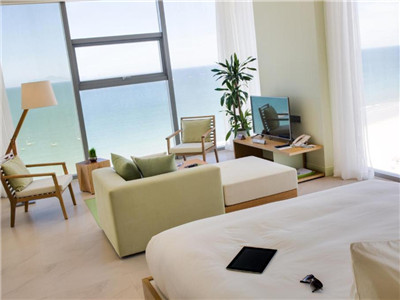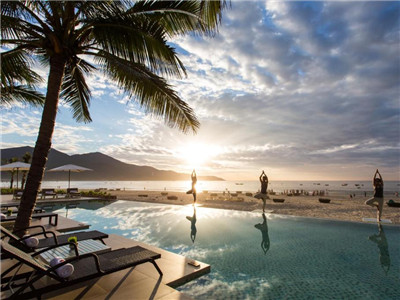 Fusion Suites Danang Beach
Why this Hotel:
1 minute walk from the beach
Each room with wide views of the ocean
2.4 km from Song Han Bridge and 3.5 km from Cham Museum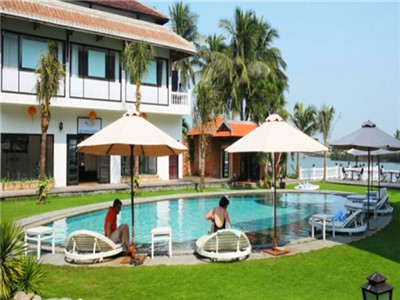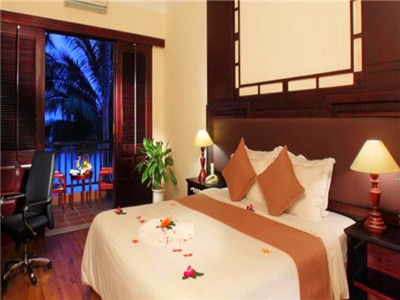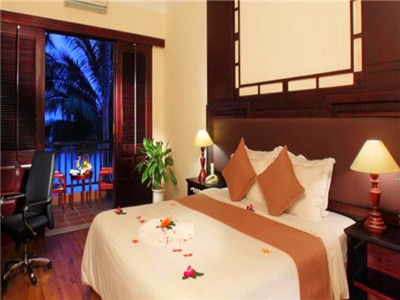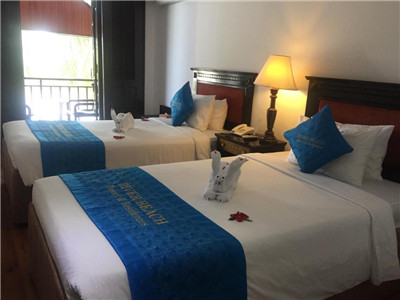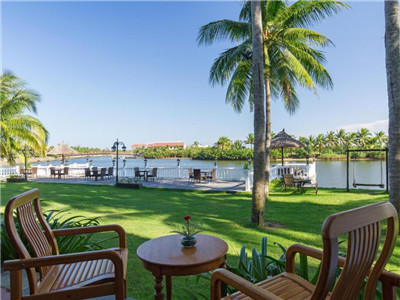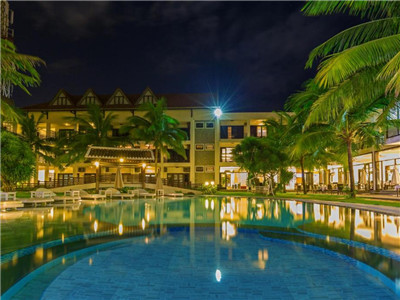 Hoi An River Beach Resort & Residences
Why this Hotel:
3 minutes walk from the beach
Located in the UNESCO World Heritage Site of Hoi An
4.8 km from Japanese Bridge
36 sqm spacious deluxe room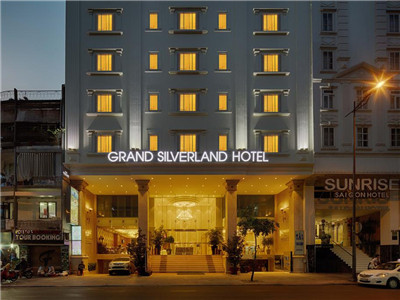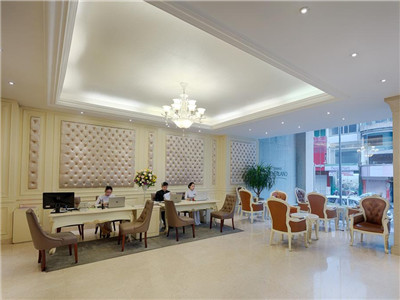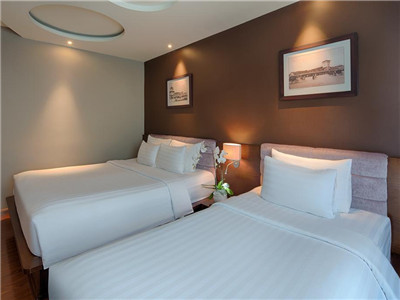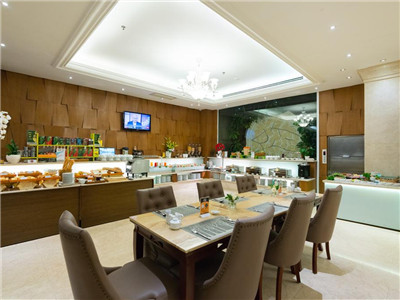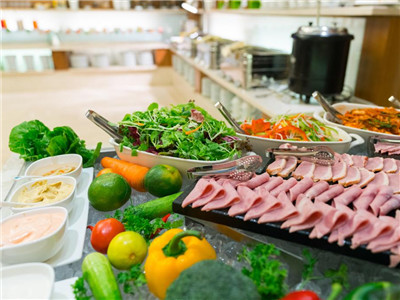 Why this Hotel:
Rooftop swimming pool
1-minute walk from Ben Thanh Market
Within a 10-minute walk from Sunwah Tower, Opera Building
What's included
Day1-2
Silk Queen Grand hotel
Day3
Lavela Premium Cruise
Day4
Fusion Suites Danang Beach
Day5-6
Hoi An River Beach Resort & Residences
Day7-8
Grand Silverland hotel
Carefully selected accommodation with breakfast
Accommodation based on two people sharing (for each person not sharing a room, the single supplement will be added)
Well screened Hotels

Handpicked hotels with good service and spacious room.

Super nice location

Downtown location with convenient transportation and many good restaurants nearby.
All mentioned internal flights, trains, and cruises
Private & air-conditioned vehicle with ample space
Best-time flight

No early get up. No late arrival.

Better seats

Select seats for you as spacious as possible, such as exit row or bulkhead with more legroom.
All meals specified in the itinerary
Satisfying food

Your special request on food can always be satisfied, no matter it relates to religion or medical purpose!

Local specialities

Traditional local food is delicious and its specialities are worth searching out with our local guide!

Little snack

Wanna try authentic local snack? Please follow us!
Bottles of drinking water and cold towels per guest per day
24/7 helpline while you are travelling
All excursions specified in the itinerary
All entrance fees specified in the itinerary
I can't imagine a tour company or quality of tours and guides better than what we experienced with UME Travel. Our travel advisor is Phoebe and local guide is Lisa. They are very nice and always give us best suggestions. Scenic natural beauty, old City & unforgettable local dining lunches!
Thanks to Diana who made the tours personal and intimate and fun for us. The drivers we had were always timely, the cars were clean, water was always provided, items were watched and secure. Guides are knowledgeable, nice and love their country. The service was truly amazing and above any expectations we had.
We didn't plan too much but we planned to take 8 days of Vietnam tours with UME Travel - It was great! Our guide, Lisa was beside us everywhere. It was truly the best trip we have ever done. Other guides might be cheaper but can only recommend this!
We are four friends since childhood who went to Vietnam recently. Our travel advisor Carrie Tang who helped us organized a trip that we will remember for a lifetime. Vietnam was wonderful! We went to Ho Chi Minh city; the Mekong River was amazing. We went from Hue to Hoi An (via the Golden "hands of god" bridge - another amazing day) to Hanoi. Our local guide – David is knowledgeable, helpful. He provided us with information about the country as well as gave us a glimpse of the daily life of the Vietnamese. We can't speak highly enough of the trip and the service UME Travel provided. We all think of UME Travel for trips in the future.
Excellent Service from start to end!!! Thank you!
We have just come back from an 8-day tour to Vietnam organized by Phoebe Fu from UME Travel and would like to say thank you to Phoebe and all our guides and drivers in Vietnam for making our journey so enjoyable! We have seen and learnt a lot about Vietnam!
We absolutley LOVED our tour with UME TRAVEL! It was the perfect start into our 9 day Vietnam adventure. The driver was very obliging and drove safe. Our guide, Tien Manh, met us as arranged every day and the showed us some of the best sights. They were extremly knowledgable and nice. This tour did really brought the city to life for us. We were lucky to run into a wedding on the street which was spectacular and really special. We can even brought a nice Vietnamese lantern we did by ourselves back to our families. Thanks!
We had 3 days in northern Vietnam, 3 days in the central part and another 3 days for south. It was the perfect way to hit all the highlights! Our guides were amazing. Especially in Hanoi, Mr. Phan Minh Hien. His English was perfect and he was very knowledgeable of the sites and history. We started with the Hanoi city tour and puppet show at the first day (to recover from jet lag) with suggestion to ended in Ho Chi Minh. These two city have a lot flight. They even gave us suggestions on how to book airfare ourselves. That saved a lot.
The tour is great. The itinerary is wonderful. Phoebe always catered to our request. The additional information she was able to give us along with being able to answer most of our questions. Our Guide Mr. Nguyen Giap Tam was very nice, funny and friendly. As from other review, it is long distance between sites. But that is expected since the sites in Vietnam are far from each other, there is nothing the tour agency can do about that, it is not their fault. After a hot morning, guide had ice cold water for us (SE Asia was really hot so it did help a lot). Lunch was included and we went to different delicious restaurants each day(early to avoid wait and crowds). UME made sure we were never in queues and felt like VIP everywhere we went! Highly recommend!
Our guide, Mr TTT (Lol..I tried to remembered his name by this because all starts with T), was amazing. His English was perfect and he was very knowledgeable of the sites and history. We got up early to avoid the crowd. We were virtually alone for most if it!! What a great suggestion ad we listened to all of his other ones as well which made it such an enjoyable trip. He even took our pictures in the "perfect" spots. The view and life in old town was interesting and our driver was excellent, respectful and I felt safe with him driving with "front door" pick up service at our hotel and all the sites.
Our family had an excellent time on this tour. Accommodation is basic but I certainly feel like I got my money's worth since the tour was not very expensive in the private tour standard. But the service was double better than a group tour. The Cu chi tunnels tour was really informative and the My Son Sanctuary Tour also was interesting with lots of impressions. I didn't know much about the tunnels prior to visiting Vietnam. The tunnels resemble the power of human resiliency and tenacity in face of adversity. So much respect for the Vietnamese people. 
We were traveling to other country the first time, knew no one there and were a little nervous about the whole trip since everything was completely new and every bit of communication with UME Travel went via emails. But trust me everything went so well, they were so organized and well planned. The tour was well organised in general and the our private guide did greatjob to give us information about places, things to do and see, things to be careful about, and care about safety. Overall, easy booking process, value for money.
The guide, Van Dzung, was extremely knowledgeable about all Vietnam's geography and history, and went above and beyond with her guiding even for optional activities where her guiding was not included. Transportation is nice also, with enough room for legs. We liked Ha long Bay. It's really an amazing experience that I don't have had in any land tour. We had private transfer to the ferry. Once we got on boat and joined in with crew, it was an amazing experience! We were fortunate to join with similar aged tourists, but all ages were on boat. Food was great, nice and fresh! Cave, kayaking and swimming/hiking were all cool experiences. Robert our guide was very patient and looked after us well. We'd highly recommend doing if you have the chance!
We toured to Halong Bay with them within the 9-day package. Everything was great. Mr David was a brilliant English guide. Halong was beautiful and a paradise on earth, a place we would like to stay at for a longer time in our next trip.
We did a Vietnam tour with UME a few weeks before. It was a lifetime memory. Our guide took us to hidden places in Hanoi, explained a lot about the history of Vietnam and Hanoi. He answered all the unanswered questions we had since the beginning of our trip planning, brought us to the market to buy the special coffee tasted and wanted to bring home. They took wonderful pictures of us. The only pictures we have together from our whole trip. It's a perfect souvenir for our Vietnam Trip, a country that we liked a lot. Would definitely recommend this to anyone visiting the area!
Many words already written about the service of UME Travel. We were a family with teenagers and it is agreed to take a private tour there. In Hoi An, remember to try to get your cooking class for the Vietnamese food which is recommended as well there with a visit to the local market.
My favour spot is: Thoi Son island!!
the trip was amazing and we were well looked after throughout!
I would, and have recommended UME to help plan any trip. We used them for the first time to help plan our trip to China and had such a good experience we used them again for Vietnam. Mr.L made planning so easy, from helping with the itinerary, booking hotels and internal flights, private tours with great guides, transfers and getting our visa letters. He was always available if we had any questions while in Vietnam.
Vietnam is a land of great things and all we are trying is bring to our customers the insight into the best of my beautiful country. We are happy to hear you love many aspects of it.
Overall, the trip was great. I would appreciate more details prior to the trip.I didn't know we would have a full time tour guide. We didn't really need that. We would have preferred 2 hotel rooms and might have paid extra at a few sites to have that. Again, we didn't know in advance what we had. In Hanoi and Hoi An, the room was way too small for 3 people, especially Hoi An since it was 3 nights.
Had a fantastic trip. Well worth it. 
tour with Van Dzung was a great experience. We discovered places that we would never have found by ourselves. Most of the food was outstanding! He also gave some explanation of things/places that we walked by. We can totally recommend it!
I went on this tour a few weeks ago and I'm still thinking about it. It was the first tour I had taken in Vietnam so at the time,our guide is warm and generous. told us many personal stories which I know wasn't easy for him. This tour offers a great introduction to street food and a great way to explore Hanoi. Take it. You won't regret it!
Good experience in Vietnam. You can't miss the beautiful views in Halong Bay and puppet water show in Hanoi. You should see this type of show in Vietnam. Its specific for this country and history. That was combination of local music, legend and puppet water show. Our your guide is so kind and knowledgeable, we learn more about Vietnamese culture and traditions.
I loved the experience with my lover. We have stayed 9 days in Vietnam, we loved the organization and the English of our tour guide was amazing.
I have a deep and comprehensive understanding of Vietnam by this trip. I change the itinerary for many times because of some reasons, my tour advisor Cathy make a good adjustment for me. Then I have a enjoyable trip, thank you so much.
Great time in Vietnam with my wife. We went with Manh- English tour guide, everything went great, great lunch, great time together. Our guide was so enthusiastic and good skills. The boat ride was great with magnificent views.
Thanks for UME Trevel for the good arrangement for our trip. They prepare complimentary cake and flower for my wife's birthday. It is really a surprise to her. And our whole itinerary is very smoothly, My Son Sanctuary and Lantern making impressed us a lot.
Excellent tour, all staff very very good, accommodation very nice , food Suberb, English tour guide Manh is helpful and knowledgable. The itinerary was arranged very reasonable. It was really a private tour. Private tour guide and driver, private service. We choose the classic route but make some changes . So breathtaking this whole view in Vietnam! We have some must see sights in Halong Bay,culture experience in Hoi An and food in Hanoi. We get everything we want in this tour.
I hope to have a good vocation in Vietnam but know nothing about it. My tour advisor Phoebe give me all the useful information. My passionate English tour guide and humorous driver were a wonderful part in my trip.
Our family planned to Vietnam long time ago. And our travel advisor Carrie arrange a really good tour for us. We love the food, the views in Vietnam. The cruise to Halong Bay was excellent. Our guide was friendly and the transfer was very comfortable. Halong bay is stunning; beautiful in every corner and moment.
My wife and I couldn't have been more pleased with our Audley travel experience and with our specialist Lindsey. Lindsey worked with us to curate a tour that fit our interests and travel style perfectly. She took the time to not only share her insights about Thailand but also listened carefully to our unique travel desires. The result was a trip that exceeded our expectations.
From the first itinerary and quotation we received from Diana, to the wheels of the plane landing Hanoi almost three months later and our whole trip in Vietnam has been marvelous. The professional care and attention to detail that allows a trip with so many moving parts. We have traveled a lot and have worked with many different travel agencies over the years and we found UME travel is the best we worked with and I confidently recommend the company to all of my friends.
Hoi An is an ancient town which style we loved. It is a timeless place and good to relax there. We loved to stroll around the beautiful streets adorned with lanterns. Great food options, bars and shopping. It is the highlight of our trip.
It was a very interesting tour. The awesome street food, the lanterns decorated street, the amazing tunnels, the friendly people… our trip to Vietnam is fantastic.
We had a great time with our guide Lucy in HCMC. We crawled through tunnels learnt a lot about history of Vietnamese war, shot Kalashnikov. Everything was well planned. Lucy even took us to drink the best coffee in town. We really enjoy our trip in Vietnam.
A great experience to book a holiday of a lifetime with UME Travel! Cathy helped us created a great package best suited our budget and interests with her knowledge about Vietnam and her great patience. Thanks a lot!
They arranged everything what we expected, everything went very smoothly and we had wonderful trip!
WOW!! What a great experience this was! Our guide, Rocky, and driver, Nguyen, were so helpful in getting us around the city of HCMC to see all that we could see. Rocky was so knowledgeable and helpful that it made our trip most enjoyable. I would recommend this to anyone going to Vietnam.
We just completed our 8 days trip to Hanoi, Ha Long Bay, Da Nang, Hoi Anh and Ho Chi Minh City. We all think it was a wise decision to book our private tour with UME Travel in Vietnam. We enjoyed the tour and the great accommodations chose by the company. Our trip was well organized with a tour guide & driver in each city. They are knowledgeable, friendly, flexible and punctually. Thanks to Carrie who has excellently planned and organized our trip. We had a wonderful time in Vietnam.
Super efficient, friendly and helpful!
Thank you Tour Leader Thu Truc for sharing Vietnam with us. Your friendly, happy nature and your love of your country made for a wonderful experience.
This was a very well organised trip. Everything was smooth and well timed. My children loved having other children to play with. We were so lucky to have other like minded families with the same aged children. It was great seeing how the locals live and we really feel like we got to experience the real Vietnam. Our guide explained lots of the history, economics and politics of Vietnam. Would highly recommend.
Highly recommended tour with experienced guides and best places to be. Not over informed and enough free time for individual explorations of the destinations.
Amazing tour with a well balanced itinerary. The knowledge of our tour guide was excellent and we all appreciated the caring attitude.
Got to see so Much stuff that I wouldn't have got to do otherwise, amazing food, interesting activities and the Guide was great. Will remember this trip for a long time
Great way to experience vietnam for first time travellers!
Absolutely loved my Vietnamese trip with UME! Our guide was amazing, he was so informative. Would definitely travel again!
First experience prive tour and it was a blast, good fun and well organised trip with a great tour guide that was informative. Will definitely use again.
We had an excellent vacation! It was very much worth the time and value for money to see all the sights in such a short week! The crew were particularly helpful. Lovely fresh seafood! And very local experience in Hoi An. We both liked the night bazaar. Extremely beautiful!!!
Big shout out to Phoebe our travel advisor for giving us so much information about Vietnam. The food prepared on local restaurant was also exceptional! Lovely Vietnamese food and even some street snacks! Our guide took us around the city and was very good at making sure we avoid crowds.
We're so glad that we picked this tour. The lunch was amazing and the activities were lots of fun. 
My boyfriend and I booked the Dragon Pearl for 1 night - which probably would have been amazing as well - but then we were upgraded to the L'Amour junk boat for just the two of us!! It was my birthday on the first night and the crew put together a cake, gift and decorations - which was really kind. We were super blessed by our guide Andy. He even stayed with us while we did our shopping! He helped us to check prices, that came with good discounts! We met a lot local students in Hanoi sreet, who use this opportunity to learn how to converse with tourists in English.
From the moment we were picked up from our hotel in Hanoi to the moment we were dropped off, everything was perfect. I would highly recommend staying two nights on Halong Bay just liked what we inquired with our travel advisor. Te price might be more expensive but we got the best experience. Well 100% worth it!
Everything was perfect, added 3 days so we got many free time in each city and a lot of photo time. When we on Halong Bay, the Captain even put up the sails at one point so we could take nice photos. Super nice, friendly and created a wonderful experience for us!!!
We are a couple who booked a private tour on 19 September 2019. Few days before, I received a whatsapp message from our guide introducing himself and to confirm the pickup. Our guide arrived very early on the actual day and helped us with the luggages. He is very courteous, friendly and helpful.
5 star experience! The only regret is too short on Halong Bay. DO at least 2 nights if you can.
This was a fantastic tour, made all the better by the fact it was private!
Great food, great response, great transportation, great hotel, great Ha Long bay cruise tour. Communication with the tour operator was good. Flexible with our wishes. All our trips, pick-ups and drop offs were smooth and easy.
The tour 9 days Vietnam tour completely full filled our expectations. We row the boat on Halong Bay, experience the Rickshaw ride and making the lantern. In addition, we made a little modification of the itinerary to include a day-trip to ride bike along the Mekong River. It appeared to be the best day of the tour. Vietnam is a beautiful place!
We saw big cities and ancient ruins, explored the hectic streets of Saigon and Hanoi, and relaxed in peaceful Hoi An. We spent a good vacation !
Fantastic trip! the hotels were so comfortable and convenient transportation. Great guide, easy to talk to/to ask questions and made many parts of the tour really fun as he was so involved & gave loads of good recommendations. Recommend lots of delicious food for us and my daught was so happy for that. Very happy I had his for our Vietnam tour!
We have a trip to Vietnam with 5 and 11 years old son. Everything was prepared very well. The food is proper for children and our kind tour guide sent little gifts to my sons. The boys were so excited about the swimming, kayaking in Halong Bay. I love the days in Hoi An, a peaceful city. Thank you so much for all efforts for our trip.
Relax trip in Vietnam. We have long trip in Vietnam but it was really great. Our tour guide was so professional, pick up very quickly in the airport. And he taught us useful phrases and was always available when we needed he. He really was the best part of the tour and was more like a friend than a tour guide! Thank you so much.
Vietnam was an incredible experience - I couldn't have wished for anything more. The activities were amazing, and every stop during the 15 days was truly eye opening. It is such an amazing country with a great culture to explore. Our tour guide knew exactly where to go for great food, a good night or, or where to go for a good bargain. I can be a local chef to cook authentic food, I cooked the food for my friends after coming back and they all like it so much!
Vietnam was a wonderful country taht worthwhile travelling.I was a little nervous at the beginning of my trip - but Diana made the whole trip so much easier and better for us all! She knew so much and was really good at knowing when we wanted some free time. We like the beautiful Nha Trang and the historical in Hoi An. We also enjoy the free time to walk around in Chi Minh City.
Super efficient, friendly and helpful!
I have never had such prompt, thorough, and delightful experiences with a travel guide. In particular, Nguyen was extremely knowledgeable, helpful, and humorous. We spent a wonderful holiday in Vietnam.
Before we met Carrie on the internet, we didn't really know how to plan our trip at all. Carrie have done everything for us very efficiently. She put our interests into itinerary and it became a brilliant package. Thank you Carrie.
This has been my first trip to Vietnam. It was 100% worth every penny, the culture, the people you met and the excellent tour guides made the experience very memorable. Everything went smoothly and I did not have to worry about anything on the tour. The only thing I would prefer better would of rather of started on HCMC rather than Hanoi as I feel the country has a lot more to offer in the north and central parts than the south.
Like my trip to Thailand a year ago, my trip to Vietnam was just wonderful. Never knowing what to expect this trip exceeded all we hoped for. The hotels were comfortable, food are delicious and our tour guides are helpful, professional and knowledgeable. Would highlight recommends UME Travel to anyone who wants to travel to Asia.
The company organized a tailor-made trip to me and my mother to Vietnam. Everything was perfect - nothing to complain about. Every location - airport pickup, driver, car, air conditioned, excursions well organized. English speaking guides are knowledgeable, helpful and listened our requirements and talked about interesting stuff about country.
The best part of any tour should be the guide, which in our case was Jenny. Her personality was always full of energy and kept our experience lively in Vietnam. She was always cheerful and excited to show us more. The scenery in Vietnam was very beautiful. We loved the food and the people there.
Quick response, Great food, comfortable hotel, great Ha Long bay cruise tour. But hotels at Hoi An should be better. However excellent tour in totality. Professional travel company, no complaints.
Our tour in Vietnam was very well organized, and we saw places and did things that we could not have found by doing it ourselves. Our tour guides are helpful, professional and spoke very well English.
We spent a wonderful holiday in Vietnam. The trip is very well organized and our guides are outstanding, knowledgeable and gave us lots of information about Vietnam.
This was a very good tour to get an overview of the country. It was good value for the money. Hotels were very well selected for us, nice and the locations were good.
It was a wise choice to work with UME travel on my private tour in Vietnam. We enjoyed our tour. It was well organized with a tour guide & drive in each city. The guides are flexible, friendly and knowledgeable. The accommodations were great with very good location. Thanks to excellent arrangement!
Our private family group of 6 had a wonderful time in Vietnam. We appreciate very much that our cruise on Yalong Bay and we took some magnificent pictures. The ancient town of Hoi An is amazing and we spent very wonderful relaxing time there. Throughout the tour, we have very good and capable guides and drivers.
We were just back from our 10-day tour in Vietnam. Our coordinator, Ms. Carrie Tang did a terrific job working with me on the itinerary. All the accommodations and tour guides were terrific. We spent a wonderful holiday!
UME Travel provided the perfect service for independent travelers who also like some certainty along the way.
Excellent service and a brilliant support. The guides were extremely helpful and knowledgeable. Our hotels were fabulous but the food at the hotel in Hanoi was disappointing. This was a well-organized trip and we felt supported and informed throughout the journey from booking to landing back home. I very rarely recommend but I have no doubt in recommending this company wholeheartedly.
service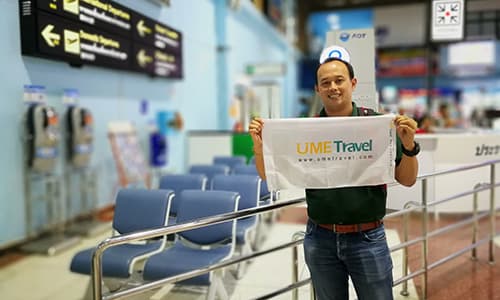 Professional Guides & Drivers
We offer professional private tour guides with over 10-year experience, well-performed vehicles less than 5-year service life and licensed drivers with 5-year practice. Each of our employees undergoes rigorous screening before they can join our network.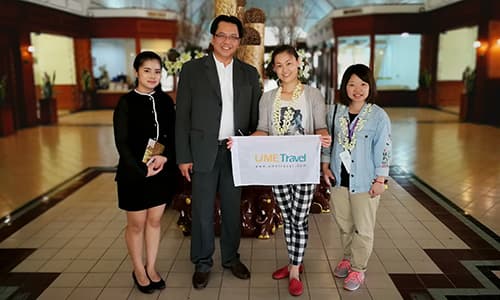 Well-selected Scenic spots and Hotel
All the hotels we advised have been inspected by our team and we spend time each year to top up our knowledge on the spot. Continuing Positive feedbacks on them from former customers because of their outstanding and unique characters.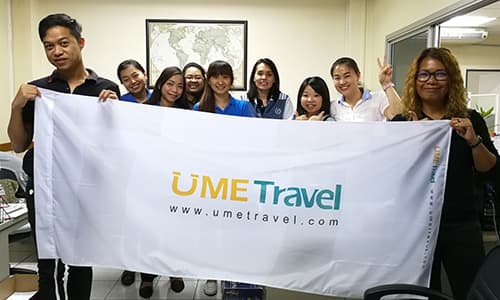 Local Available 7/24
You will have our local team's urgency contact number and we are available whenever and wherever. If you meet any problem or need any help, just make a phone call and everything will be settled down at a time.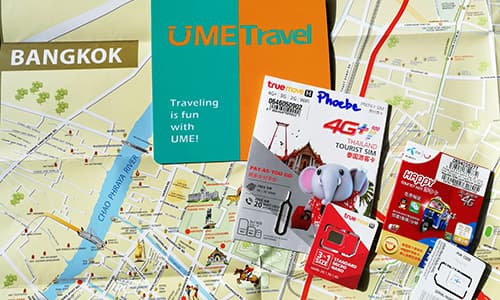 Warm Welcome Kits
We provide the welcome kits for each customer, you will receive the SIM card, city map, a bottle of drinking water and a cool towel per guest per day for FREE. Get all first-step information and useful tips in one profile and make your first tour simple and easy.