How to Get a Vietnam Visa
Last Updated: January 15,2020
Over the last decade, Vietnam has developed quickly in relationship with all other countries in the world. In order to establish the best environment for foreigners to visit Vietnam, Vietnam government consider the relationship between Vietnam and all other countries in Asia, America, Australia, Europe and Africa are strategic importance to Vietnam. Vietnam Embassy has been opened in almost foreign countries and the procedure to apply for a Vietnam visa for travelers is really convenient and fast.
Vietnam owns vibrant culture, awesome nature, and delicious cuisine. It is one of the ideal travel destination for numerous people from all over the world. Firstly, before going to visit the beautiful country, we should know how to get a Vietnam visa.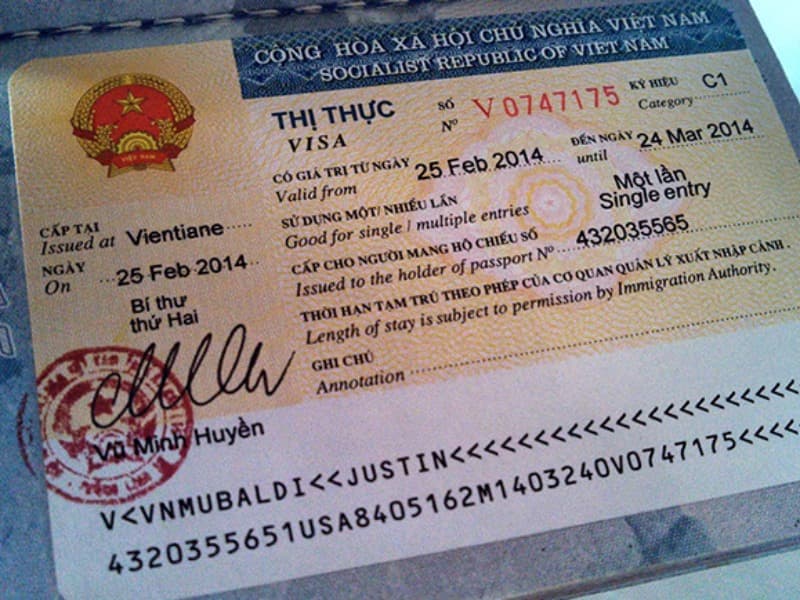 Vietnam visa exemption is granted to:
1.Citizens from Singapore, Thailand, Cambodia, Indonesia, Malaysia and Laos for visits of 30 days at the maximum without a requirement of visa.
2.Citizens from Philippines for visits of 21 days at the maximum without a requirement of visa.
3.Citizens from South Korea, Japan, Denmark, Norway, Sweden and Finland for visits of 15 days at the maximum without a requirement of visa.
4.Citizens from Brunei for visits of 14 days at the maximum without a requirement of visa.
5.Citizens from France holding valid diplomatic or official passports for visit of 90 days at the maximum or several visits of 6 months at maximum.
6.APEC Business Travel Card (ABTC) Holders from APEC member economies for visits of 60 days at the maximum without a requirement of visa.
7.Phu Quoc Island is the only place in Vietnam that does not require a visa for visits of 15 days at maximum for people from all over the world.
How to get a visa for Vietnam?
Some governments require visitors to apply a visa prior to arriving, while some others issue visa to people on arrival or prior to arrival. However, Vietnam visa requirements are a combination of these two approaches. Firstly, visitors must apply for a visa approval letter in advance then get an official visa stamp in the passports on arrival in Vietnam.
Officially, visitors have three choices for obtaining the visa for Vietnam:
1.Apply Vietnam visa approval letter online then get an official visa stamp on arrival (It is the easiest way).
2.Apply for a Vietnam visa at a Vietnamese Embassy outside of Vietnam in person or online.
The visa procedure will take around 5 working days to process at a Vietnam Embassy. Visitors can get the visa processed at any Vietnam Embassy in any country for entering Vietnam for tourism, visiting relatives or business. Visa fees depend on the type of visa for which you are applying.
3.Go through an agency to secure a visa approval letter and get a visa upon arrival at the airport in Vietnam.
Legitimate approval letter
Visa Approval Letter is a letter issued and confirmed by Vietnam Immigration Department. The corresponding authority will verify the details on the approval letter based on your travel documents and authority while you show the letter at arrival airport. You will definitely approve to enter Vietnam as long as you make sure your fulfilled details are correct. Visitors CAN NOT check in the international flights to Vietnam without the approval letter.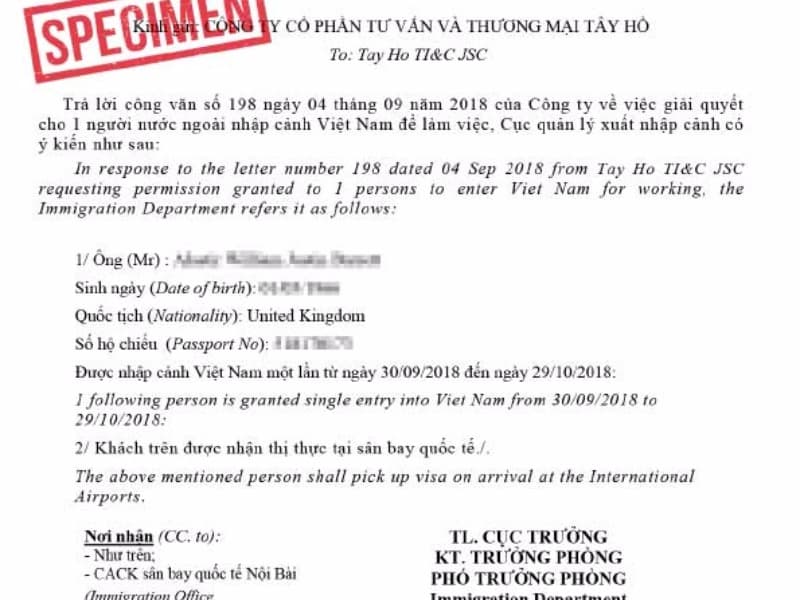 How to apply a Vietnam visa approval letter online?
Applying visa approval letter online is the most convenient and quickest way. Just follow the online process beforehand and you will be ready to get your visa stamp in Vietnam.
Four easy steps to apply for a Vietnam Visa online:
Step 1
Complete the application form.
Please pay attention that this is the most important step and guarantee the information you fill in will be correct.

The exact information includes: passport number, full name, date of birth, sex, nationality as same as passport details.

The arrival date and airport.

Choosing the type of visa (Business, Tourist).

Selecting the extra service if you like.
Step 2
Confirm and pay.
Visa will be processed based on your proved details.

Please double check all information before submit it.

After you submit the application form, you should pay of US$17/person online for the visa approval letter. Visa stamp fee should be paid upon arrival at airport in Vietnam, which is US$25/person for a single entry or US$50/person for multiple entries. It is should be paid in cash either in US dollars or Vietnamese dong.

The payment of the approval letter can be settled by most major credit cards: Visa, Master and American Express. Cash is required for the stamping fee, so please prepare correct fee amount before you depart for Vietnam.
Step 3
Receive and print the approval letter.
As soon as you submit your application and settle the payment, the processing of your visa request will be started and you will receive the visa approval letter with entry-and-exit form via email from between one hour to two business days, depending on the status of visa processing you have selected.

Print them out, in color if possible, when you receive it.

Fill out the entry-and exit form.

Prepare 2 passport sized photos (4cm X 6cm) and an amount of USD for stamping fee.

Keep all above mentioned things together with your passport in a package, so that you can find it conveniently when you need to show them to the immigration officer at airport in Vietnam.
Step 4
Get your visa stamp upon arrival at one of four Vietnam international airports.

Present your visa approval letter, photos, and passport at the visa counter, and pay the stamping fee. After your information is verified the correctness, you will receive the visa stamp in your passport.
Notes:
Make sure your passport has enough blank pages for visa stamps before you leave, as well as your passport will have at least six months' validity counting from date of arrival.

Visa on arrival is applicable for air travel only. Visitors arriving by land or sea must apply for a visa through a Vietnam Embassy.

The stamping fee at international airport in Vietnam is payable in cash only, other methods of payment are not accepted.
Warning: You will find a lot of fake e-visa websites in the internet when you search in Google. These fraudulent sites claim to be official, in fact, there are not. So before you applying, ensure you are applying on the official government e-visa website which domain end with govt.vn.

Visit Vietnam with UME Travel
UME Travel cherish the opportunity to help you design your ideal trip to Vietnam. Our professional and experienced travel advisor will assist you in selecting destinations, activities and accommodations that suit you best.
Check out the following itineraries which will give you a starting point for your trip to Vietnam could entail.
Essence of Vietnam: 9 days Hanoi - Halong Bay - Da Nang - Hoi An - Ho Chi Minh
Simply Vietnam: 7 days Hanoi - Halong Bay - Ho Chi Minh - Mekong Delta
Best of Vietnam Culture & Nature Tour: 15 days Hanoi - Ha Long Bay - Hue - Da Nang - Hoi An - Nha Trang - Ho Chi Minh - Mekong Delta
Vietnam Adventure: 14 days Hanoi - Hue - Hoi An - Nha Trang - Dalat - Ho Chi Minh