Vietnamese Coffee
Last Updated: January 08,2020
When you travel to Vietnam, there are two things you must try before you leave. One is having a bowl of world-famous pho, the featured Vietnamese food of beef noodle soup; the other, of course, is Vietnamese coffee.
A brief history of Vietnamese coffee

Vietnamese coffee culture was cultivated during the French colonial period. Firstly, it was brought to Vietnam in 1857 and at very beginning, it was grown for French lived in the country, but before long, the local people began to adopt coffee-drinking as a habit and the habit has become a huge part of daily Vietnamese life.
Since then, farmers in Vietnam has strived to develop coffee cultivation and coffee production has been continued to grow. Buon Ma Thout in the central highlands is the main region of cultivation. However, it was interrupted during the Vietnam War. After the war, in order to develop the economy of the country, Vietnam government instituted a massive coffee production program. By the end of 1990s, the country had claimed the second spot on the list of the world's largest coffee producer. Nowadays, coffee export is the pillar of the economy second to rice in Vietnam.


Vietnamese coffee culture

Coffee was introduced by French during the colonial period, but the Vietnamese took it and turned it into something of their own. Now, Vietnam is a country with a strong and unique coffee culture that is a huge part of daily Vietnamese life, and you can see numerous street side coffee shops in Hanoi or Ho Chi Minh City (former Saigon) where are filled with friendly locals enjoy a cup.
Vietnamese coffee is usually used typically bitter Robusta, so the condensed milk often used to make it sweetened. The resulting brew is deliciously thick and sweet drink which can be consumed hot or icy cold. A local specialty – egg coffee is so distinctive. Don't forget to try it when you visit the country. Vietnamese also added yogurt into their coffee. Put a spoon of yogurt into coffee in hot or iced coffee is another Vietnamese specialty. There are so many ways to enjoy a cup of Vietnamese coffee.

The coffee maker is very special which is called a Phin that is used for making drip coffee.

Vietnamese drink coffee in the morning, at noon, at night and at any time they prefer, at proper cafés or on little plastic stools on the street side. Cafes of all kinds of indoor shops, outdoor shops or more casual street-side coffee stalls are the gathering places for locals of all ages.

What is different about Vietnamese coffee?
1.A different type of coffee bean
Vietnamese coffee is almost Robusta. It is primarily grown in the country with the distinctive and strong flavor and it differs from the usual coffee bean consumed in the Western countries called Arabica which is the main type coffee bean grown in and exported by Brazil, the largest coffee exporter in the world. As the world's second largest exporter of coffee, the main bean of Vietnam is Robusta instead because it is cheaper, easy grown one and it is the traditional bean in Vietnam.
Robusta coffee beans are more bitter, as caffeine is two times as strong as Arabica coffee beans and it holds higher acidity, more antioxidants and less lipid (fat) and sugar than Arabica, so the taste of it is sharp and less casual than your usual cup of coffee. Robusta is often compared to burnt rubbery and tires in taste but coffee lovers who enjoy a strong coffee often find their delight in Robusta coffee. The strong taste, a thicker brew and a few over-roasted beans makes for a different flavor.
2.Vietnamese coffee is almost always drip coffee.
You will find simple rudimentary aluminum drip filters and cups of exquisitely aromatic black coffee underneath when you enter any of Vietnamese coffee shops. Since Vietnamese like their coffee nice and slow, they have developed their coffee culture into an art. They choose the right time and set up the filter to dink it slowly and gracefully. Drip coffee is very thick and the coffee bean is usually intentionally over-roasted which make it even bitter, so Vietnamese usually enjoy it with condensed milk, sugar and ice. Drip coffee is the way for people to enjoy a conversation and it is also one of way of Vietnamese life as well.
How to make Vietnamese coffee?
It is easy to make traditional Vietnamese – style drip coffee, but you need Vietnamese coffee maker – Phin and some medium-coarse ground coffee. To achieve the best results of authentic Vietnamese coffee, we suggest you to sue genuine Vietnamese coffee.
Put about three large teaspoons of Vietnamese coffee into the phin shake the phin slightly to ensure it is evenly spread out and press down gently with the insert designed for this purpose. Pour two teaspoons sweetened condensed milk into a glass and place the phin over it. Pour some hot water over the coffee grounds to all the grounds to swell. Once the hot water has been absorbed, add some more and put the cover on, then wait for the coffee to drip through. The coffee will drop slowly from the top trough the phin into the cup. While it drips, the coffee will slowly mix with condensed milk in the glass. When the coffee has all dripped through, it's ready.
The dripping process is slow, and when the whole process is finished, you will find your coffee is cold. It would be good for the heat afternoon in Vietnam, but if you are a hot coffee lover, you will get upset. We have a way to solve the problem that simply place your glass in a bowl of hot water wait the dripping of coffee. In this way, the water will keep your coffee warm when you come to drink it.

How to drink Vietnamese coffee?

When the coffee dripping is over, remove the cover of the phin then you can immediately sip your delicious Vietnamese coffee. If you would like to have an iced coffee, you can pour your coffee into a taller glass with ice in it then your Vietnamese iced coffee is done.
The 5 Signature Coffees You Must-Try and where to have in Vietnam:

1.Classic Vietnamese iced coffee (Ca Phe Sua Da)

This is the basic and most popular way Vietnamese drink their coffee. It is a Vietnamese iced coffee with condensed sweetened milk. Made with a layer of condensed milk at the bottom of a glass, put the signature phin on the top of the glass, then look at the dripping. Wait about 5 minutes for the coffee to finish drip brewing, then use a long spoon to mix the coffee and the milk and pour it over to a tall glass of ice filled in it. Begin to enjoy your icy, smooth, robust coffee.
Where to get it: As it is the most popular coffee in Vietnam, literally any coffee stall will make it very well.

Tip: Go to a standard traditional-styled one where you will see a bunch of old people sitting on small chairs chatting or staring at the sidewalk. What more you can get best price but same quality coffee.
2.Yoghurt coffee (Sua Chua Ca Phe)
Yoghurt was also brought to Vietnam by the French as well and it has been adopted in to local culinary tradition. Rich and creamy yogurt blends divinely with black Vietnamese coffee which sound like dark cuisine, but the rich yoghurt pairs amazingly just well with a drizzle of black coffee. If you prefer creamy textures in your coffee, add yogurt coffee to your list of things to do in Vietnam.
3.Egg coffee (Ca Phe Trung)
Egg coffee is always voted to be the best Vietnamese coffee but it sounds another dark cuisine. Please don't have prejudice to it. It is cool! You will be surprised how delicious it is! It is made of Vietnamese drip coffee and a layer of whipped egg yolks with condensed milk and sugar on the top.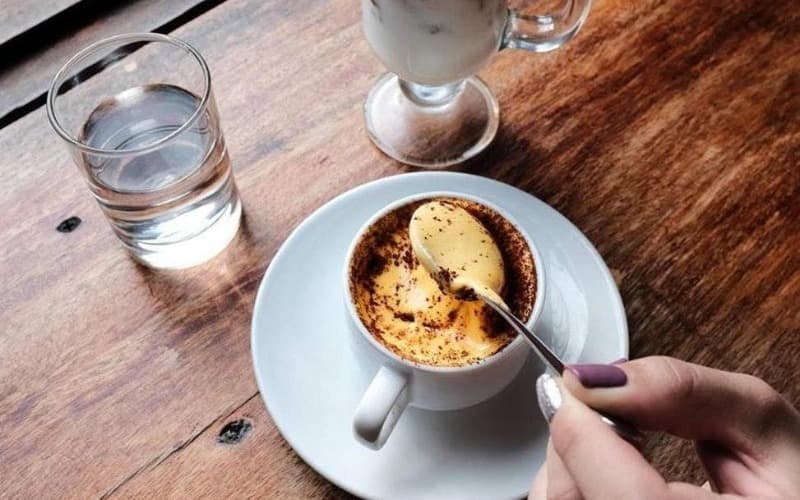 There are several versions of Vietnamese egg coffee: cold, hot and with cacao. The egg coffee was invented in Hanoi in the 1940s when the fresh milk was scarce then people use egg as substitute.
Where to get it: It was invented in Hanoi but you can get in all through the country. If you are in Hanoi, you can go to the famous Giang Coffee in the Old Quarter.
4.Coconut coffee (Ca Phe Dua)
Coffee with coconut sounds great! The strong, robust coffee flavor blended with coconut cream, a little bit of condensed milk and a lot of ice, then you will get one of the most refreshing Vietnamese coffee you will ever taste! Coconut coffee in Vietnam can be made with coconut milk or coconut yogurt. No matter which way, it is doubtlessly delicious and you can dink it hot or cold.
Where to get it: The best of Coconut coffee is in Da Nang, especially on the beach side.

5.Coffee smoothie (Sinh to Ca Phe)
With the development of the variation of coffee in Vietnam, in recent years, coffee has even found its way into smoothies. Fresh tropical fruits such as avocado, banana, or sapodilla a rare tropical fruit are blends with a few drips of Vietnamese coffee. Coffee with exotic fresh fruits you may not have in your country but it is an exceptional mix to whet your palette!
You may like to see all our Vietnam tours
Where to drink?
Hanoi is the capital of café culture in Vietnam. While modern charming style Vietnamese coffee shops have grown sharply, traditional street side cafes are still very welcome by local people of all ages. You will find them are always filled up with consumers from morning to night, who linger for hours over a single glass. As a matter of fact, you can find high quality coffee all over the country and the you will find authentic Vietnamese coffee with slightly cheaper price in Ho Chi Minh City.
Here we have some Vietnamese coffee shops to introduce to you:
For the experiences: Trieu Viet Vuong
Known as 'Coffee Street' in Hanoi, contains more cafes than anywhere else in Vietnam, ranging from family-run street side coffee shops to more fashionable places popular with teenagers. The most popular café Tho (117 Trien Viet Vuong), has been stood here for over 30 years, and the coffee brewed by them is still attracts consistent crowds.
For the famous egg coffee: Café Giang
Hanoi is the place where egg coffee was invented, so once you visit Hanoi, do not miss the egg coffee. Café Giang (39 Nguyen Huu Huan), on the edge of Hanoi's old Quarter, was the first to make the egg coffee and sell some dessert together in the 1940s. As time pass by, everything in the shop seems has not changed, although the tiny stools here seem not very comfortable, the coffee itself is kept on the top level.
For great view: Café Pho Co
This café shop has a great view of Hoan Kiem Lake, however the entrance of the café is not easy to find. It is concealed in the back of a shop with a spiral staircase leading up to the café. While enjoy a cup of coffee, you can overlook and lake and surrounding streets from the quiet balcony.
For a glimpse of the past: Café La Tamia
This retro café shop is in Ho Chi Minh City. La Tamia (38/05 Tran Khac Chan) offers a glimpse into old Saigon to visitors. Enjoy a cup of Vietnamese iced coffee while browsing the café owner's collection of antique gramophones and TVs or just relaxing on a vintage safe.
Tips for drinking coffee during your Vietnam trip:
1.Avoid hunger: Vietnamese café shops normally don't serve food. Some new cafes might offer some quick eats, but you'd better don't enter a café when you are hunger and it is better to follow the local custom of eating first then go to a café to relax.
2.Milky coffee: There is no decaf in Vietnam. If you prefer coffee mild, do what the Vietnamese do ordering ca phe bac xiu, coffee with lots of extra condensed milk.
3.Vietnamese coffee is sweet: the mixture of condensed milk and coffee looks like white coffee but actually it is not, so do not order white coffee without sugar. However, if you do not want your coffee is too sweet, ask for it duong (less sugar).
How to order coffee in Vietnam?
If you want to order coffee like the Vietnamese do during your trip in Vietnam, there is a little help with the Vietnamese language:
Coffee is called Ca Phe

Vietnamese iced coffee is called Ca Phe Da

Black coffee is called Ca Phe Den

Egg coffee is called Ca Phe Trung

Coffee with condensed milk is called Ca Phe Sua

Sugar is called duong

Hot in Vietnamese is nong
Enjoy Vietnamese Coffee with UME Travel
We have included Vietnamese coffee-drinking in some famous Vietnamese coffee shops in many of our carefully designed itineraries that will help you to get authentic experience of Vietnamese coffee culture, in the meanwhile, you will have a break during the hot afternoon.
Check out the following itineraries which will give you a starting point for your trip to Vietnam could entail.
Essence of Vietnam: 9 days Hanoi - Halong Bay - Da Nang - Hoi An - Ho Chi Minh
Simply Vietnam: 7 days Hanoi - Halong Bay - Ho Chi Minh - Mekong Delta
Best of Vietnam Culture & Nature Tour: 15 days Hanoi - Ha Long Bay - Hue - Da Nang - Hoi An - Nha Trang - Ho Chi Minh - Mekong Delta
Vietnam Adventure: 14 days Hanoi - Hue - Hoi An - Nha Trang - Dalat - Ho Chi Minh