The Beginner's Guide to the Full Moon Party 2020-2021
Koh Phangan Full Moon Party has become a world-famous institution, but its ancestral home remains the crescent cove of Haad Rin Beach on the southernmost tip of Phangan Island in Thailand. More than 12 powerful sound systems turn the 800-metre beach into possibly the most popular open-air nightclub in the world once a month, with a lively festival-like atmosphere, great music and huge quantities of alcohol. This one-of-a-kind event is routinely listed on bucket lists as one of the essential experiences in Thailand which absolutely must be seen to be believed. Click and See more Thailand Festival Guide & Calendar.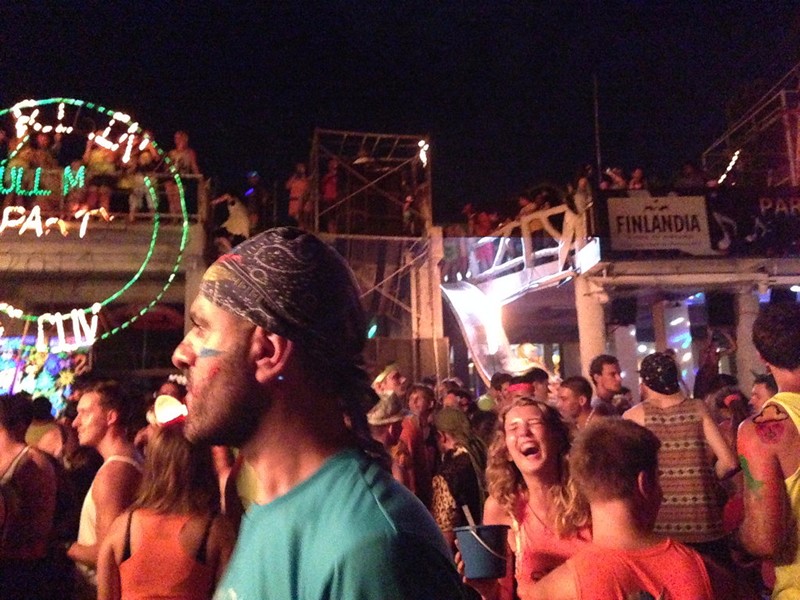 As many as 30,000 party people gather on the famous strip of sand to party in the glow of the Earth's nearest celestial neighbour, right through the night and into the dawn. Due to the cost of cleaning up after such carnage, the local community implemented a 100 baht entry fee to access the beach on the night of Koh Phangan Full Moon Party.
When are the Full Moon Parties?
Full Moon Parties happen every month, but dates are adjusted around Buddhist holidays so do not always coincide with the night of the actual full moon. View the list of party dates shown.
When should I arrive?
We suggest arriving in Koh Phangan at least 5-7 days in advance of a Full Moon Party, as finding accommodation during the busy season is nearly impossible.
Maybe stay on another island
If you can't get there as early as recommended, look at staying on a different island and booking a ferry to and from the party. You won't have to pay an increased rate for a room, you can get there the day before and your head will probably appreciate the peace and quiet the next morning!
---
Tips
You should also take a set amount of money out with you and leave your cards/wallet/purse behind. Again, you will run the risk of losing this one way or another. If you run out of money while you're there, it's likely because you don't need to be spending any more!
It's common sense but worth saying anyway! Don't take expensive belongings with you. Obviously, you will want to take pictures (probably to remind you in the morning of all the crazy things you did/new friends you made!) so buy a disposable camera. If you really want to take your good camera out, upload all your current pictures online beforehand, just in case. Cameras can be replaced, pictures can't!
Thousands of people on a beach means broken bottles and cut feet galore, so wear footwear of some kind 0r you'll end up like Bruce Willis in Die Hard! They don't have to be your favourite shoes, in fact, we'd advise against it, but glass in the feet is sure to be more of a nuisance than a pair of flip flops!
You may be tempted to take a dip in the water at some point in the night … erm, we use the term water rather lightly! Take away the obvious safety issues involved when you put drunken people in the water, and just consider where all those thousands of people are going to the toilet. They aren't all queuing for the portaloos! Washing your hands or face, or trying to clean any cuts you may get, in the sea will not give the desired effect!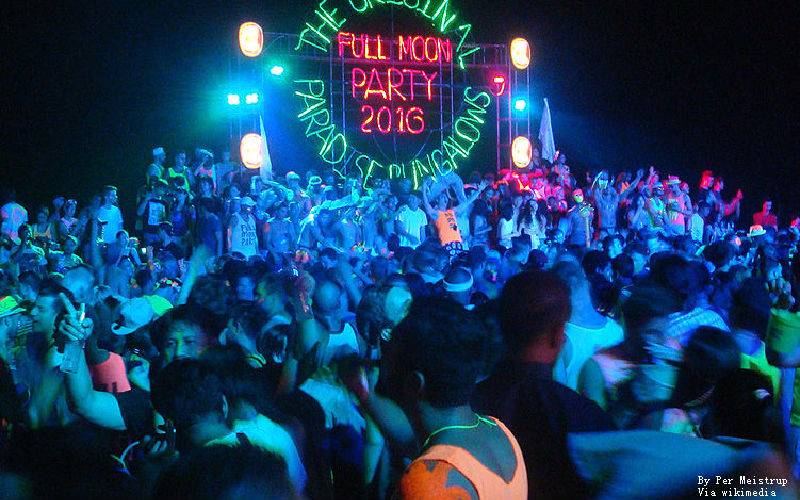 ---
Thailand Full Moon Party dates for 2019-2020
The Full Moon Party takes place every month throughout the year on the island of Ko Pha Ngan, Thailand on the night of, before or after every full moon. Here you can easily find the date and plan you trip. If you have decided to join in one of the following carnivals, contact us and we will arrange the whole trip for you!
| | |
| --- | --- |
| Full Moon Party Dates 2019 | Full Moon Party Dates 2020 |
| FRIDAY 19 APRIL | THURSDAY 9 JANUARY |
| SUNDAY 19 MAY | SUNDAY 9 FRERUARY |
| MONDAY 17 JUNE | SUNDAY 8 MARCH |
| THURSDAY 18 JULY | TUESDAY 7 APRIL |
| THURSDAY 15 AUGUST | THURSDAY 7 MAY |
| FRIDAY 13 SEPTEMBER | FRIDAY 5 JUNE |
| MONDAY 14 OCTOBER | MONDAY 6 JULY |
| MONDAY 11 NOVEMBER | MONDAY 3 AUGUST |
| WEDNESDAY 11 DECEMBER | TUESDAY 1 SEPTEMBER |
| | FRIDAY 2 OCTOBER |
| | FRIDAY 30 OCTOBER |
| | SUNDAY 29 NOVEMBER |
| | MONDAY 28 DECEMBER |
| | FRIDAY 30 OCTOBER |