Everything You Need to Know about Thai Buddhism
Last Updated: June 26,2019
From the wats (temples) and Thais' daily life, you can see how important the Theravada Buddhism is in Thailand. It affects many aspects in everyday life of both Thais and Tourists. In order to help visitors to understand Thai people and what they believe in the mean while reduce culture conflict, here is everything you need to know about Thai Buddhism.
Buddhism History
Buddhism was founded by Price Siddhartha in India in the 5th century BC. He became Buddha after 49 days of meditating under a Bodhi tree and achieving the ultimate goal of enlightenment. Buddhism later introduced into Thailand from Sri Lanka and has become the dominant religion in Thailand since the 12th century.
Thai Buddhism

Theravada Buddhism is the official religion in Thailand which is come from India, practiced by around 94% of the population. Visitors will find Buddhism belief is everywhere, from towering temples founded along the Chao Phraya River to spirit houses besides locals' houses and all around the country. Buddhism is a key component of most of Thai people's life. "merit-making" is the biggest Buddhism activity on the daily life of most Thai people. They will give daily offering to things like spirit houses and some of the people will sporadically feed the stray dogs to make merit. They believe making merit will let them live longer and happier. You will see many of Thai people wear Buddhist amulets because they believe it can protect themselves. Most worthy of mention is the effect of Thai Buddhism in Thai architecture and art. The most wonderful examples are the temples across the country.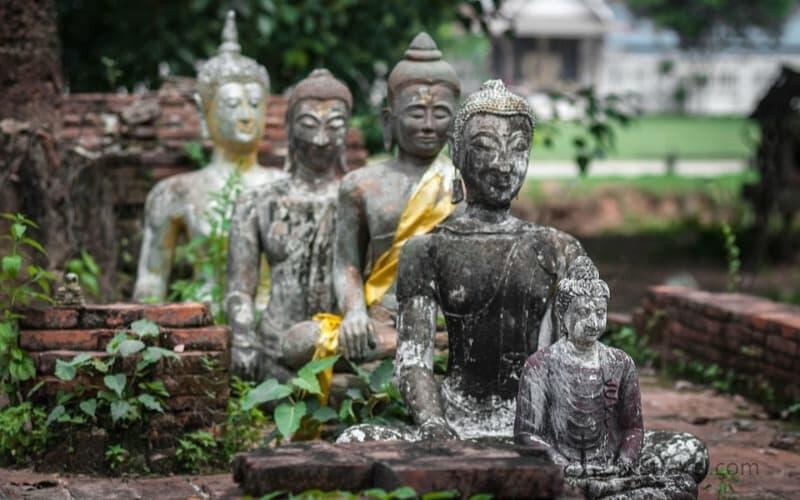 Buddhist Temples
There are over 30,000 Buddhist temples or wats in Thailand, of all different ages and different styles including the most well-known temples: Wat Phra Kaew, Wat Pho, Wat Arun in Bangkok and Wat Phra That Doi Suthep in Chiang Mai. Although these amazing wats look differently, they follow the same principle and consist two parts: The Phutthawat where is dedicated to the Buddha, with the chedi; called ubosot (or bot); the ordination hall, the assembly hall and the vihan. The second part is the Sangkhawat, where the monks live. Thai people always spend Buddhist holidays around these stunning architectural wonders. Except for a place of worship and celebration, these temples also house schools, monks and act as gathering places for locals.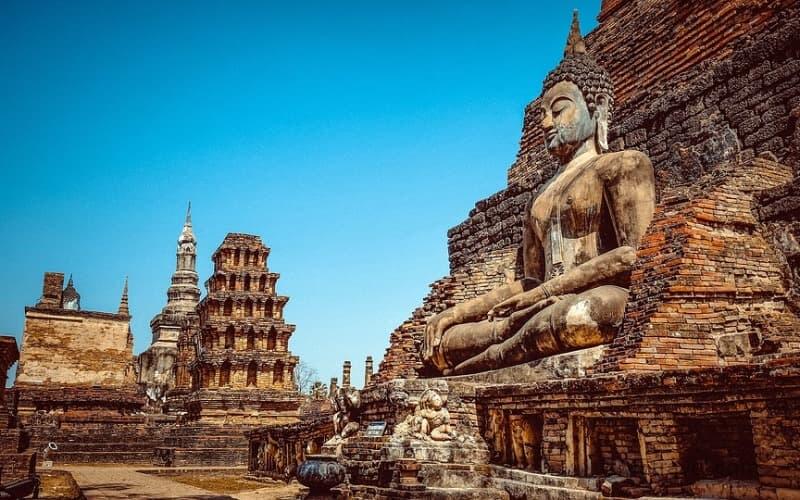 Monks in Thailand
There are around 300,000 monks living in Thailand and when you travel to Thailand, you are almost guaranteed to see some of them. Their yellow and orange robes are very easy to recognize from modern-day clothing. On the street, in the morning, you can see many Thais will start their day off by giving offerings to monks who are collecting donations. Every man in Thailand is required to become a monk for a period of time before the age of 20, for only a few months, and some will even stay a few days. Living a monastic life is considered a very important part of life of a man. They believe being a period of monk they can receive good karma and merit. Those people who are in good wealthy are considered to have very good karma. Those who are poor are considered to have behaved poorly in a previous life, thus, not having good karma. Some monks are specialized in scholarship or meditation. They will travel to education centers to keep on studying the scriptures, and some of them will rise up in the ecclesiastic hierarchy.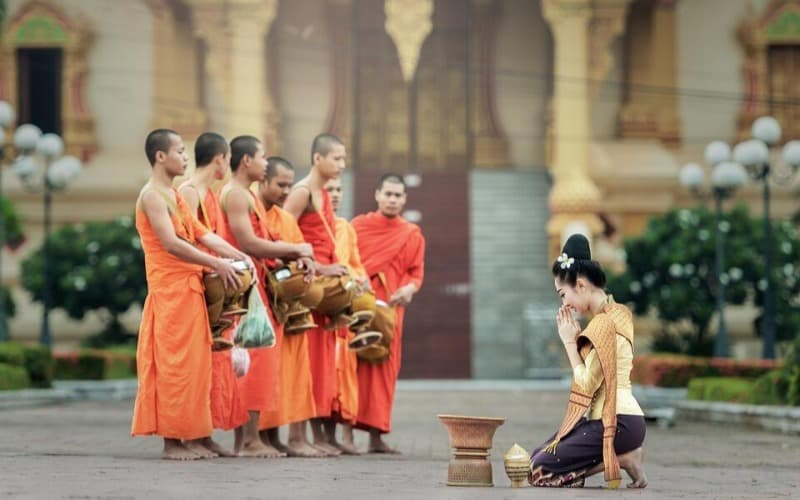 Buddha Images in Thailand
As a Buddhism dominated nation, it is no surprise to find that the Buddhist temples are literally everywhere with more statues of the Lord Buddha in various postures. They are big and small, sitting, reclining and walking made from stone, jade, wood, plaster, metal and some other materials. They were exquisite crafted and possess extraordinary historical and cultural significance.
Phra Kaeo Morakot is the most revered Buddha image in Thailand housed in Wat Phra Kaeo, Bangkok known as the Temple of the Emerald Buddha. Measuring about 66 cm high, the statue is made from green jade wrapped in a golden cloth seated on a raised platform. The King of Thailand is the only person permitted to touch it and change the cloth for it.

Phra Buddha Chinnarat, a golden Sukhothai-style Buddha statue is seated in a historic temple of Wat Phra Si Rattana Mahathat in Phitsanulok. It is regarded as the most beautiful Buddha statue in Thailand by Thai people. The meaning of its name is "The King of Victory." It is in the "calling the Earth to Witness" posture, with crossed legs, one hand resting in the lap, and the other pointing towards the ground. This is the pose once the Lord Buddha reached enlightenment.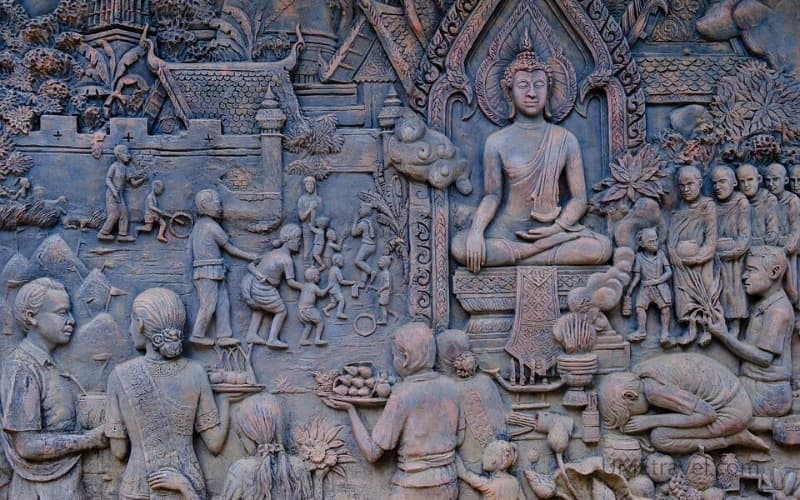 Phra Buddha Maha Nawamin at Wat Muang Monastery in Ang Thong province is the largest Buddha statue in Thailand and among the biggest Buddha statues in the globe. Built in the early 1990s, made from concrete and painted in gold, the statue is 92 meters tall and 63 meters wide also known as "The Great Buddha of Thailand". It is in the "Calling the Earth to Witness" pose and can be seen from every corner in this small city with a building height of less than 10 meters in Ang Thong province. You can witness the piety from its exquisite craft when you approach to the statue.

Phra Buddhasaiyas knonw as "The Nivana Buddha" is a long reclining Buddha in Wat Pho, Bangkok. It is very famous Buddha statue among the most famous Buddha statues in Thailand. Build in 1830s, it is a long stretched statue with a length of 45 meters. The feet of the statue are extraordinary attractive. The soles are split into different sections showing various symbols of Buddhism with a decoration of mother of pearl.

There are still a lot of amazing Buddha statues sitting, standing, or walking with various expression and postures waiting for you to explore in Thailand.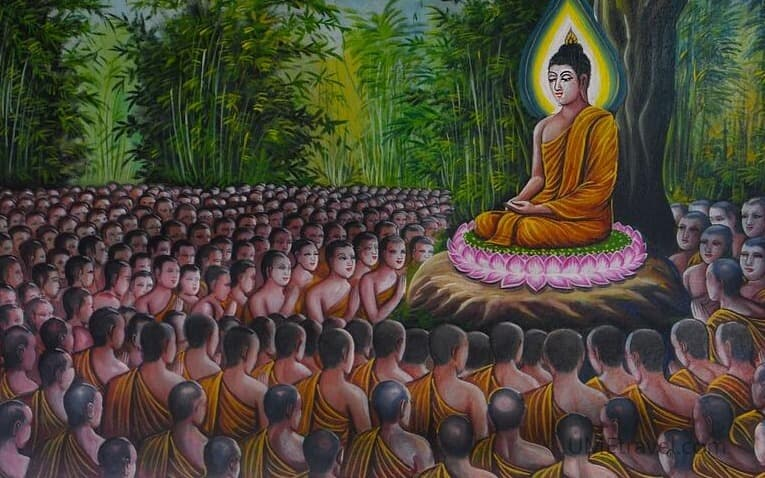 Buddhist festivals and holidays
Thailand is the country rich with religion, culture and tradition, so it is no surprise that there are many enthralling festivals around a year some of them are related to Thai Buddhism.
Makha Puja is one of the most important dates in Buddhist calendar which is celebrated on the full moon night of the third lunar month usually in February or March. Observances on the day begin around sunset at temples all around Thailand. Buddhists will gather at temples to pray and make offerings. After sunset, they will light candles around the ordination hall or pagoda.

In early March, Buddhists will celebrate the Wat Phra Buddhaphat Fair. Many temples have Buddha footprints. The most famous one is at the Phra Puddhabat Temple in Saraburi. This fair is the time when Buddhist come to temples to worship the giant Buddha footprint.

As every man in Thailand must become a monk for a period before the age of 20. In the April, the Si Satchanalai Ordinations celebrates it. Buddhists walk in a parade in colorful costumes.

Songkran Festival in April is the most important festival in Thailand. It is Thai New Year. A giant water flight will take place throughout the country which symbolizes washing away of sins and bad luck from the previous year. The festival actually originated from the practice of pouring water over Buddha statues. Now, it is the most Buddhist festivals amongst tourists.

In early May, Visaka Puja is a Buddhist holiday which commemorates Buddha's birthday, death and enlightenment. People will gather with lighting candles around temples.

Khao Phansa, known as Buddhist Lent Day, marks the beginning of a period of three months that monks remain immobile. Thai Buddhists come to the temple to give candles and yellow robes to monks for their long-stay.

Asanha Puja celebrates Buddha's first sermon. The celebration takes place during the full moon in July in the temples throughout the country.

The Sakhon Nakhon Wax Candle Festival in October marks the end of the Buddhist Lent and it is always celebrated with a parade and beauty contests. There is another Buddhist holiday called Phansa also in October, during which new monks presented with their robes.

Alcohol is not allowed to be sold or consumed during many of these Buddhist holidays all over the country. Visitors should keep in mind when travel to Thailand in these holidays.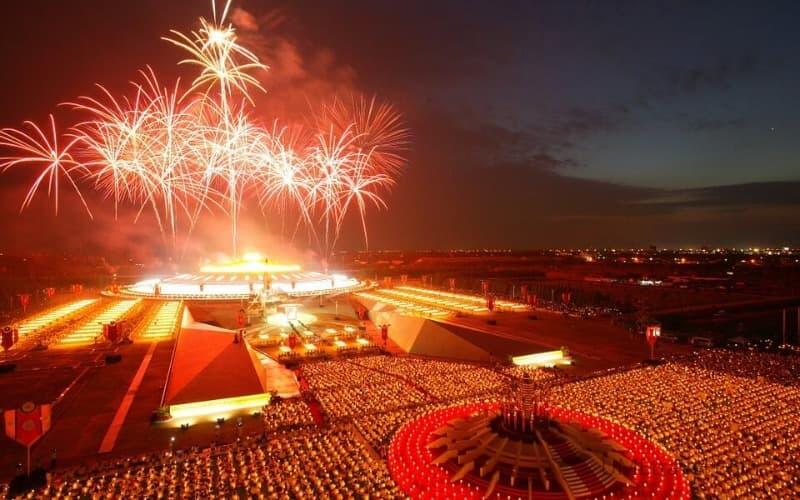 Explore Thai Buddhism with UME Travel
Be captivated with Thai Buddhism culture and would like to travel to Thailand and find out the secret and uncover its mysterious veil, then let our travel consultants create the best itinerary for you so that you can immerse yourself in your cultural trip to Thailand and fully understand Thai Buddhism, tradition and culture.