Angkor Wat
Last Updated: May 28,2020
Angkor Wat is a building that is printed on the Cambodian flag and coins. Angkor Wat is the most representative temple among all the temples in Angkor area and a masterpiece during the peak period of Angkor Dynasty. Every morning at 5 o'clock, the two lotus ponds in front of it gather many people waiting for the sunrise of Angkor Wat. Unlike other temples, Angkor Wat enshrines Vishnu among the three-phase gods of Hinduism instead of Shiva. This also shows the king's will to try to show his new look after he unified the country. It took nearly a hundred years for the temple to be completed in 1150 AD. It is the only west-facing temple in Angkor, and it is said to be a mausoleum.
The scale of Angkor Wat very large, and it is an intricate complex of buildings, including abutments, corridors, walkways, and pagodas. All buildings are made of sand and stones. There is no mortar or other adhesives between the stones. It depends on the regularity of the surface shape of the stones and its weights are combined with each other. After going to Angkor Wat, you will have to sigh the majestic architecture of the Angkor Dynasty. You can imagine the scene of the Angkor Dynasty's prosperity and the current situation of the contrast of Cambodia. It is a pity that it doesn't know how the Angkor Dynasty ended in the past.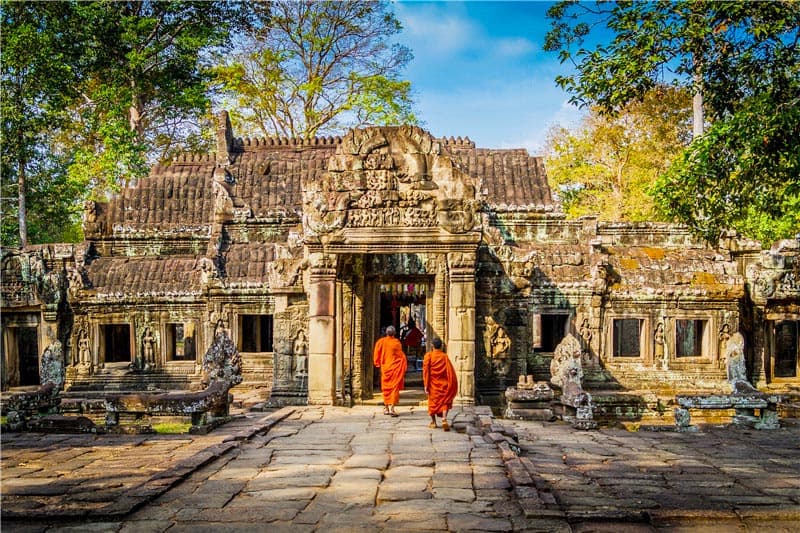 At the top of the altar of Angkor Wat, there stands with five pagodas that are arranged in a five-point plum blossom pattern, symbolizing the five peaks of Sumeru Mountain. The temple is surrounded by a moat, which symbolizes the Aral Sea that surrounds Sumeru Mountain. Angkor Wat is like a train that travels through time. When you walk out from inside, it seems to have passed through the ancient times. The sacred ancient temples, the spirituality of Buddha statues, the vicissitudes of history, and the power of nature will remain in the memory of many visitors for a long time.
Anyone who has visited Angkor Wat will find it really too great. What is presented here is indeed an ancient city rather than a specific attraction. This is a famous world cultural heritage. It can really be described as a miracle. Not only is it very large, but it is also the pinnacle of ancient art in every aspect. It is worth a visit.
Related Pages:
When is the Best Time to Visit Angkor Wat
Travel to Angkor Wat with UME Travel

Angkor Wat & Local Life Experience: 4 days Siem Reap-Tonle Sap