Itinerary Details
The following itinerary is for your inspiration. Our experts will customize your own tour according to your interests, schedules, hotel tastes and budget. All can be tailor-made!
You Can
Extend/cut down length
Adjust activities to your interests
Change a hotel
Everything you want
Accommodation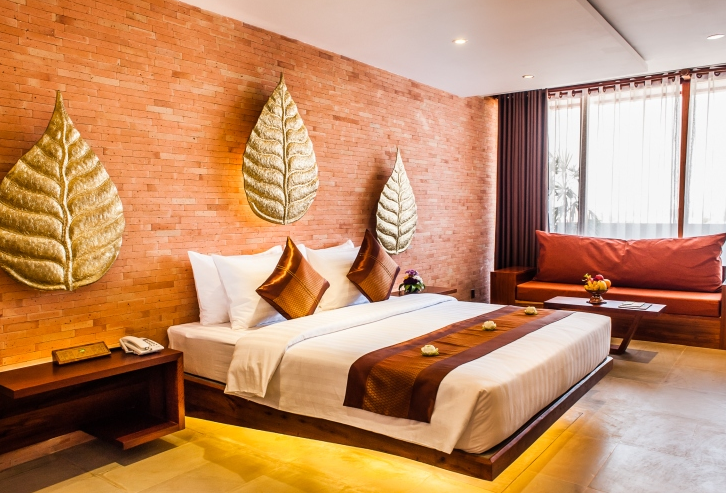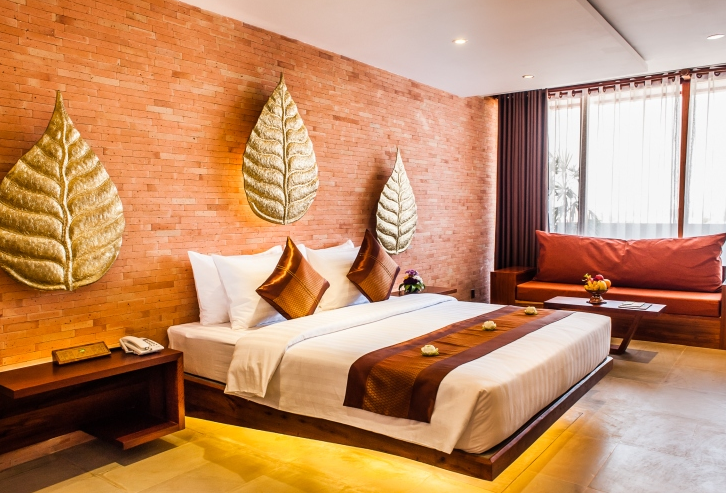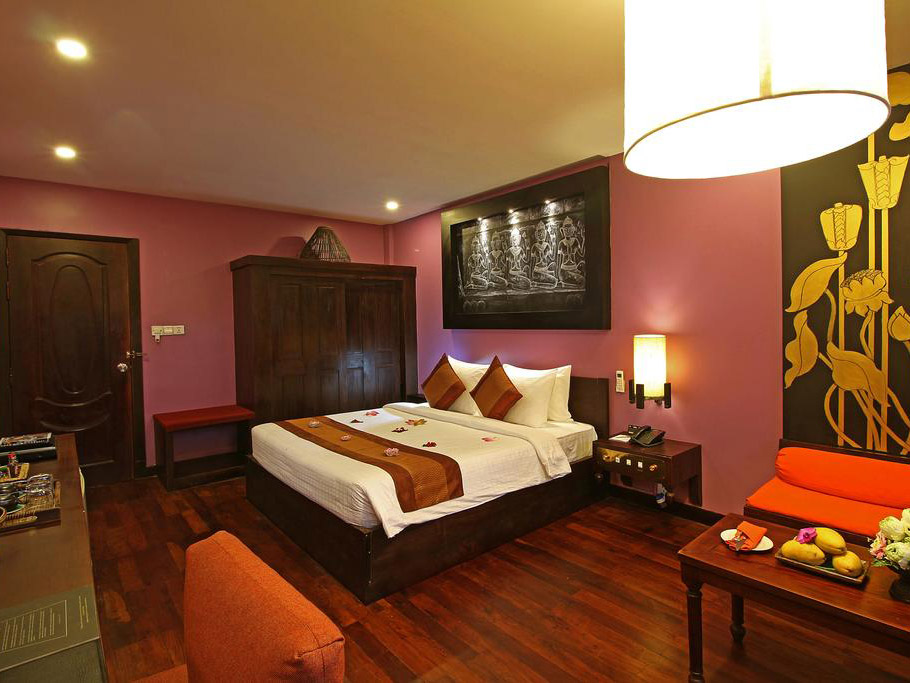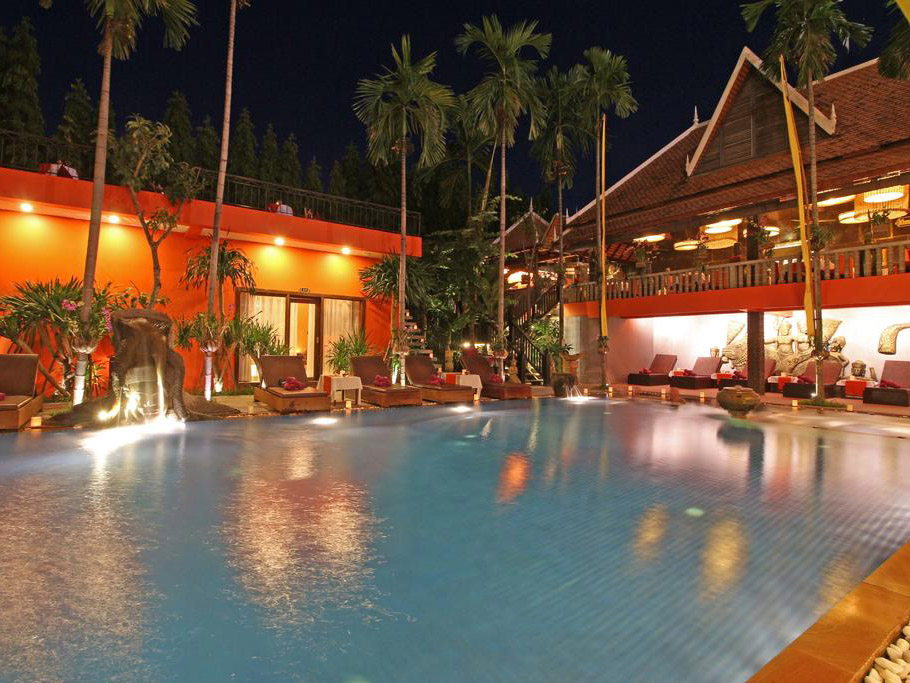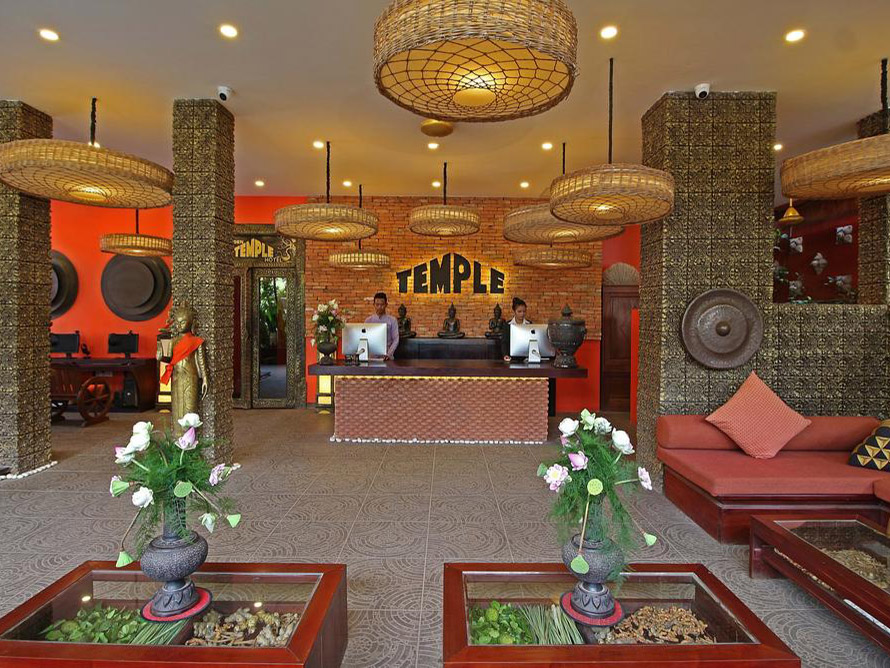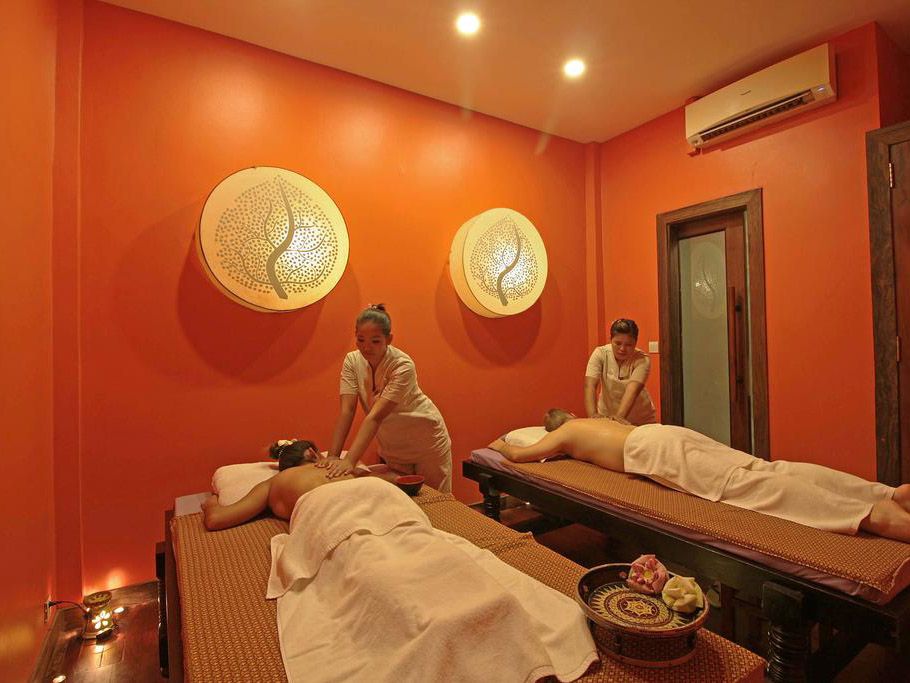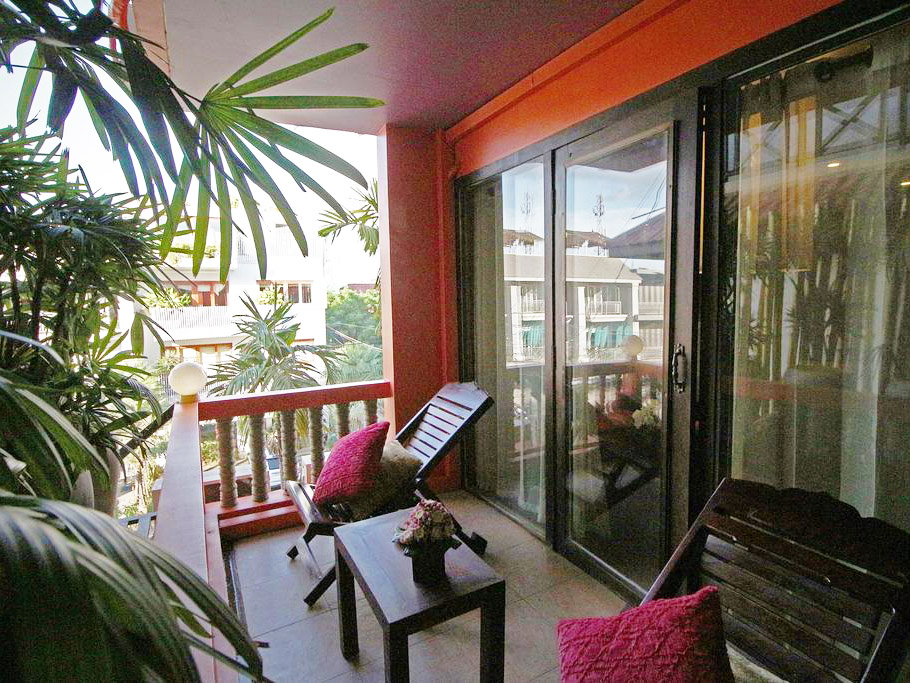 Why this Hotel:
Less than a 5-minute walk from the Old Market area
15-minute drive from Angkor Wat
Free bicycle rental
36 sqm spacious superior room
What's included
Day1-3
Golden Temple Hotel
Carefully selected accommodation with breakfast
Accommodation based on two people sharing (for each person not sharing a room, the single supplement will be added)
Well screened Hotels

Handpicked hotels with good service and spacious room.

Super nice location

Downtown location with convenient transportation and many good restaurants nearby.
All mentioned internal flights, trains, and cruises
Private & air-conditioned vehicle with ample space
Best-time flight

No early get up. No late arrival.

Better seats

Select seats for you as spacious as possible, such as exit row or bulkhead with more legroom.
All meals specified in the itinerary
Satisfying food

Your special request on food can always be satisfied, no matter it relates to religion or medical purpose!

Local specialities

Traditional local food is delicious and its specialities are worth searching out with our local guide!

Little snack

Wanna try authentic local snack? Please follow us!
Bottles of drinking water and cold towels per guest per day
24/7 helpline while you are travelling
All excursions specified in the itinerary
All entrance fees specified in the itinerary
Had the most amazing time in Cambodia. Dave and Hein did a brilliant job in making sure everyone knew what they were doing and when. Even when things didn't go to plan the alternatives were always just as good. Dave and Hein didn't separate themselves from the rest of us and they were a huge part in the group but always took charge when they needed to. Had a great laugh and massively enjoyed cambodia thanks to them boys and the rest of the group as well as the beautiful places we went to.
Cambodia was by far the best place I've ever been to. Not only was this down to an amazing guide going by Big Dave Thornycroft, who could not of made the trip more enjoyable. If you are lucky enough to get Dave as your tour leader, you know you'll have a great time
My overall experience in Cambodia was unforgettable!! From the everyday activities, the fellow backpacker's on the tour and the tour guides who were supportive throughout the 4 days. Dave, hein and jonjo were brilliant to make sure that everyone was smiling day in and day out on this tour and I can't really fault any of the trio. I would like to thank you to the ume family for giving people these kind of opportunities so build memories like these. So until next time T.T.
With little background research done on the country, we thought it best to join a tour to get the most out of our Cambodian travels. After scrolling Google and reading hundreds of reviews, we decided on the UME Travel as it gave the best mix socially and culturally. We made a great choice! The layout of the tour gives adequate time in each area and combined, builds an authentic experience of Cambodia with a beer and some great food along the way. P I now direct this review to Luke; our leader. Firstly, thank you for being such an awesome, interesting dude and having the patience to lead, party, inform and mainly put up with us. Secondly, your knowledge not only of Cambodia but the world through your travels is beyond impressive, I am already regurgitating your information to other travellers and passing it off as my own ;-) Thirdly, upon reflection and after visiting more of SE Asia, I take back what I said, the Khmers are the best and I would come back in a heartbeat!!!! Thank you!
Myself and my boyfriend just completed the 4 day monkey ladder tour with Luke. It was just perfect from start to finish! Luke was really fun and helpful and we had so much fun with him and the group. I would consider him a friend now, such a nice guy! Also knows where the best sunsets are
I went on tour with Luke in Cambodia in May'17 followed by Thailand in April. He WILL show you the best time of your life. He knows how to bring out the best in everyone and always brings the party. His understanding of south East Asia is incredible. He's such a happy being who's energy radates a warm and inviting aura that doesn't allow you to be unhappy around him! Like is 100% the best tour guide iv ever come across and I can't wait to get back out there to be guided once again by this great chap
Luke what can I say, you made our second part of our trip with all your knowledge as well as all your impressions
The best tour I've done so far! It had a perfect balance of partying and learning about the history and culture of Cambodia, and I learnt so much that I had no idea about before - it was really interesting. Luke was absolutely great, really really fun and always there when we needed him (even long after the tour was over). Nick was also such a laugh, and Holly was lovely too! I had an absolutely great time and I was really sad to leave. I would 100% recommend this tour and if I do any tours in the future they'll definitely be with ume Travels!
I wasn't sure what to expect from Cambodia, but our guide Luke made it a great experience. It's a good mixture with party, history and culture. I had an amazing time with great company and would come again :)
We flew to Phnom Penh not knowing what to expect from Cambodia - and it turned out to be the most fun 4 days of our travels in South East Asia. Luke was great, super chilled and reliable - and undoubtably had the best t-shirt collection in Cambodia. Nick was also lovely and such a laugh, his spontaneity (especially when it came to crowns and mermaids) kept the whole group entertained the entire trip. Honestly the best duo and Holly made it even better. We completely fell in love with the country. Would 100% recommend to anyone thinking about doing this tour. Had the perfect mix of culture and fun. Thank you for a stellar 4 days, love you guysss - T & O xx
Cambodia UME Travel!! What can I say I'm completely in love with every part of this trip! Met the most amazing people and big love to Luke!! Nicest guy ever!! So heartbroken to be home! This trip has given me memories for life and just wish I booked another one. Thankyou Tru Travels!!! Xxxx
Honestly amazing..! I couldn't fault it! I went on the 4 day Cambodia ume tour and i already want to be back. If you want a fun filled, non-stop laughing, sight seeing 4 days then book this ASAP!! Luke our leader was excellent he's so interesting and intelligent. I had such an amazing time and met such amazing people! :) thanks luke!
It's been 4 days since I finished the ume in Cambodia and I'm still recovering! I cannot recommend it enough, especially if you're travelling alone. We saw so much of the country and had a great balance of cultural sights and partying. Luke was simply amazing, soooo knowledgeable, always on hand to help and the life and soul of the party! I giggled non stop the entire time and definitely made friends for life. I would 100% book another tour with ume travel.
Where do I start! For anyone who is looking to travel this is perfect opportunity to meet and make friends with people for life! The trip itself was the most incredible experience, with a massive shout out to Luke. You made the trip for all of us making sure we saw every little gem Cambodia has to offer! I couldn't recommend this trip enough and it definitely made me fall in love with Cambodia! Sad to say goodbye to everyone and I would hands down do this trip all over again. Thank you to Holly for helping with all my questions before I started the tour really put me at ease as a solo traveler and to ailsa who's going to be taking over you made the experience brilliant to :)! This won't be my last trip that'll I'll book with ume travels, much love xx
I enjoyed a tour with umetravel last year in Thailand and I loved it to much that I booked 3 tours with them this year. They offer the perfect mix between parties and locals adventures ;)
This is my second ume tour and won't be my last! Holly was amazing, not only an incredibly knowledgeable tour guide but a fun loving crazy friend! Always smiling and full of energy, perfect person to show me beautiful and historical Cambodia. An experience I'll never forget!
We booked our vacation to Cambodia on a whim, finding a really good deal on airfare without much of an idea of what we would do there. But, once we started looking we found UME Travel reviews and started our planning process. From the first email we sent, Diana and Phoebe were very responsive, providing quick answers. Can't thank Diana enough for her vast knowledge and professional service. Very intuitive and sense of customer service. The drivers were really nice, we felt safe and cozy during the trip. The vehicle's condition was excellent too and very clean.
service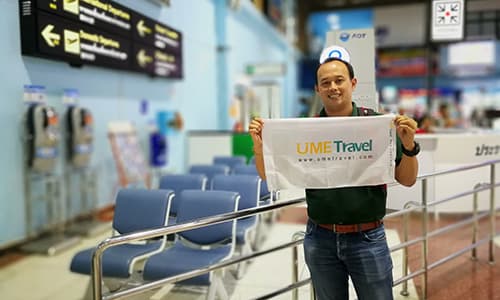 Professional Guides & Drivers
We offer professional private tour guides with over 10-year experience, well-performed vehicles less than 5-year service life and licensed drivers with 5-year practice. Each of our employees undergoes rigorous screening before they can join our network.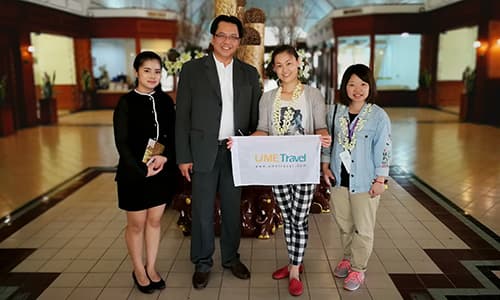 Well-selected Scenic spots and Hotel
All the hotels we advised have been inspected by our team and we spend time each year to top up our knowledge on the spot. Continuing Positive feedbacks on them from former customers because of their outstanding and unique characters.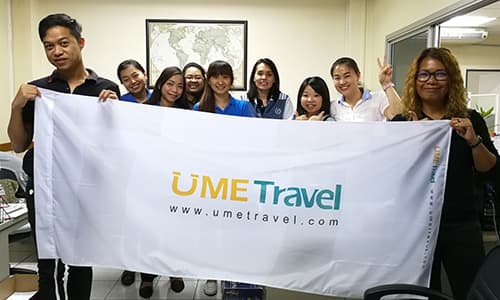 Local Available 7/24
You will have our local team's urgency contact number and we are available whenever and wherever. If you meet any problem or need any help, just make a phone call and everything will be settled down at a time.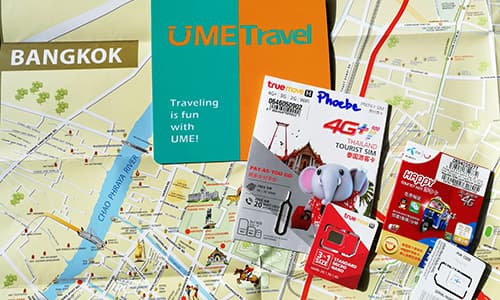 Warm Welcome Kits
We provide the welcome kits for each customer, you will receive the SIM card, city map, a bottle of drinking water and a cool towel per guest per day for FREE. Get all first-step information and useful tips in one profile and make your first tour simple and easy.