Vietnam Tour Packages
Book now and save with UME Travel!

22 days Hanoi - Ninh Binh - Halong Bay - Sapa - Hanoi - Hue - Hoi An - Nha Trang - Dalat - Ho Chi Minh City - Mekong Delta
From $ 3659

16 days Hanoi - Halong Bay - Hue - Hoi An - Ho Chi Minh City - Mekong Delta - Phu Quoc
From $ 2299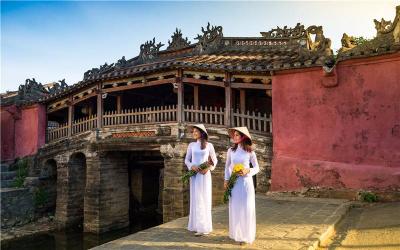 6 days Hue - Hoi An - Da Nang
From $ 799
People Also Ask About Vietnam Beaches
Are there beaches in Vietnam?

Yes, Vietnam's beaches are not very famous, but it is this lack of fame that makes them less commercial and less polluted. Vietnam's 3,000 kilometers of coastline stretches from the north to the south.
What is the best time to visit Vietnam beaches?
It is good to know that the best time to see the beaches of Vietnam is from December to May. During this season, you will find the weather quite hot and humid with almost no rain.
On the contrary, the least recommended season to visit the beaches of Vietnam is between July and October. You will find rain and typhoons while still a large number of tourists, because at this time there are a lot of people enjoying cheaper holidays.
What are the most beautiful beaches in Vietnam?
Nha Trang - is known as the Vietnamese Riviera. It is a very quiet place that is home to very friendly locals. The beach is extremely white sand, surrounded by green hills and palm trees. You will be happy to know that you will find no noise or pollution here. The best time to visit this beach is between May and October.
Mui Ne Beach - 20 minutes drive from the city. The location of Mui Ne is very unique, with the sea to the left of the road and the dunes to the right. The desert is layered to form a variety of color bands, the most characteristic being the red sand dunes. Standing on the dunes and looking at the ocean in the distance is a spectacular feeling. Due to all these specular views, it is known as one of the most beautiful beaches in the country.
The best season is between December and May. However, the climate is hot and dry all year round, with an average temperature of 27 degrees Celsius, so it can be visited at any time, especially when it rains in other parts of the country.
What are the best beach recommendations in Vietnam?
An Bang
Sao Beach of Phu Quoc
Nha Trang
Doc Let
Ho Coc
Mui Ne
My Khe
Cat Ba
My Khe
What are the beach activities in Vietnam?
Mui Ne Kitesurfing Center - Due to the unique geographical characteristics and wind conditions in Mui Ne, it has become a worldwide center for windsurfing. In the evening, sit on the beach and watch countless surf parasails soar in the sky. There are many surf clubs on the beach, and professional schools and instructors to teach you how to practice kitesurfing.
Nha Trang Mud Bath - More and more people are coming to Nha Trang because of the pleasant climate and the richness of bromine and iodine in the water, which improves blood circulation. The most popular is Nha Trang's unique mud bath, which allows visitors to fully experience the charm of this small seaside town.
Phu Quoc Island Outing - The entire island of Phu Quoc is dedicated to beach and island lovers. The classic ways to visit an island can be found here: you can experience snorkeling out to sea to see the fish and coral; experience sea fishing in Phu Quoc Island not only can you go fishing in the daytime, but also go night fishing for cuttlefish; go deep diving, there will be a diving instructor on board one-on-one to lead guests to deep diving places to do deep diving experience; charter a small yacht, compared to other islands, chartering a boat in Phu Quoc Island is a very good value.
Start planning your tailor-made holiday by ​contacting one of our specialists...