White Temple
LOCATION: thailand,chiang-rai
WEB: none
PHONE: none
OPEN TIME: none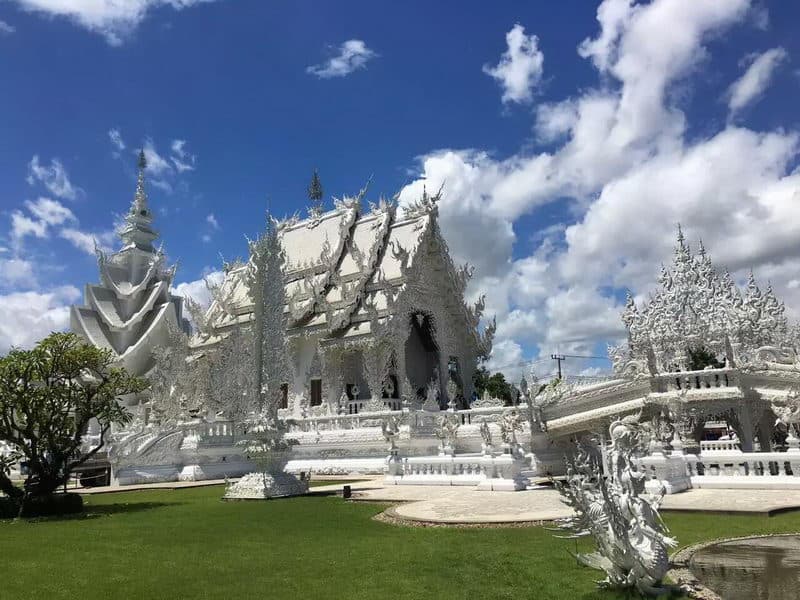 Superman flies through the paintings on a temple wall. A towering demon rises above you wielding a sword. Hands reach out from the depths below you on a bridge to a heavenly temple. Shrunken heads sprouting Spanish moss hang from tree branches. Thai angels and mystical creatures cavort through the temple grounds and on the masterpiece sanctuary at the temple's heart. Wander through the magical world of Wat Rong Khun, often referred to in English as the White Temple.
Perhaps the most unique temple in the Kingdom of Thailand, the White Temple was born from the devotion of National Artist Chalermchai Kositpipat. A deeply devout Buddhist famed primarily for his religious-themed paintings, Chalermchai began the White Temple in 1997. Wat Rong Khun however is no traditional temple. Chalermchai re-imagines Thai art for the modern world. As you move through the temple grounds, you find yourself in the artist's surreal vision of Buddhist teachings. Superheroes, movie stars and cartoons make their entrance into temple murals depicting traditional Buddhist motifs. Fantastical sculptures and architecture cover the landscape.''The temple outside the town of Chiang Rai attracts a large number of visitors, both Thai and foreign, making it one of Chiang Rai's most visited attractions.
See more attractions
More attractions that you might interested in.
Chiang Rai Tour
Chiang Rai is an expansive playground for nature lovers with verdant forests and endless mountains. We are pleased to present the best tours in Chiang Rai and other popular destinations in Thailand. All tours below can be customized.
Chiang Rai Travel Guide
We offer you complete travel guide to Chiang Rai, including when to visit, what to see and where to stay etc. These guides will help you to explore the beautiful nature, rural culture and local way of life in Chiang Rai.
Tailor-made Thailand Tours
Receive a free quote within 24 hours - Already more than 183,063 satisfied customers!
Create My Trip Now !