Wat Phra That
LOCATION: thailand,chiang-mai
WEB: none
PHONE: none
OPEN TIME: 6am-6pm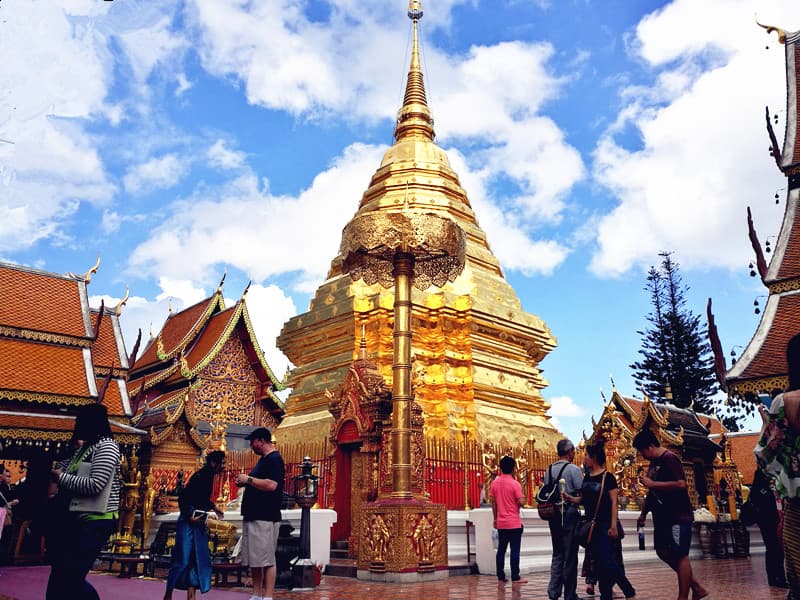 A must see, on any visit to Chiang Mai, is the wondrous and holy temple of Wat Phra Thatwhich is located near the top of Doi Suthep (Mount Suthep). The temple is simply referred to as Doi Suthep by most people. Every tuk-tuk and songthaew driver in Chiang Mai will offer to take you on the 15 klm trip up the winding mountain road to Doi Suthep.

Built as a Buddhist monastery in 1383 it is still a working monastery today. Funds raised by donations and the lift fee go to support the monks living there and for maintenance of the various temple buildings. The architecture, statues, murals and shrines seen here are nothing short of breathtaking.

On arrival at Doi Suthep you will be in a large car park, the temple complex is up the side of the mountain beside the car park. Starting with a walk up the 300 steps of the intricately carved mythical Naga Serpent Staircase you begin to marvel at the splendour of your surroundings. For those that do not fancy the 300 step climb up to the complex, you can go up the lift and walk down the staircase when you have finished.

On reaching the top you are greeted with the sight of the golden spire which decorates the centre of the mountain top temple. The walls around the spire form a mini enclave and are richly decorated with historical murals and shrines. Here you find a beautiful copy of theEmerald Buddha statue on display. The real Emerald Buddha statue is now in Bangkok.
See more attractions
More attractions that you might interested in.
Chiang Mai Travel Guide
Explore Chiang Mai holidays and discover the best things to do, top local restaurants, supreme shopping places and when and where to visit, etc.
Tailor-made Thailand Tours
Receive a free quote within 24 hours - Already more than 183,063 satisfied customers!
Create My Trip Now !