Wat Pho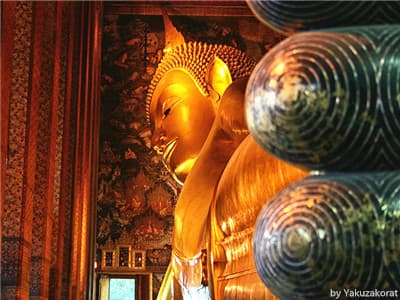 You'll find (slightly) fewer tourists here than at Wat Phra Kaew, but Wat Pho is our fave among Bangkok's biggest sights. In fact, the compound incorporates a host of superlatives: the city's largest reclining Buddha, the largest collection of Buddha images in Thailand and the country's earliest centre for public education.
Almost too big for its shelter is Wat Pho's highlight, the genuinely impressive Reclining Buddha.
The rambling grounds of Wat Pho cover 8 hectares, with the major tourist sites occupying the northern side of Th Chetuphon and the monastic facilities found on the southern side. The temple compound is also the national headquarters for the teaching and preservation of traditional Thai medicine, including Thai massage, a mandate legislated by Rama III when the tradition was in danger of extinction. The famous massage school has two massage pavilions located within the temple area and additional rooms within the training facility outside the temple.
See more attractions
More attractions that you might interested in.
Great Bangkok Tour Packages
Bangkok Local Tips
Get drown in information? UME has gathered the most useful guides and tips about Bangkok tourism – everything first timers needs to plan a wonderful dream Bangkok tour.
Tailor-made Thailand Tours
Receive a free quote within 24 hours - Already more than 183,063 satisfied customers!
Create My Trip Now !