Wat Ho Phra keo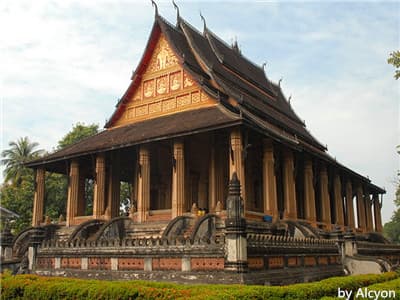 Vientiane boasts several beautiful temples or wats, but one of the most impressive and interesting of them is Wat Ho Phra Keo. It was originally constructed in 1565 as the Lao royal family's personal chapel, and as a home for the Emerald Buddha after it was snatched from northern Siam (Thailand). This sacred jade statue was reclaimed by the Siamese in 1778 and now sits in Wat Phra Kaew in Bangkok. Even without the Emerald Buddha, however, Ho Phra Keo is well worth a visit. The only part of the old royal palace that has survived, the temple is no longer used for religious purposes and is now a museum. The Temple of the Emerald Buddha, as it is often known in English, is richly adorned with carved wooden features, a magnificent 16th century lacquered door with Hindu carvings, numerous Khmer stone carvings and a variety of Buddha statues. 
Explore Vientiane City
Find complete list of Laos tour packages including culture, nature, food or adventure activities for families and couples. The choices of over 90% customers with reasonable price! Get your customizable itinerary in UME now!
Discover All Attractions
Browse a large range of must-see landmarks, explore unique tourist spots like a local or go somewhere off the beaten track.
Tailor-made Laos Tours
Receive a free quote within 24 hours - Already more than 183,063 satisfied customers!
Create My Trip Now !