Wat Chalong
LOCATION: thailand,phuket
WEB: none
PHONE: none
OPEN TIME: none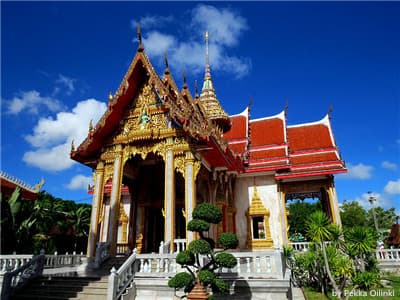 Wat Chalong, or Chalong Temple, built at the beginning on 19th century, Its real name is Wat Chaiyathararam, but you probably won't see it on any road signs. Wat Chalong ( Chalong Temple ) is the largest of Phuket's temples, and the most visited. Locals and many Thai tourists come to pray and pay respects to several revered monks who were the founders of Wat Chalong, among them Luang Pho Cham and Luang Pho Chuang, 2 monks, who led the citizens of Chalong Sub district fighting against the Chinese rebellion in 1876 and with their knowledge of herbal medicine helped the injured. The most recent building on the grounds of Wat Chalong is a 60 meters tall 'Chedi' sheltering a splinter of bone from Buddha. Walls and ceilings are decorated with beautiful painting illustrating the life of Buddha, as well as many donated golden statues. Wat Chalong Chedi is built on three floors so feel free to climb all the way to the top floor terrace to get a nice bird view on the entire temple grounds.
See more attractions
More attractions that you might interested in.
Best Phuket Tour Packages
Whether you want a leisure time on beaches, adventure world under the water, have a particular passion for wildlife or combine your Phuket Tour with other destinations in Thailand. Choose from the following tour packages and customize your perfect trip with the help of our specialists.
Completed Phuket Travel Guides
Allow us to be your ultimate Phuket travel guide. Here's the list of our insider's guides to Phuket.
Tailor-made Thailand Tours
Receive a free quote within 24 hours - Already more than 183,063 satisfied customers!
Create My Trip Now !