Wat Chai Wattanaram
LOCATION: thailand,ayutthaya
WEB: none
PHONE: none
OPEN TIME: none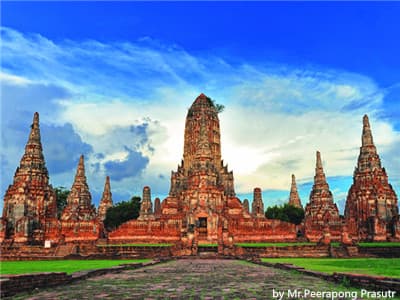 Wat Chai Wattanaram is one of the most impressive of the remaining monuments of old Ayutthaya. It was built in 1629 by King Prasat Tong, probably on the site of his mother's cremation. King Prasat Tong was actually a commoner who overthrew the previous king and took the throne. The monastary may well have been established to assert his legitimacy to the throne.
The solid corn-cob prang sits on an elevated terrace in the middle of a courtyard. Chapels at each of the four corners of the courtyard and at the mid-points of each side are topped by smaller prangs. The outside wall of the courtyard is decorated with pilasters which once simulated turned wooden ballustrades.
Along the inner wall of the courtyard are lines of Buddha images. In some of the corner chapels, you can still see what's left of the crowned Buddhas, as well as the coffered ceiling which still shows signs of fire.
The main prayer hall (wiharn) sat on a terrace the same height as the terrace supporting the prang. All that remains of the chapel are its base and a couple of Buddha images where the altar used to be. In the lower terraces on either side of the wiharn are another pair of prangs.
Along the outer wall on the northern sides, you can still see a few tantalizing fragments of the extensive high reliefs which decorated the outside of the cloister.
See more attractions
More attractions that you might interested in.
Beginner's Guide
Comprehensive overviews, unmissable spots and travel guides to this historical park. Check out these and you will explore the ancient remains easily.
Tailor-made Thailand Tours
Receive a free quote within 24 hours - Already more than 183,063 satisfied customers!
Create My Trip Now !