Three Kings Monument
LOCATION: thailand,chiang-mai
WEB: none
PHONE: none
OPEN TIME: none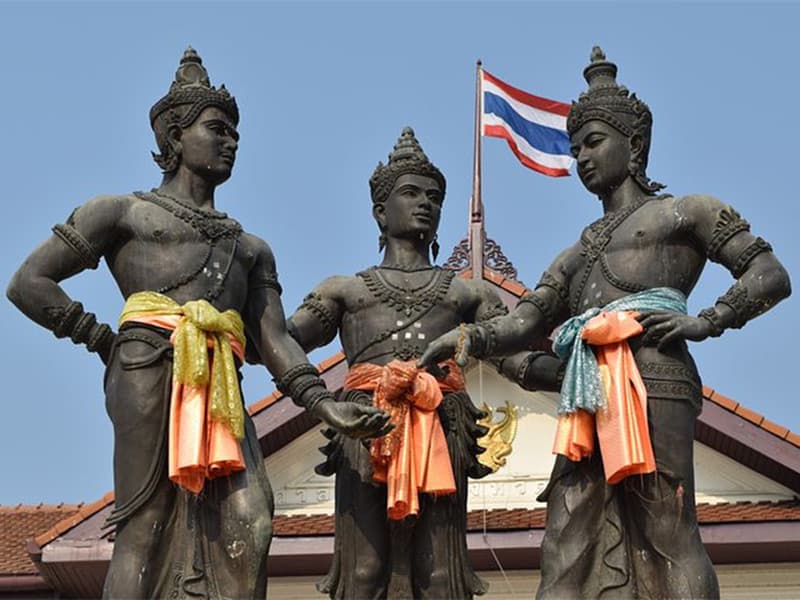 One of the best known and most recognizable of the many Chiang Mai attractions is the Three Kings Monument. The Three Kings Monument, or Anusawari Sam Kasat, is located in the centre of the ancient walled city of Chiang Mai. Standing in front of the Chiang Mai City Art and Cultural Centre, formally the Provincial Administration Building, the Three Kings Monument was erected to immortalize the 3 Kings who together were responsible for the founding of Chiang Mai in 1296.
The three Kings were King Mengrai, King Ramkamhaeng of Sukothai and King Ngam Muang of Payao. These were troubled times in the region now known as Northern Thailand and to safeguard their territories these three Kings had sworn an oath of eternal friendship.
King Mengrai had been searching for a site to build the Capital of the Lanna Kingdom. Legend has it that King Mengrai saw two albino Deer chase off a pack of wolves at this spot and took this to be an auspicious sign. He called upon his two friends and allies to help design the new city which was to be called Nopburi Sri Nahkon Ping Chiang Mai. King Mengrai built a Temple, Wat Sadoe Muang on the site now occupied by the Art and Cultural Centre and installed the City Pillar or Lak Muang, the Guardian Spirit of the city. Little is left today of the old Temple and the City Pillar was later moved by Chao Kawila to Wat Chedi Luang where it remains to this day.
See more attractions
More attractions that you might interested in.
Chiang Mai Travel Guide
Explore Chiang Mai holidays and discover the best things to do, top local restaurants, supreme shopping places and when and where to visit, etc.
Tailor-made Thailand Tours
Receive a free quote within 24 hours - Already more than 183,063 satisfied customers!
Create My Trip Now !