The Giant Chiang Mai
LOCATION: thailand,chiang-mai
WEB: none
PHONE: none
OPEN TIME: none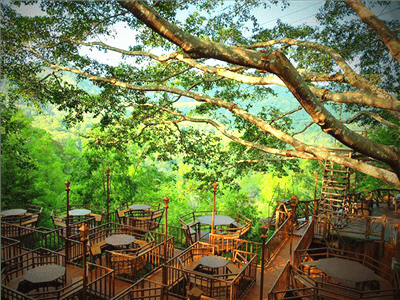 The coffee shops in Thailand are unique and they like to think outside of the box. A giant tree house that serves coffee with a jungle view, overlooking the mountains and forests. It's about an hour and a half northeast of Chiang Mai, with relatively flat roads, until you reach the windy hills full of switchbacks surrounded by green jungles. On your way you will pass some very picturesque villages with traditional Thai style houses, green gardens, small waterfalls and streams. This is Thailand you need to see! The experience at The Giant Chiangmai doesn't start and end at this café which doubles as a guesthouse in a large tree. It's so much more than that. It's about the adventure of traveling to such a cool place. A place you'd dream about as a child. You're greeted by a tall thin wall, inviting you in to just be a kid. And no joke, this is a gigantic tree they've set up shop in. From the gates you can get to the café either by walking down a spiral staircase or crossing a suspension bridge. The food and coffee are good. They have delicious cakes, some wicked cool elephant ceramic mugs, and if you grow restless you can hop their zipline. This is definitely a place you should check out if you ever find yourself in the northwest region of Thailand.
See more attractions
More attractions that you might interested in.
Chiang Mai Travel Guide
Explore Chiang Mai holidays and discover the best things to do, top local restaurants, supreme shopping places and when and where to visit, etc.
Tailor-made Thailand Tours
Receive a free quote within 24 hours - Already more than 183,063 satisfied customers!
Create My Trip Now !